Denver Nuggets: Week 2 NBA Power Rankings Average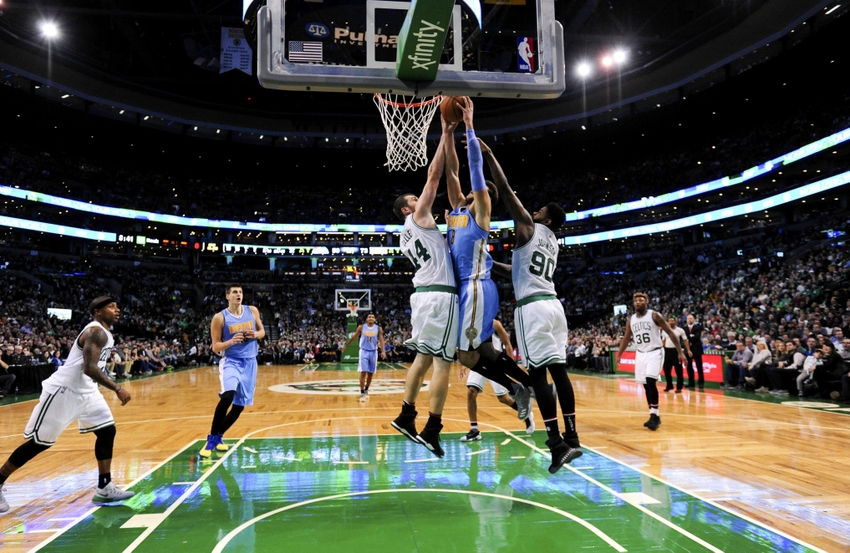 Injuries, shooting woes, turnovers but the Denver Nuggets are currently a solid .500 team
If the Denver Nuggets Power Rankings were based on Danilo Gallinari's slam between two Celtics defenders on Sunday night it would be off the charts. The Nuggets are putting in solid work on the road. They now have a 3-2 road record to show for it.
We all know about the road test that the Nuggets face in the first seven games to start the season. The results have been impressive but how they are getting these results does cause concern. The effort that was shown against the Pistons on Saturday night was very concerning to many who follow this team.
Denver Nuggets: DFS Picks for the Season Opener against the Pelicans
However, the Pistons game did not seem to matter. As this week's power rankings have been released and the Nuggets continue to trend upward during the early part of the season.
The media power rankings focused on their two road wins this week and ESPN has certainly taken notice of these early season results.  The Nuggets started out at number 24 before the season began in the ESPN Power Rankings. They now find themselves at number 14.  Other media rankings are showing a similar upward trend.
Last week the Nuggets' average across three national media power rankings was 20.33. this week their average has climbed to 17.33. It is worth noting that the LA Lakers and Utah Jazz have also seen a rise in their power rankings to start the season. These are two teams that the Nuggets will soon face in the tough but changing landscape of the Western Conference.
This week's games will be challenging as they face Memphis and Portland on the road. The Nuggets have the Warriors and Pistons at home.
All of these teams are playoff contenders. Another back to back is mixed into these four games, it will be another interesting week for the Denver Nuggets.
This article originally appeared on