Denver Nuggets: Warriors Crush DEN in First Meeting of Season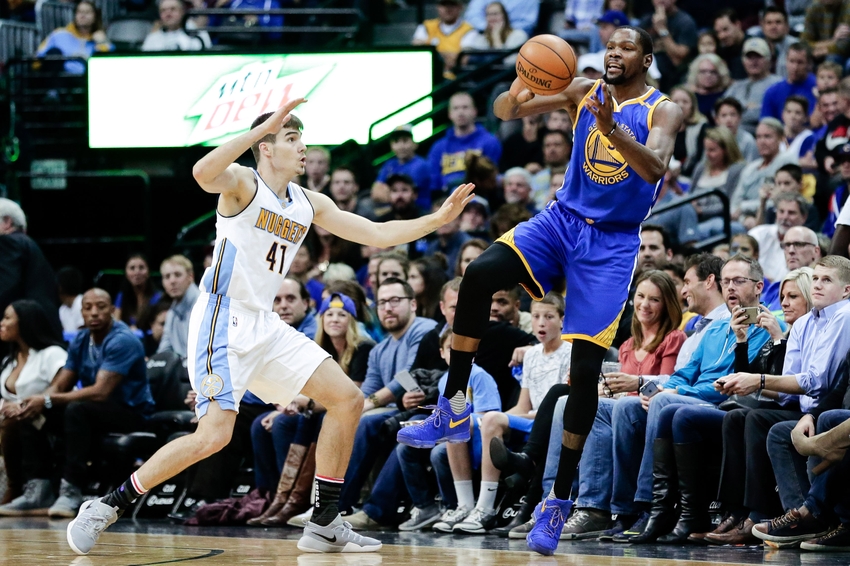 Stephen Curry scored 33 points to lead the Warriors to a blowout victory over the Denver Nuggets on Thursday.
The mighty Golden State Warriors came to the Pepsi Center on Thursday night ready to play. Despite playing last night, the Warriors looked as fresh as ever and crushed the Denver Nuggets from the start. At the end of the first quarter, GSW held a 38-19 lead and never looked back.
Stephen Curry was very effective in his 29 minutes, scoring 33 points on 10/17 shooting including 7/13 from three. He also added 5 rebounds and 7 assists. As a team, the Warriors dominated offensively, shooting a scorching 54.1% from the field and 46% on threes. They finished with a fantastic total of 33 assists.
On the other side, Denver struggled both offensively and defensively. They dug themselves a big hole early by giving up 38 points in the first quarter. Offensively, the starters struggled and shot just 16/41 from the field and 4/15 from the three point line. The Nuggets continue to shoot themselves in the foot, as turnovers were an issue once again, finishing with a total of 18.
The lone bright spot for the Nuggets tonight was the rookies who saw extended playing time due to the blowout. Jamal Murray, Juancho Hernangomez, and Malik Beasley all played their best games of the season. Murray finished with 14 points and 6 assists, Hernangomez had 11 points and 9 rebounds, and Beasley got his first points of his career and later finished with 12 points in only 14 minutes. Beasley entered the game near the end of the third quarter and hit back-to-back threes. He showed great confidence in his jumper and earned himself more meaningful playing time in the future.
After all, the Nuggets fell victim to Golden State's super-team and now hold a record of 3-5. Denver will look to bounce back and get their first home victory of the season on Saturday vs. the Detroit Pistons.
This article originally appeared on