Denver Nuggets: Wardell's Take-"They're Playing Basketball"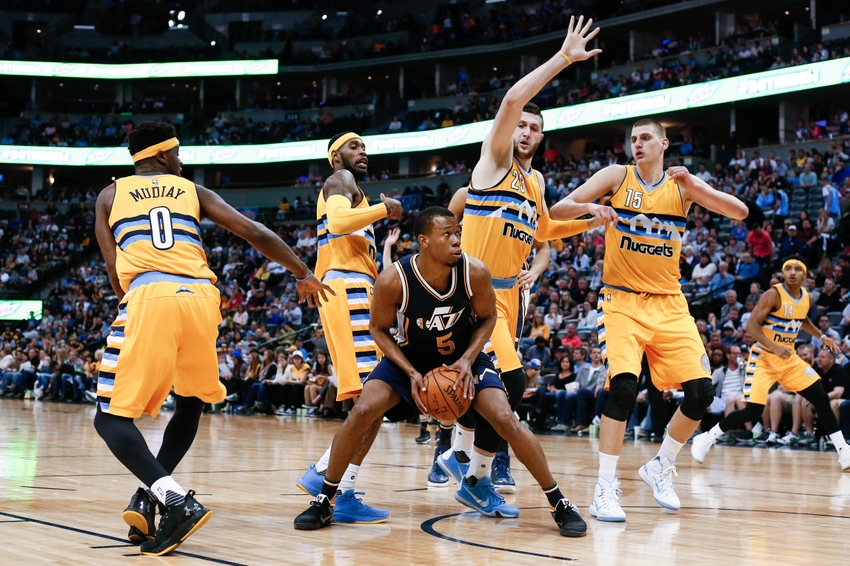 It seems as if almost every baller wants to be a rapper, and vice-versa. However, becoming the other is impossible, but the skills from can still be mirrored in the other.
This week on Wardell's Take we'll be discussing a culture which has been tied to basketball since Kurtis Blow rapped about it being his favorite sport. We'll (by we I mean myself, Curtis Edge, Matthew Huff and Nathan Beighle) be talking about hip hop and the Nuggets.
More specifically, we'll be comparing a few of the Nuggets' players to a rapper who we feel best represents the player.
We all have unique reasoning for each comparison, including a mirroring in their rise, aggression, skill and various other reasons which we hope you'll enjoy.
Finally, we know that each comparison in objective and we also realize that you may disagree with whichever rapper we match up with each Nugget. If you disagree, we urge you to either leave a comment or begin a conversation with whichever writer made the comparison.
You can make such conversation through Twitter (our handles are on each slide).
There are a lot of commonalities between Nikola Jokic and Chance the Rapper, both in their personalities and their style. But the first of which comes with their rise.
Much like Chance, Jokic was very much unknown to the public-eye. That's not to say that they didn't have a strong and dedicated fan base, but the two weren't mentioned amongst the best in their respected crafts like they are now.
However, that changed this summer after they both had breakout performances. For Chance, it was his mixtape Coloring Book and for Jokic, it was his play in the Olympics. After both of these occurrences, Jokic and Chance have been praised for their unique styles, which have rarely ever been seen.
They're both ridiculously talented and appear as if they will change the way we see the game. But that's not where their commonalities end.
Much like Chance, Jokic has shown nothing but love for his home. Chance is still actively involved in Chicago, and he credits it as being the city which made the man he is today.
For Jokic, it was winning a silver medal for his home country of Serbia. When he came home to make his first appearance after the win, he was given an incredibly warm reception and he cried because of it.
Now it may be too early to tell at the moment, but both Jokic and Chance could very well be remembered amongst the greatest of all time. They just have so much potential, and I for one cannot wait to watch their careers unfold.
I would say Emmanuel Mudiay would be most comparable to Childish Gambino.
Both are not completely new to the game. Before Mudiay's rookie season he had played basketball in China's professional league on the Guangdong Southern Tigers.
Live Feed

Emmanuel Mudiay
Childish Gambino also wasn't new to the game when his album Because the Internet was nominated for Best Rap Album at the 2015 Grammy Awards. Gambino had released an album titled Camp in 2011, as well as mixtapes like Royalty.
Not only is their experience comparable, but also their careers can be correlated. Childish Gambino, also known as Donald Glover, has been apart of many projects like the television show Community or his comedy central stand-up Weirdo. Although all the projects were great, it seemed like Gambino never peaked to his full potential.
Mudiay is in his second year, so obviously he has yet to peak, but we have seen flashes of great potential from him. This year for Mudiay it is his chance to show us what he is made of, like Gambino is doing in his new show on FX, Atlanta.
Childish Gambino has teamed up with Chance The Rapper on songs like Favorite Song and Worst Guys. Gambino and Chance are a strong duo, similar to how Mudiay and Jokic should be this season!
Both Ill Will and Nas are old school. They are veterans in their respective field, and while they can be quietly intimidating, they are a force to be reckoned with. They can go under the radar at times, but as soon as the monster in them is woken, they remind the world of their ability.
Both Nas and Chandler are very versatile and can adapt their style whenever they need to. Oh, and let us not forget, while it is just a simple correlation, both started in New York, (I understand Nas is still there, however Chandler was a Knick before coming to Denver.)
Nas' grit and voice when recording his music provides a unique flavor to hip hop, and Wilson Chandler's style of play on the court mirrors this exact same trait.
Both are gritty, raw, versatile, and a presence not to be messed with because if we've learned anything from Jay Z, it's that when you diss a character like Nas, be prepared for battle because he is most likely going to win and embarrass you.
Of course I'm referencing the song Ether (go listen if you haven't heard it, and you'll be impressed).
Therefore, for the rest of the NBA, I'd advise you not to get up in Ill Will's face and confront him. Chandler, much like Nas, will not back down and most likely put you in your place.
Ill Will is not the only Nugget who channels the old school ways. Jusuf Nurkic style of play is so reminiscent of the times of Elvin Hayes and Artis Gilmore.
He has the grit and toughness of legends, while also managing to be a one-of-a-kind player. That's part of why he reminds me so much of Rakim. Another thing about them which is similar is the way they got their start.
They both had fantastic debuts (Rakim had Paid in Full and Nurkic had his rookie year) and have gained respect in the process. Rakim has an elaborate rhyme scheme which has yet to be touched to this day. Nurkic plays hard and is almost untouchable whenever he's near the rim.
Both Rakim and Nurkic took the world by storm out of nowhere and carried the mindset to back-up their skills. Nurkic constantly trash-talked established veterans his rookie year while also matching them on the box score. Rakim was able to praise his own abilities while slamming every other MC because they were simply uncomparable.
Now I'm not saying that Nurkic will end up being remembered as one of the greatest to ever play the game, but he could be remembered as one of the best old-school players of this era. It'll all just depend on whether or not Nurkic can follow-up on his rookie season.
He was hurt for the majority of last season, so we'll have to wait until the start of this season to see if he can match the success of Rakim's Follow the Leader.
They do not stay "started from the bottom" for nothing. This slogan that Drake wrote could be the theme song for Will Barton's career.
He went from averaging minimal minutes and a dismal amount of points in Portland to a potential sixth man of the year candidate. Along with both coming from the bottom, both of these individuals in the prime of their career and at the top of their profession.
With Drake's Views album recently soaring in billboards, the phenomenal small forward Barton will hope to take off just like Views did in this coming season.
Will Barton, who is also known as "The Thrill", can electrify crowds, and he may soon be taking Drake's nickname "Young Money" when his contract expires.
They both have a lot of potential and are also hugely fan-favorites. So as far as the their outlook going forward, the future looks bright for both Barton and Drake.
C'mon now, you didn't really think that we could do this without bringing up someone from the Wu-tang, did you? Well if you didn't think we could, than shame on you for not knowing just how awesome we are at Nugg Love.
If you know anything about the mysticism of the Wu-Tang's shaolin style, then you'd know that in order to be a part of the family one would need a fearsome nickname. Well, Kenneth Faried has such a nickname: The Manimal.
The Manimal is more than worthy of wielding the Wu-Tang sword. But who in the Wu is more like him than the M-E-T-H-O-D Man (if you are familiar with Enter The 36 Chambers, then you'd understand that reference)?
When they're both at the top of their game they are ruthless, aggressive and almost unstoppable.  They can go toe-to-toe with the best of them whenever they choose.
For Method Man, that applies both as a rapper and an actor. For The Manimal, it applies to his high energy on both ends of the floor.
Another thing the two have in common is that they are both hugely popular amongst fans. In fact, they may even be the most popular on their respected teams. Also yes, I did in fact call Wu-Tang a team because as TruehoopTV's, Big Wos put it:
Wu Tang is like an olympic team, where other groups are club teams lol

— Wos (@BigWos) September 20, 2016
Before you criticize, just know that I realize that J Dilla wasn't really known as a rapper. But it also doesn't seem appropriate to compare Mike Malone to someone who is just a rapper.
A head coach doesn't control the specific play but they do have their hands all over the game, in a similar way which producers do for songs. For Malone, the best comparison in the production industry is J Dilla.
In his heyday, Dilla had his hands over an era of hip hop we now call neo-soul. Neo-soul was a fuse of classic soul music (which included acts similar Marvin Gaye and Otis Redding) and the native tongue movement (which included acts similar to A Tribe Called Quest and De La Soul).
Dilla produced for various neo-soul acts, including but not limited to: Q-tip, The Roots, Common, Erykah Badu and D'Angelo.
Both Malone and Dilla are greatly undervalued for their careers, but they both have shown that they are dedicated and talented. They've also left great impressions on those they've worked with.
Malone has been praised by DeMarcus Cousins, which means a lot considering Cousins doesn't like very many coaches. Dilla the focal point of countless musical tributes since his passing in 2006. A few artists who have made such tributes include: J Cole, The Roots, J Rocc, Pete Rock, Busta Rhymes, Kendrick Lamar, Chance The Rapper, Nas, Phife Dawg, Talib Kweli and even the Red Hot Chili Peppers.
That list doesn't even make up for one-fifth of the amount of tributes Dilla has received. But that just speaks to how much of an impact he has had on the music industry.
People wanted to work with him as much as possible and were greatly missed him when he left. That's very similar to Malone's relationship with Cousins. After Malone was fired, no other coach has come close to Malone in Cousins' eyes.
Now I realize that this one is a bit of a stretch, but J Dilla is very high on my personal list of artists all-time. I mean, he's part of the reason I love donuts so much.
This article originally appeared on