Denver Nuggets vs Utah Jazz: Two Key Things to Watch For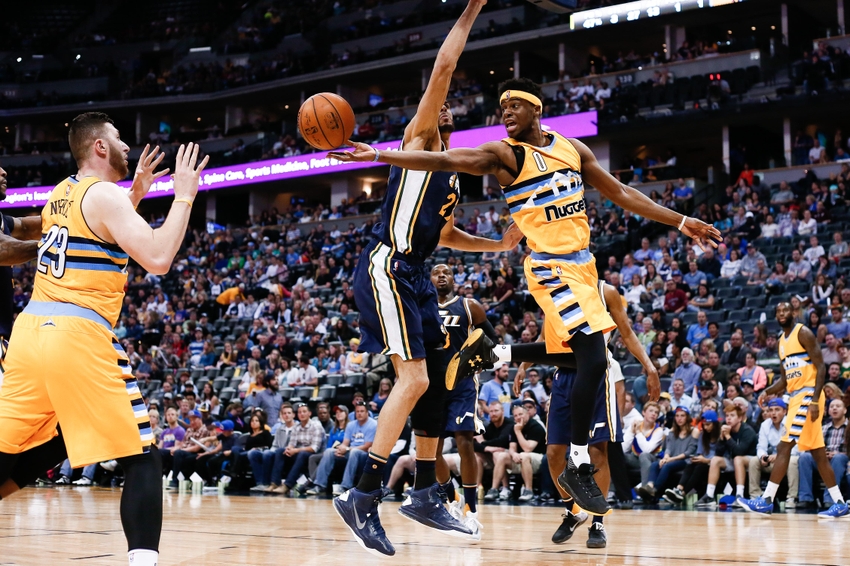 The Denver Nuggets are fresh off a nail-biting home loss to the Toronto Raptors. Can they redeem themselves tonight, in their home game against the Utah Jazz?
The young Nuggets core is coming off one of their toughest losses of the season in a hard-fought, overtime defeat against the Toronto Raptors. The game was decided in the very final seconds of overtime, and three Nuggets tallied over twenty points each.
It was the Nuggets fourth home loss, bringing their home record to only 1-4 and their overall record to 4-8. You can read more about this particular game, in a post by Taylor Hunt right here.
Next up for the Nuggets is another home game, this time against the Utah Jazz. This will be the first of a four game series against the Jazz, and the third of a four game stretch at the Pepsi Center for the Nuggets. Tip-off is scheduled for 7:00 PM, Mountain Time.
Want your voice heard? Join the Nugg Love team!
This should be a very intriguing match-up considering the heart-breaker the Nuggets just suffered. Expect them to come out aggressive in an attempt at redemption. It's also interesting to note that these two will be playing each other again in only three days, so they both will be motivated to play their very best.
With that in mind, here are a few things to watch for in this game:
Chandler vs. Hayward
Admit it, you've been totally surprised by the season that Wilson Chandler's been having, haven't you? It's okay, you can admit it if you are. I know I sure am.
Nonetheless, Chandler is having a great year through the Nuggets first 10 games of this season and he's showing no signs of slowing down. He's putting up the best numbers of his career, and tonight he'll match-up against another wing who's putting up career numbers: Gordon Hayward.
Well at least, Hayward was putting up career numbers until about three games ago when his quality of play took a huge dip. It could be that his preseason injuries are starting to catch up with him -especially considering he's logged about 36 minutes per game since coming back- or it could be poor overall team play.
Either way, it seems apparent that if Hayward doesn't have a good game then the Jazz will lose. Thus, Chandler should be a key aspect of the Nuggets game plan on both ends of the floor.
This should also be a continued opportunity for Chandler to garner some consideration as a borderline all-star wing. That's not to say that he really has a chance at becoming an all-star this year, but over the past three games he's undoubtedly been the best player on the Nuggets roster.
In Mudiay, We Must Trust
While Wilson Chandler was a clear-cut choice as the Nuggets best player over the past few games, their second best player was not so easy to choose. Statistically, it really comes down to two players: Emmanuel Mudiay and Kenneth Faried.
Now, I'd personally lean toward Faried as being the second best, but Mudiay play a more important role in this game due to his match-up. This will be the first time in three games when he won't be playing against a point guard who's at least at the borderline all-star level. No offense to Dante Exum… but I mean, c'mon now.
That should translate to an aggressive playing style from Mudiay considering he know that he has the talent advantage. Hopefully that means he'll drop his second 30-point performance of the year or maybe his first double-double or maybe he'll drop 24 points in the first quarter again or… or maybe.
Sorry, I may have gotten a little ahead of myself there. But you have to admit, Mudiay's development has been nothing short of exciting considering how rough he was last season. Realistically, he'll probably fall just short of 20 points and may not even be the second highest scoring player on the Nuggets roster tonight.
Even still, this should hopefully be another confidence booster for the Nuggets' young point guard and another opportunity for his individual development.
This article originally appeared on