Denver Nuggets vs. Toronto Raptors: Two Things to Watch for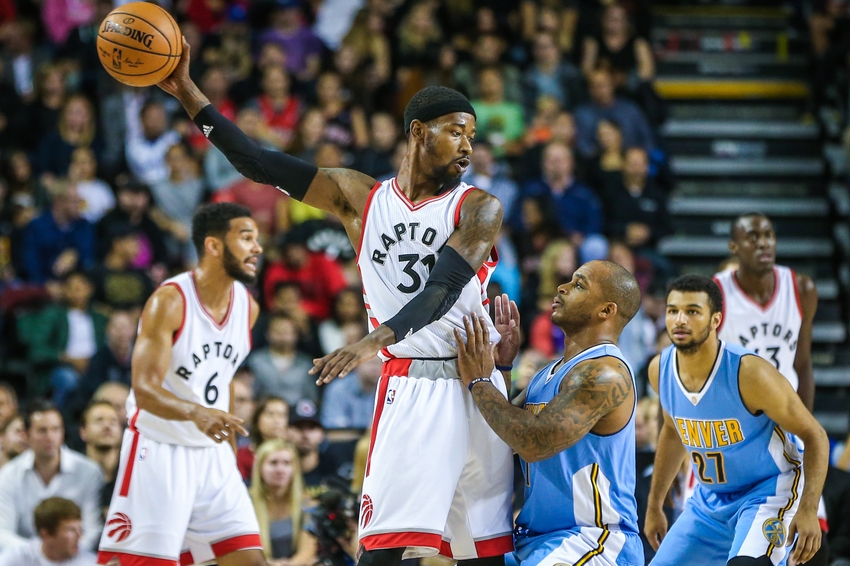 The Denver Nuggets are coming off a heartbreaking loss to the Portland Trailblazers and now are scheduled to face the Toronto Raptors.
Following a loss to Damian Lillard and the Portland Trail Blazers, the Denver Nuggets' record has now fallen to 1-1. Even though it was a loss for the Nuggets, the game was a thrilling affair their young core.
It was an overtime game which was literally decided by a Damian Lillard floater, with only 0.3 seconds left on the clock. You can read more about what to takeaway from the game in a post by Matthew Huff, right here.
Want your voice heard? Join the Nugg Love team!
Up next for the Nuggets is a match-up against a presumed Eastern Conference playoff contender, the Toronto Raptors. This will be the first of a five game road trip for the Nuggets.
This game is scheduled to tip-off at 5:30 PM Mountain Time, and it will be nationally televised on NBATV. Likely inactive players amongst the Nuggets include Gary Harris (groin) and Darrell Arthur (knee).
After two impressive games to start this season, Denver will be looking to continue surprising the rest of the league with their improved play. So, with that in mind here are some things to watch for.
Mudiay has found his groove
If you watched the Nuggets game against the Blazers, or read the recap by Nathan Beighle, then you'd know that Emmanuel Mudiay really stepped up on the offensive end. He may have also allowed for Damian Lillard to boast incredible numbers against him, but here at Nugg Love we like to look at the glass half-full.
Denver Nuggets: DFS Picks for the Season Opener against the Pelicans
Considering how much Mudiay struggled during both the preseason and the season opener, his performance against the Blazers was really a breath of fresh air.
He started out slow, but he absolutely exploded in the third quarter finding himself more aggressive on both ends of the floor. In a sense, you could say that he finally woke up.
He seemed much more comfortable on the floor, and he completely took control of the offense by confidently calling plays that were executed to perfection. Again this was only one game, but the implications involved could be huge for the Nuggets going forward.
If he can show that he can match the level of other guards like Lillard, then Denver could have a legitimate chance at making the playoffs. So you should definitely keep an eye out for how well he can play against an all-star like Kyle Lowry.
Hopefully he can show the same aggression in this game, but more importantly, some improvement on the defensive end.
Jurkic has yet to disappoint
Another thing to watch for is the performance of the Jurkic frontcourt combo. For those who don't know, Jurkic is the nickname given to the Nikola Jokic–Jusuf Nurkic duo.
To this point, the two have but up a combined: 63 points, 42 rebounds and 8 assists in only two games. There is no doubt that they've lived up to every bit of the hype put on them this preseason.
What makes these numbers even crazier is that neither of the two have averaged more that 30 minutes of playing time, so we've only gotten small samples sizes of the Jurkic combo. But whenever they are on the floor together, the Nuggets immediately gain both a size and skill advantage in the frontcourt.
It will be interesting to see how they match-up against a more traditional looking frontcourt than what they've played against to this point. You should especially watch the head to head battles between Nurkic and Jonas Valančiūnas.
It should be a strong contest off the boards, and an absolute war in the low post between these two. Hopefully that means that they can both be a focal point for both offenses.
So there you have it, those were just a few of the key match-ups that you should be looking forward to in this game. Be sure to check-in at any time when it airs on NBATV.
This article originally appeared on