Denver Nuggets: Top 3 Most Alluring Trade Options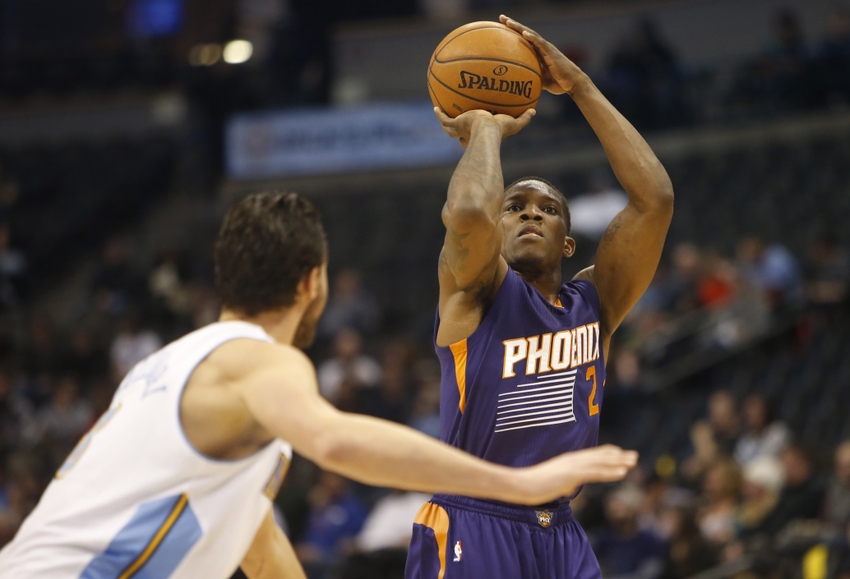 The Denver Nuggets, who are 3-7 in their first 10, might need a team-changing move in order to bounce them back into playoff direction.
After a short-lived Klay Thompson trade rumor, it got me thinking. Who is really the best trade options for Denver Nuggets?
The Nuggets, who are the NBA's best rebounding team, have suffered through enough struggle for an entire season. After a 3-7 start to the NBA's hardest schedule through ten, the Nuggets seem frustrated with where they are at, and their stats prove it.
More intersting stats:

Nuggets are 28th in APG with 18.7
Nuggets are dead last in assist ratio with 13.8
Nuggets are last in AST/TO at 1.03

— Nugg Love (@Nugg_Love) November 14, 2016
That begs the question: "Are the Nuggets in need of a real point guard?"
These stats should be blaring at the front office to help Emmanuel Mudiay out. His forte is running the ball and getting in transition, and he may use that best coming off of the bench. Along with that, players like Jameer Nelson and Wilson Chandler stock are at an all-time high after their performance through 10.
Therefore check out how each of these following players would look in a Nuggets uniform.
John Wall- 6'4″- 195 lbs- Point Guard- Washington Wizards
As previously seen, the Nuggets have a passing problem. The ball sticks and most made baskets are unassisted. John Wall- a superstar point guard- could fix all that. This would be my proposal.
Nuggets get
PG, John Wall


Wizards get
SG, Gary Harris
PG, Jameer Nelson
Two 2017 First Round Picks
The Wizards, who barely missed the playoffs last season, may look to rebuild sooner rather than later if the right trade presents itself. Wall is one of the best point guards in the NBA, but he has little help around him, and in Denver he could get him that help.
While players like Bradley Beal and Otto Porter would help start the rebuild in Washington, picks from Denver would also help Washington flip their team quickly. They are now currently 2-7 and are off to a rough start, which means that questions will soon be asked.
The Nuggets would be able to keep their core young pieces while giving Emmanuel Mudiay more time to build in playmaking off of the bench. The Nuggets could easily be 6-4 or 7-3 right now if they had a player of John Wall's caliber to take over late in games. This has constantly been an issue in Denver, and a trade like this could help Denver solve several key problems on this team.
Wall has averaged 8.3 assists per game, but he has been asked to do far too much which has increased his turnovers to 5.4 per game. John Wall is still one of the league's elite point guards, but he will need help to get back to that level.
The Wizards may not be open to trading Wall, but as they continue to struggle, Wall's patience and the fans' patience may start to wayne.
Goran Dragic- 6'3″- 190 lbs- Point Guard- Miami Heat
While not the star that John Wall is, Goran Dragic would be a cheaper and much needed piece for the Denver Nuggets. This is my proposed trade for the Dragon.
Nuggets get
PG, Goran Dragic


Heat get
SF, Wilson Chandler
Two Second Round Picks
The Miami Heat, who lost legend Dwyane Wade in the summer, have start the 2016-2017 season off to a dismal 2-7 start. While the Dragon, Goran Dragic, is a key part of their team, the Heat's future is already there in Justice Winslow, Hassan Whiteside, and Josh Richardson.
Denver Nuggets: DFS Picks for the Season Opener against the Pelicans
With that said, the Heat could use a power constant small forward that could help the Heat space the floor and allow more space for Whiteside to operate. This is almost like the situation in Atlanta. Is Miami ready to hand the keys of the entire offense to youngster Tyler Johnson? If so, this could be a good trade for them, and they could even search for gold with two second round picks.
For Denver, it is all about consistency. Dragic has averaged over 14 points per game in his last four season while also contributing +5 assists per game in 5 of his last 6 seasons. With a solid assists-to-turnover ratio, the Denver Nuggets might want to explore this trade option.
As far as the Nuggets depth chart, Mudiay would be able to go to the bench and hopefully have the stardom pressure taken off of him. Barton would slide to the backup small forward, and with Barton there, the Nuggets could continue to play their useful small ball lineup. With Barton transitioning, it would give much more time for Murray, who has been playing great ball recently, to develop more.
Chandler stock is at an all-time high, so trading him might be an interest of Denver. This seems to be a good trade for both sides, and the Dragon would be welcome in the Mile High City.
Eric Bledsoe- 6'1″- 190 lbs- Point Guard- Phoenix Suns
The Suns are another team that went into the 2016-2017 with much young talent and low expectations for the playoffs. With that said, if Denver is serious about the playoffs, they may be able to draw Bledsoe for a trade like this:
Nuggets get
PG, Eric Bledsoe


Suns get
SF, Wilson Chandler
This trade is all about the other teams needs. The Suns currently have Brandon Knight backing up Eric Bledsoe which is a very good backup while they have PJ Tucker behind TJ Warren. Wilson could come in and create an important small ball lineup for this team with Dragan Bender potentially at the center. Chandler would be a  good fit for this Suns team going forward.
Just as the Dragan trade would Denver, the Bledsoe trade is more of the same. It would give them a consistent threat to end the game while helping them generate more offense all around.
I thought up all these trades, and I will stand by how they might help the Denver Nuggets, and how the Nuggets should take a look at potentially looking into each trade.
Let me know your thoughts in the comments below and tell me what trade you could see Denver doing also!
This article originally appeared on