Denver Nuggets: The Return Of Wilson Chandler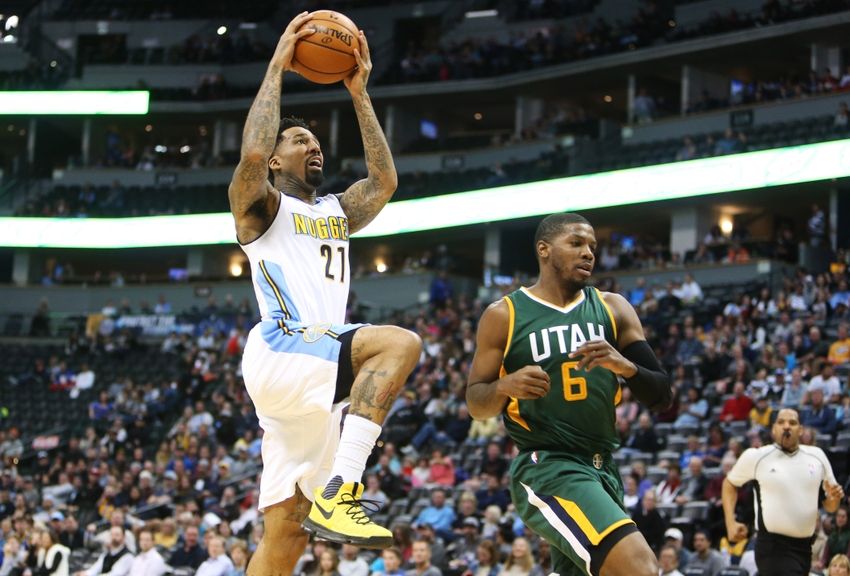 The Denver Nuggets are trending upwards after getting off to a slow start this year and the now fully healthy Wilson Chandler has been a big part of that.
Nothing has defined the first four weeks of the season for the Denver Nuggets more than painful losses.
The Nuggets have already suffered four losses in which they have lost by five points or less, the biggest being a one-point overtime loss to the Memphis Grizzlies.
While they have officially protested the loss due to an incorrect call that led to the winning basket by Marc Gasol, the loss exemplifies the team's struggles in late-game situations.
Now winners in three of their last four games, the Nuggets are gradually getting back on track, despite still being two games below .500.
Little by little, the team is showing more and more signs of consistency and it's certainly helped that they've had one of the highest-scoring bench units in the league this far into the season.
That's where the Nuggets arguably have their most indispensable player, at least so far, one who they have sorely missed for some time.
Having been in the league for 10 years now, Wilson Chandler has made a name for himself as one of the more reliable reserves you can find in the NBA.
It had been some time since we've seen that, due to Chandler missing the entire season last year after suffering a labral tear in his right hip that required surgery.
Now fully healed, Chandler's play has been quite strong to start the year, even as the Nuggets have been trying to find their way.  Averaging 30 minutes per game, Chandler is scoring 17 points per game on a true shooting percentage of 53.4 percent to start the season.
While those numbers are par for the course in where it compares to Chandler's career averages, they've been key to a Nuggets offense that ranks in the middle of the pack, both in overall offensive efficiency (19th) and true shooting efficiency (20th) in the league.
However, Chandler's true impact on the Nuggets has come from just having his presence on the floor.
Chandler holds the highest net rating of regular rotation players for the Nuggets at 2.9 points per 100 possessions, per NBA.com/stats.
Conversely, the Nuggets are at their worst without Chandler on the floor as they are 8.6 points per 100 possessions worse without him in 321 minutes.
If that wasn't enough, the fact that Chandler is in all seven of the team's most productive lineups (a minimum of ten minutes) is just further proof of how instrumental he is for the Nuggets so far this year.
Obviously it's early, but considering how Chandler hasn't seemingly lost a step after a year absence is huge for the Nuggets going forward.
The fact that he's played this effectively too, both on an individual level as well as within the team, is even bigger with where the Nuggets are at this season.
Sure, there are areas where Chandler needs to improve like his three-point shooting (31.1 percent), which has been down compared to his output in recent seasons.
And we can always see Chandler's positive production trickle down as more minutes pile up and more importantly, how the Nuggets fare as the season goes on.
That's the big question for a team that's relying heavily on young players to perform well in big roles.  We've already seen some pretty big ups and downs from their more inexperienced players and it's safe to say that will continue all throughout the season.
All of that makes Chandler's performance even more important and integral for the Nuggets, in the chance they could surprise some people if this happens to be more than just a trend.
This article originally appeared on