Denver Nuggets: The Potential to Form Their Own "No Fly Zone," Defense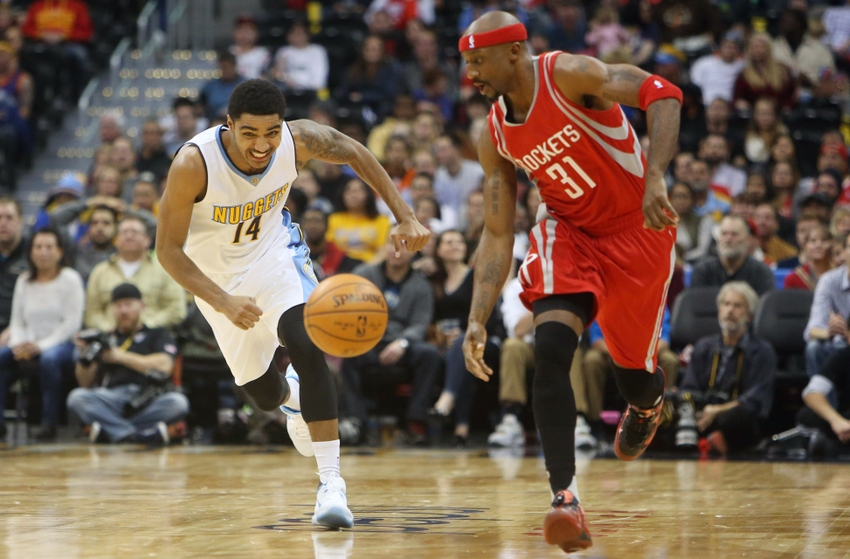 The Denver Nuggets could be one of the best defensive teams if they were fully healthy.
The Denver Nuggets have great potential defensively. The unfortunate thing is that it hasn't been showcased fully yet this season with injuries to Gary Harris, the best perimeter defender on the team.
Obviously Denver is struggling this season on the defensive end, but with a couple years more of experience to the younger players and regaining health, the Nuggets can be like the Broncos and form their own "No Fly Zone."
The Denver Broncos are famous for their infamous defense that is assisted by their secondary nicknamed the "No Fly Zone," due to their ball hawking ability and elite cornerbacks and safeties shutting passing attacks down.
Want your voice heard? Join the Nugg Love team!
The Nuggets also have a few defenders who have a knack for stealing the ball and with a little bit of time and growth, they could form the first basketball version of the "No Fly Zone."
Gary Harris=Chris Harris Jr.
Gary Harris is the Chris Harris Jr. of the team. He has the ability to lock the opposition down and plays with a chip on his shoulder.
Shockingly, some fans still have no idea who he is or how good he is at the defensive back position. Not many people know of Gary Harris which leads to teams overlooking his ability to sniff out the ball on the perimeter.
He is a ball hawk just like Chris Harris Jr. Gary's stats back this up with a career average of 1.7 defensive win shares to go along with a defensive rating of 110. His numbers on many occasions do not prove just how solid defensively this young former-Spartan is. He averaged only 1.3 steals per game last season. Which for the casual NBA is not much, but Gary's ability it more on forcing tough contested shots and just physically taking his man out of the game.
He hasn't been able to showcase his defensive presence fully yet this season due to injuries but with improved health and a year or two to grow, Gary Harris will could become a premier defender of the NBA.
Wilson Chandler=T.J. Ward
Wilson Chandler serves as the T.J. Ward of the Nuggets' defense. Both are physical specimens who aren't afraid to get gritty.
They are also versatile and can play outside their normal position.
Ward is one of the few safeties in the league who can drop into coverage or successfully blitz and get to the quarterback from the safety spot.
Chandler can thrive in both small ball lineups and his usual position at the 3 spot. Chandler can get steals and blocked shots making his presence felt in every way imaginable on defense.
Ward has 8.5 career sacks and 10 career force fumbles to go along with 8 interceptions. Wilson Chandler's career block percentage and steal percentage nearly mirror each other at 1.3% and 1.2%.
Just like Chandler, Ward is known for racking up defensive statistics in more than one category, thus showcasing both player's versatility in their respective sport.
Emmanuel Mudiay=Aqib Talib
Emmanuel Mudiay clearly doesn't have as loud of a personality as Aqib Talib, but in many ways they are similar defensively.
This may be a reach since Mudiay hasn't been playing nearly as long as Talib who has been in the NFL (10 years), but they both compliment their counterparts almost perfectly.
Talib does a great job of shutting down the other side of the field while Chris Harris Jr. is defending his assignment and Mudiay is able to contain point guards when he and Gary Harris are starting in the Nuggets back-court.
They both take risks at times as well which sometimes leads to them getting burned, but they always make up for it quickly by executing a nice defensive play soon afterward.
Talib's career statistics tend to go overlooked due to some of his antics but they prove how elite he is on the field. He has 33 career interceptions and 9 of those he returned for a touchdown. Similar to Talib's situation people don't realize how good Mudiay's defensive statistics are in just two seasons and underrate him. Mudiay's career defensive win share is 1.6 which is only 0.1 less than Gary Harris.
When coupled with Harris, they form a deadly defensive tandem, just like Chris Harris Jr. and Aqib Talib in the Denver Broncos defense.
 With a little bit of tinkering, the Nuggets could have an outstanding perimeter defense.
I know that there are more than 3 members of the "No Fly Zone," but when it comes to basketball, it can be difficult to compare a few key players to an entire secondary.
However, I feel these comparisons reflect the defensive potential of the Denver Nuggets. The Denver Broncos are one of the NFL teams that hold the standard for defenses around the league.
With Mudiay and Harris gaining more experience and getting better defensively, the Nuggets could form their own "No Fly Zone," defense in a couple of years.
A trio of great defenders in Harris, Mudiay, and Chandler who have grown to their full potential would be a nightmare for opposing offenses.
Thanks to the Denver Broncos elite defense, the Nuggets may just need to look across the street for some inspiration and realize how good they can be on defense with time and a little bit of adjustment.
This article originally appeared on