Denver Nuggets Snap History Setting Streak by Kevin Durant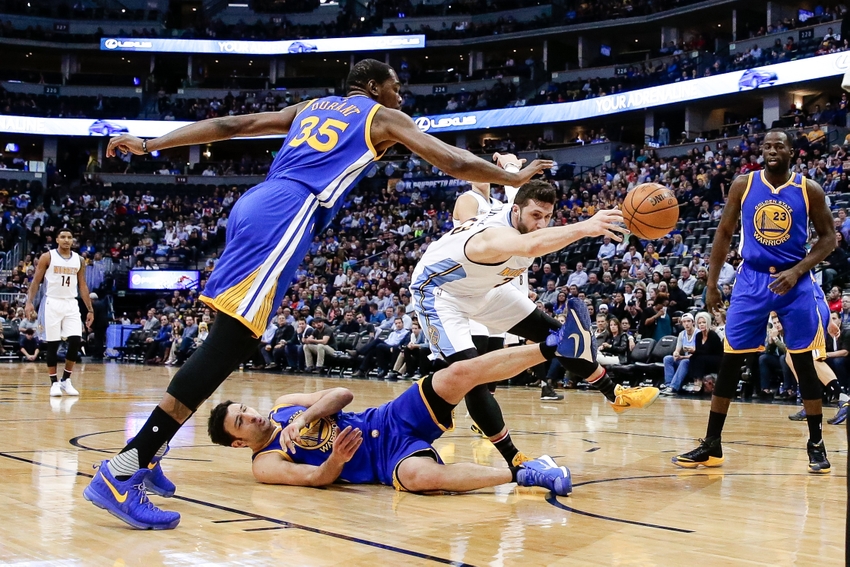 The Denver Nuggets technically were the team to snap the 20+points per game streak of Kevin Durant, but it may have been Golden State who held him back.
Kevin Durant, one of the newest editions to the Golden State Warriors, was on a ridiculous 72-game streak of scoring over 20 points per game. While completely obliterating the Denver Nuggets, Durant failed to hit his mark after notching only 18 points.
Durant may see many nights such as this one throughout the season as his usage took a hit after his transition to Golden State.
The Golden State Warriors scored 100 points while in the third quarter, and they continued their reign of terror over the NBA. Curry dropped 33 points on 10-17 shooting and 7-13 from deep. Durant, while he did take 16 shots, made just 8 and missed on all three of his beyond the arc attempts.
Overall, the Denver Nuggets presented little competition tonight, and they were handed a mighty 24-point loss. Whether this was a cry for help from the Nuggets or just a Dub Nation doing what they do best, the Nuggets will still have to rethink how to defend this super team as they will face them later on in the season.
While the Denver Nuggets, who certainly not a joke of a team, have their issue, they will still be a tough Western Conference team this season.
Ultimately, Durant's streak was broken, but it was just a matter of time before one of these blow outs did this to him. At least Durant can sleep well tonight knowing that it wasn't just a horrific shooting night, but rather an incredible win with an incredible team.
This article originally appeared on