Denver Nuggets: Shorthanded Heat Overpower Denver in the Mile High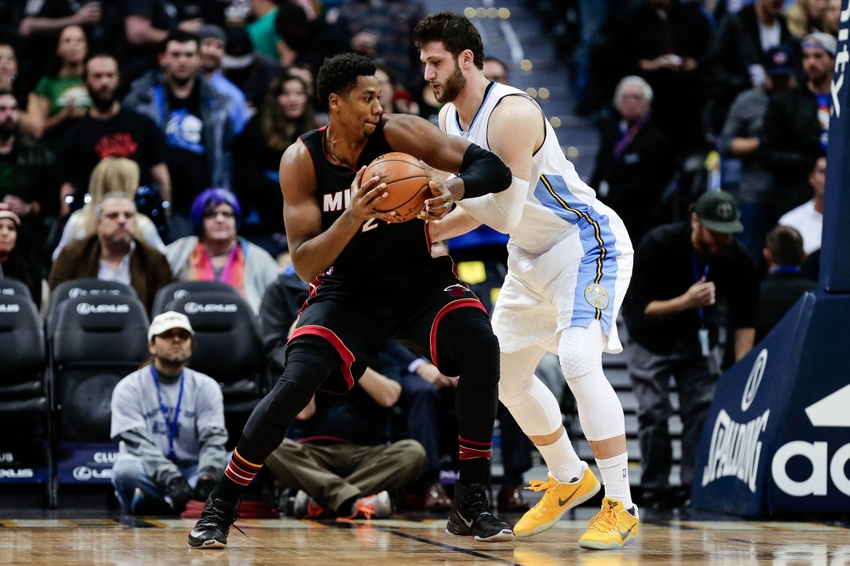 The Denver Nuggets gave yet another lackluster performance at the Pepsi Center on Wednesday night.
The Denver Nuggets did not come to play tonight. There is no question that the Nuggets have a more talented roster than the Miami Heat, but once again Denver played an undisciplined game and failed to establish any momentum. The Heat came into the game holding a 5-12 record and started Goran Dragic, Rodney McGruder, Luke Babbit, Josh McRoberts, and Hassan Whiteside. There is no way the Nuggets should lose to the Heat at home especially since they were without Dion Waiters and Justise Winslow.
Miami played a strong, well-disciplined game and were led by Hassan Whiteside with 25 points and 16 rebounds and Wayne Ellington with 22 points. Yeah, you read that correctly. Wayne Ellington. Tyler Johnson also had a solid game, coming off the bench for 18 points and 7 assists. The Heat simply out-played the Nuggets tonight and did an excellent job of controlling the pace of the game.
On the other side of the ball, turnovers were an issue for the Nuggets. Again. Denver finished with a total of 19 turnovers compared to only 6 for Miami. This led the Heat to outscore the Nuggets 28-8 on points of turnovers. While credit is due to Miami for taking great care of the ball, Denver only forced 6 turnovers the entire game. This exposes the Nuggets as a truly lackluster defensive team, as they only had 3 steals the entire game. Three! Chris Paul almost averages 3 steal per game by himself.
Despite the mishaps, Nikola Jokic had a great game and finished with 17 points and 14 rebounds on an efficient 7/11 from the field in just 24 minutes. He needs to start playing more. After all, he was our best player last year, right? Wilson Chandler had another solid game, finishing with 17 points and 7 rebounds.
In all, the Nuggets have a variety of issues. There appears to be a lack of energy when they play at home, which may be due to coaching , but could also be due to the fact that only 11,000 people showed up to the game tonight. Denver finished second to last in attendance last year and are on pace to finish second to last again this year.
If we want to see the Nuggets get better, it starts with us fans going to the games and supporting our team. Denver looks to get back on track on Friday night when James Harden and the Houston Rockets come to town.
This article originally appeared on