Denver Nuggets season preview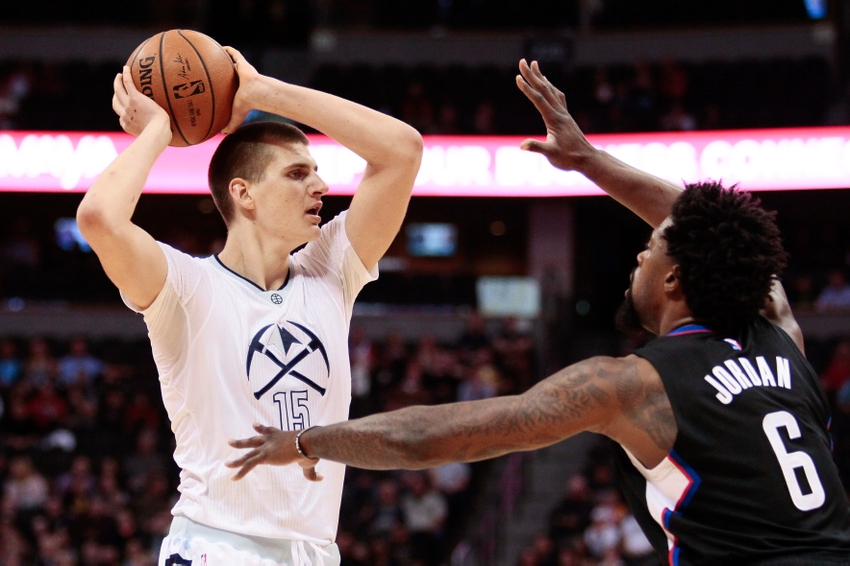 The NBA season will be here before you know it and FanSided is here to get you ready. In the lead-up to Opening Night, we'll be previewing two teams each day, reviewing roster changes, discussing important players and challenges, and hearing the perspective of our FanSided site experts. Let's get ready for basketball!
Roster Changes
Inputs: Jamal Murray (SG, NBA Draft pick No. 7); Juan Hernagomez (PF, NBA Draft pick No. 15); Malik Beasley (SG, NBA Draft pick No. 19)
Outputs: Joffrey Lauvergne (PF/C, traded to Thunder for two second-round picks)
Retained: Mike Miller (SF, signed for two years, $5 million); Darrell Arthur (PF, signed for three years, $23 million)
Most Important Player
Despite the fact that he finished third in the 2015-2016 Rookie of the Year voting, the casual NBA fan likely has little to no knowledge of Nikola Jokic. It is a pretty safe bet to think that is going to change during the upcoming season.
The 21-year-old big man from Serbia was utterly fantastic on a per-minute basis for the Nuggets a season ago, finishing with a 21.5 PER and a true shooting percentage of 58.2 percent. At the same time, the Nuggets were careful with his workload, as Jokic accumulated only 1,733 minutes of playing time (21.7 per game) despite appearing in 80 contests, and that suppressed his per-game numbers to 10.0 points, 7.0 rebounds, 2.4 assists, 1.0 steals and 0.6 blocks.
Still, the organization has been quite vocal in proclaiming Jokic as their centerpiece moving forward and it won't take much of a leap in production for that to become a reality. Jokic's per-36 minute numbers (16.5 points, 11.6 rebounds) are already off the charts and, if he can make the defensive leap in his sophomore campaign that many expect, he will become a legitimate two-way force.
There is an argument against Jokic as a darling of basketball die-hards in that he hasn't proven to be a focal point with a sizable workload. Now, it appears that he'll have that chance for the Nuggets this season and, if he can produce at the same level of efficiency, the sky is the limit.
Biggest question mark
Who is going to be available to play? Oh and, when they are, who is going to play for the Denver Nuggets in 2016-2017?
It is going to be very interesting to see how this rotation shakes out, especially with Wilson Chandler back after missing the entire 2015-2016 season with injury and the fact that Gary Harris (the likely starter at shooting guard) is set to miss at least a month with a groin ailment. Beyond that, Danilo Gallinari, who is easily the team's best shooter, played only 53 games a year ago and Jusuf Nurkic, an intriguing young big man, appeared in only 32 contests.
On paper, this is a deep, talented bunch but the pieces don't always fit together. Kenneth Faried is perhaps the biggest name on the entire roster, but he may not be included in Denver's best five-man lineup, whereas the Nuggets have a wealth of talent at shooting guard but perhaps a shortage of minutes after the breakout of Will Barton a year ago and the addition of both Jamal Murray and Malik Beasley in the 2016 NBA Draft.
Oh, did I mention that Emmanuel Mudiay is a big deal? The (very) young point guard was a mid-lottery pick just a year ago, but after an up-and-down debut, Mudiay will be handed even more of the reins and Denver will be heavily reliant on his play-making in order to reach their ceiling. Jokic is the best player on the team, but the Nuggets absolutely need to receive sizable contributions from veterans like Gallinari, Chandler, Barton and Harris, and the range of possibilities seems endless in Denver.
What does success look like?
— Nathan Beighle, @Nugg_Love, Nugg Love
For Nuggets fans and coaches, it will be hard to define success. Although they have a youthful roster the needs plenty of development, they also need to start moving towards competitiveness. The playoffs are the obvious goal for the players and the team, therefore by many standards, success will be measured by a playoff berth.
Realistically, the Nuggets will not be crowned champions this season and even getting into the playoffs is a lofty goal. In service of that, they can also find real success with the development of the team and the chemistry that is made between the young players. With several core players under 24, the Nuggets should have a successful season if they can fully develop the talent that is already within the organization.
Even without a playoff berth, the Denver Nuggets are in for an exciting season. Development for the future is important, but winning games now is the true goal which will define the teams success this season.
This article originally appeared on