Denver Nuggets: Reviewing an Exhilarating Week of Preseason Ball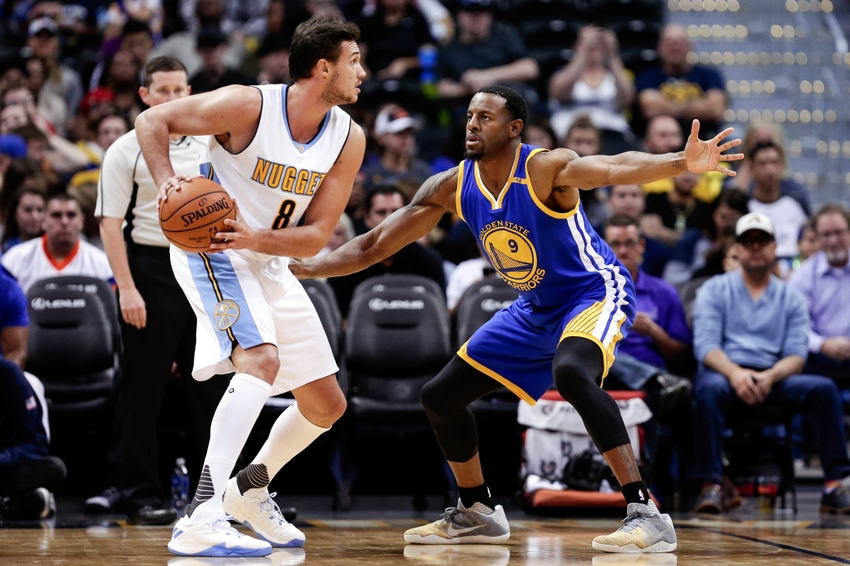 After a strong start to the preseason the Denver Nuggets seem to have stalled-out, and in a rough fashion. They dropped both of their games this week, and are looking to improve heading into the final week of preseason action.
The Nuggets came into this week 2-1 in preseason action, yet they leave it with a less than stellar record of 2-3. As is the same with most teams in the preseason, the Nuggets had their fair share of ups and downs.
There were times when Mike Malone's squad appeared like a team who could compete for a playoff spot, but there were also moments when they looked lottery bound. However, what it ultimately comes down to is this: they lost both games regardless of how well they played.
Want your voice heard? Join the Nugg Love team!
It's well-known that in the basketball, that it doesn't matter how good you looked at a given point in the game. Especially if you don't manage to win.
Even though they lost both of their games this week extending their losing streak to three games neither game was a display of consistency (whether it be bad or good). So we'll review their work from the week, and take a preview into their final week of preseason action.
Denver Nuggets vs. Minnesota T-wolves, Oct. 12
The Nuggets kicked-off the week in a game against the Timberwolves on Wednesday, losing 17 points. The game was played at the Pinnacle Bank Arena in Lincoln, Nebraska.
Wilson Chandler led the Nuggets team in scoring tallying 16 points , while shooting 5/12 from the field and 6/6 from the free throw line. However, Chandler did not manage to hit a single shot beyond the arc, going 0/6 from deep.
The Nuggets were led in both rebounds and assists by Axel Toupane with seven boards and three dimes, respectively.
This started out looking like it was going to be headlined by the match-up between Nikola Jokic and Karl Anthony-Towns, but fate had other plans. After only 15 minutes of play, Nikola Jokic fouled out of the game.
Before Jokic reached the 6 foul-limit, the battle between he and Anthony-Towns was well worth the hype and it's unfortunate that we didn't get to see it play throughout the entirety of the game. Jokic finished with a stat. line of 11 points, six rebounds and two assists while shooting 3/4 from the field. Anthony-Towns totaled 18 points, eight rebounds and four assists after 26 minutes of playing time.
However, you can't point to the fouling-out of Jokic as the sole reason for the Nuggets loss.
Denver struggled mightily with turnovers, converting 9 more than the Timberwolves did. This has been a problem for the Nuggets all preseason and it's been a large part of every one of their losses.
Notable Nuggets who didn't play in this game include: Gary Harris (groin), Darrell Arthur (knee), Danilo Gallinari (rest), and Jusuf Nurkic (rest).
You can read more about what to take away from this game in a post by Matthew Huff right here.
Denver Nuggets vs. Golden State Warriors, Oct. 14
The Nuggets closed-out the week on Friday in a loss to the Golden State Warriors. This game the first of only two home games for the Nuggets this preseason.
Denver Nuggets Fantasy: Implications From Preseason Opener
This game was arguably the most exciting out of any played by the Nuggets this preseason. There were plenty of standout players on both sides of this game; and thankfully, we got to watch this one play out in a thrilling overtime finish.
It was also somewhat of a tale of two halves, in that barely any of the starters for either team saw any action after halftime. But that makes it so much better since both benches played a fantastic game.
In the first half the Nuggets were led by Gallinari, who boasted 19 points and eight rebounds while almost shooting perfectly from the field (7/8), and Nikola Jokic, who tallied 14 points and 10 rebounds.
This was the first look that Denver got against the newly-minted "super team" known as the Warriors, and trust me, they did not disappoint. Kevin Durant, Klay Thompson and Steph Curry combined for a whopping 58 points, 17 rebounds and 10 assists.
But the most intriguing part of this game was the battle between Jamal Murray, of the Nuggets and Patrick McCaw, of the Warriors.
The two absolutely took-over the fourth quarter, and that leaked into the suspenseful overtime finish. In the end, it was McCaw and the Warriors who came out on top after he nailed the game-winning two, as time expired.
McCaw finished with 18 points and six rebounds, while Murray racked-up 16 points, five rebounds and seven assists.
You can read more about this loss in a post by Nathan Beighle, right here.
Up next for Denver
This week ultimately ended in heartbreaking fashion for the Nuggets, but there is still hope for this season.
Firstly, because this is only the preseason and not isn't necessarily a reflection of how this season will pan out. Most of the mistakes that they've made, namely turnover and poor ball movement, are easily fixable they just need time.
Once they start to get a better feel of themselves, they'll start playing more like the playoff contending team that they've had flashes of. So, this happens to be one of the few instances where they should be hoping to play more preseason games.
The second reason that there is still hope to be found is because they've had the aforementioned flashes without being at full-force. For each of the past four game, Mike Malone has opted to sit a few players simply on the basis of rest.
It's a page straight out of the Spurs playbook, and it will hopefully payoff at the start of the season.
Next week, in what will also be the final week of the preseason, the Nuggets are scheduled to play the Portland Trail Blazers, Oklahoma City Thunder and Dallas Mavericks. Only one of these games will be played at home, in the Pepsi center.
That gives this Malone's squad just enough time to work out the kinks in their game before the start of the regular season. Hopefully the Nuggets will win more than they don't this week, so that they can carry some sort of momentum in their season opener against the New Orleans Pelicans.
This article originally appeared on