Denver Nuggets: One step forward and two steps back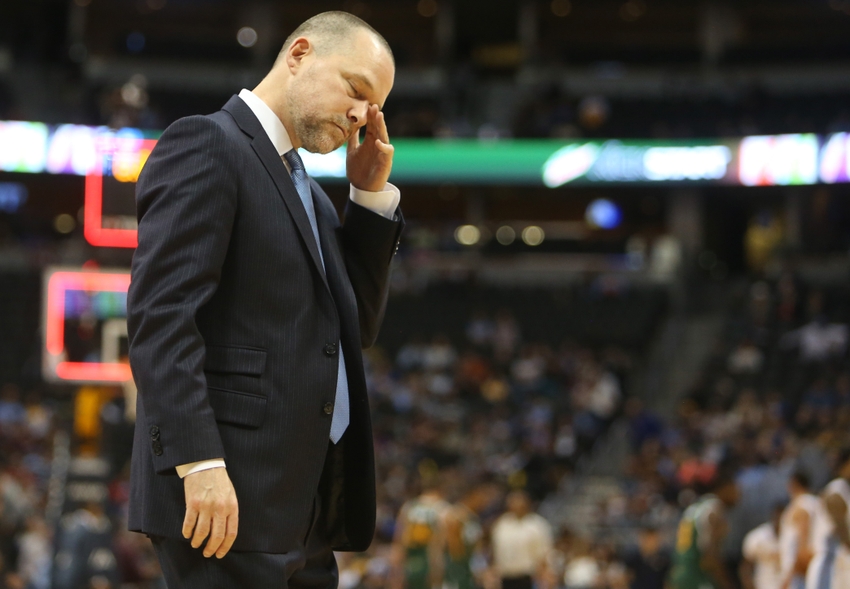 The Denver Nuggets must learn from mistakes and move forward.
On Wednesday and Friday night the Pepsi Center welcomed back its tenants after an inspiring away win in Phoenix last weekend.
The Nuggets dismantled the Suns 120-114 in their own backyard on Sunday in what appeared to be a possible turning point in the season – it was not the case.
The now 7-12 Miami Heat then traveled to Denver on Wednesday night with a largely underachieving squad themselves, plus a couple of important injuries too. It seemed like the perfect opportunity for Denver to grab a win and kick-start a possible win streak with a favorable run of games on the horizon.
Denver lost. And in front of a disappointingly low Pepsi Center crowd in downtown Denver, the Nuggets succumbed to the industrious team effort of an arguably average Heat side who ran away with a 98-106 win.
What mortified Nuggets fans the most was the notion that the Heat fixture posed as what should have been a routine victory for a team welcoming back their top-scorer in Danilo Gallinari. But as we all know in sports: nothing is a given.
And on Friday night, the Nuggets welcomed one of the league's best in the Houston Rockets. The side from Texas cruised to a 110-128 victory over Denver showing no signs of fatigue after a double overtime win against the Warriors the night before.
Denver, who now sit at 7-13 have some much-needed work to do, with a few serious questions presented to Mike Malone in relation to who plays and how does this team move forward?
Gallo's return
Whilst Gallinari's return is a massive boost in terms of his points and defensive presence, it was also evident that the Italian perhaps slowed down the offensive tempo the Nuggets have displayed in recent positive performances.
Gallinari was 6-16 from the floor on Wednesday, and on Friday scoring 16 points off 6-11 shooting in 34 minutes; not awful for a player returning from being sidelined, but also, not good enough. Gallinari had another rough night yesterday, and it will be interesting to see how Coach Malone continues with him moving forward.
There is no question that Gallinari is one of the most vital components to this Nuggets squad but that does not mean the forward can be exempt from earning his place back into the starting five. So, is it time to make the seven-year pro step up and fight for his place back as Wilson Chandler continues to knock at the door?
'Ill Wil' and Murray Must Play
Chandler who had seen extended minutes prior to the Heat fixture had been impressing on all fronts, constantly prompting answers as to why his minutes are not continuously extended or why he is not starting. Whilst his energy off the bench is infectious, the Nuggets need to start and end games at full throttle just like the NBA's elites always do. Therefore Chandler undoubtedly must start.
From the outside looking in, the Denver Nuggets boast an immense squad depth particularly in the center and guard positions when all players are healthy. This is a tremendous positive but it also creates a difficult situation in regards to who plays.
Jamal Murray is another player who has aided his team considerably when seeing extended minutes. The first-year guard earning the Rookie of the Month award for November this week; evidence that the Canadian-born three-point shooter is worthy of every minute he gets on the court.
The Nuggets are, and will be, better than they showed in Denver on Wednesday and Friday evening. But the task of utilizing the skill sets of all the players for the benefit of the team and consistently getting performances which translate into wins continues to be a struggle.
Malone and his staff will be hoping that these difficult losses against the Miami Heat and the Houston Rockets are just mere blips in what is about to be a positive streak for this Denver Nuggets roster.
But they must start performing swiftly, before the rest of the Western Conference rallies ahead, ultimately leaving the Nuggets lagging behind.
This article originally appeared on