Denver Nuggets: Jamal Murray and Wilson Chandler Have Carried This Team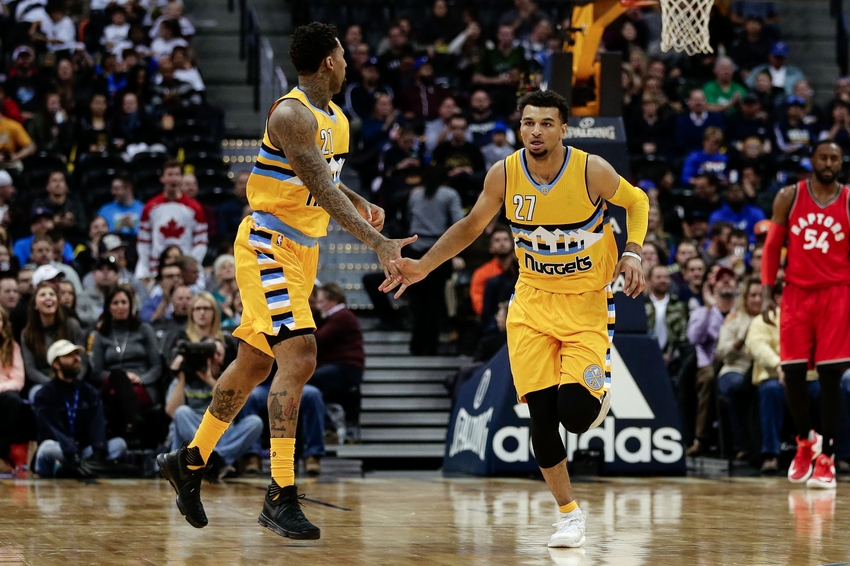 Scrolling through the Denver Nuggets game log, it is obvious that Wilson Chandler and Jamal Murray are the saviors of this team.
As I was writing a different article, I took a second and realized the impact that Wilson Chandler and Jamal Murray have had on the Denver Nuggets just by looking at the box scores.
Chandler and Murray have either led the team in scoring or been tied for the lead in the scoring for the Denver Nuggets in the last eight straight games.
In the 16 games that they have played together, the Nuggets have been 7-9, and they have played 15.7 minutes per game with each other. Scoring 35.2 points in that 15.7 minutes means that while both are on the court the Nuggets average 2.24 points per minutes. This would be 107.6 points per game which is more than the Nuggets currently average.
The Nuggets certainly have seen growth this season from both players. Murray, who is quickly proving that he can turn into a superstar, has been electric from deep and woken up the Mile High to basketball, and Chandler has been the go-to man for Denver which should not be overlooked.
This dynamic duo has started to come alive for the Mile High, and without them, this team may be more like 4-14. Not to mention when they are on the court, the team has averaged a mere 4.4 turnovers. Compared to their usual 16.2, which is 27th in the league, 4.4 every 15.7 minutes does not seem to bad.
These two may soon face a relapse in minutes as Gary Harris and Will Barton will quickly be back in the rotation. But, the real question, is: "Have these two proven enough to stay above 24 minutes per night?"
This question will only be answered when this team is at full strength, but my gut tell me no. What do you think about this upcoming dilemma?
This article originally appeared on