Denver Nuggets: Is the Turnover Conundrum Out of Hand?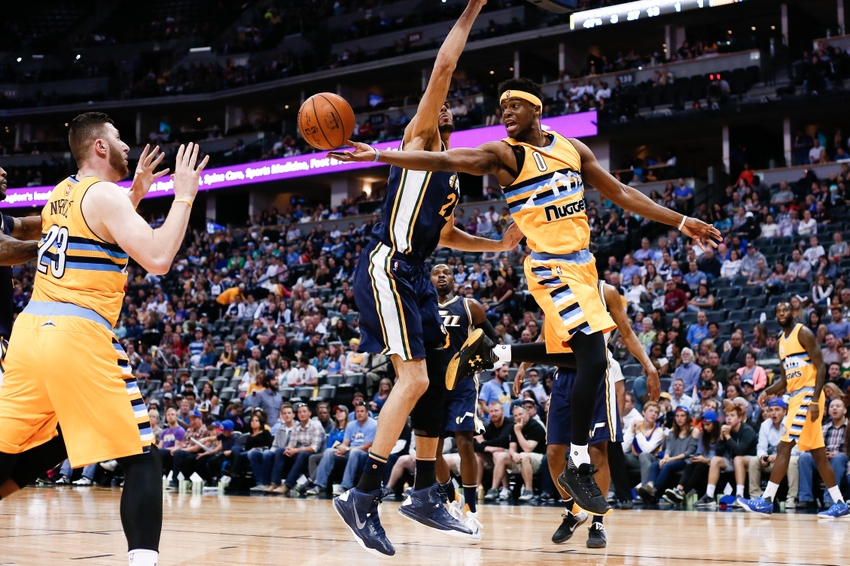 I would define a conundrum as darned if you do and darned if you don't. Many good assists equal many bad turnovers. The Denver Nuggets have a conundrum.
All teams, even the best, go through turnover phases. Many times the difference in the outcome on a close game is the difference in the number of turnovers. Remember,  a turnover can be a four or five point play for the opposition.
Enter the Denver Nuggets, who fill this bill. In very close games and games which are not so close, if our turnovers had been significantly reduced, we may have won. That being said, our primary point guard, Emanuel Mudiay is fifth (worse) in turnovers through 12/1/16, with 61. Who has more? Try Westbrook-109, Harden-106, Wall-69, James-63!
Obviously turnovers are related to how much the player is handling the ball. Stars in our league turn the ball over due to their aggressiveness in passing and trying to incorporate other players and get assists. Very significant is that our own Emanuel Mudiay has materially cut down his turnovers recently which demonstrate attention, understanding, focus, and growth.
On the first game against Utah, he had 8 assists, 0 turnovers, and we won big league. He says he's slowing his game down and letting it come to him.
Turnovers to Assists
Turnover to assist ratios define the effectiveness of handling the ball as a playmaker. Isn't it interesting that many of the same superstars who turn over the most are on the list with most assists. Per game: Harden-12; Westbrook-11.3; Wall-9.3; James-9.1; Paul-8.9. Paul has only  2.3 turnovers a game. He is the master here.
Mudiay's assists? 4.3. He has a way to go, but to his credit, his assist to turnover ratio has improved materially over the last few games. But the point is, good ball handlers may still turn the ball over. Best ball handlers do it less.
Now how about the teams whose ball handlers have a lot of turnovers? Well, Denver is 26th in the league, 5th worse so to speak. OKC is 23rd, Houston-27th, Washington-18th, and Cleveland-12th. So even though the primary ball handler contributes to turnovers, it is not the most determinant factor in wins and losses, e.g., Cleveland. So the good teams can remain aggressive with assists which may result in turnovers, because they can compensate in other ways with their superstars.
We don't have the superstars to compensate.  Little things matter more. So Denver must reduce turnovers, as we have to figure ways to tweak out some wins in the ends of games, and controlling turnovers at that time is paramount.
Reducing Turnovers
So what action do we take to reduce turnovers? There are great articles about what types of turnovers there are and how to reduce them, for example:
http://www.coachesclipboard.net/BasketballTurnovers.html
Coach and players should incorporate these well thought out actions to reduce turnovers. For example, if there is a tough guard defending our point guard, get rid of the ball right away. If we are driving, don't do it when the lane is clogged. It comes down to executing good fundamental skills, and understanding game situations.
Once we understand what kind of turnovers we are committing, run drills to shape up.  We need to discuss the turnovers during game planning and know who on the opposition has steals and/or causes turnovers.  A key is to have our rotating players always moving, setting screens, rolling, and making sure that they are available for a good pass, hands ready to receive. Don't leave the guard out in the cold! If you are just standing, coach should sit you down!
Keep it Simple
Suffice it to say, the two main ingredients to reduction of turnovers are concentration, and execution. Mudiay says to keep it simple. This doesn't mean he can't provide a super lob pass, or across the court pass, but practice these things and know the risk level, by ascertaining who is on who, and what they are doing. All these things have to become instincts, so they need to be practiced over and over.
As I watch the Nuggets warm ups, I don't see them running drills such as back screens, post 2 on 2's, passing drills and others. The team just seems to want to loosen up with lazy shots. They should rather have a sweat worked up like Curry does, so they are immediately in the flow. They need to be racehorses out of the gate, ready to run, pass and play without mistakes. Get after them coach!
The turnover conundrum is that in order to play with high level skills, with passing and assists, some turnovers will happen. But a team on the rise can't make as many mistakes as one with superstars.  So practice, be smart and execute accurately.
This article originally appeared on