Denver Nuggets: How Good was Lafayette Lever?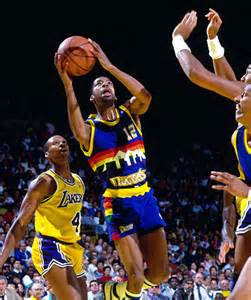 Lafayette Lever, aka "Fat" Lever, was one of the most versatile point guards of his time.
With LeBron and Westbrook producing triple doubles this past week that put them ahead of Fat Lever in that career category, one should remember how effective he was as a player. For many years, Fat Lever was the star point guard for the Denver Nuggets. While he wasn't as flashy of a player as Alex English was, he was one of the main staples of the team throughout the '80's.
Not many people know that the Nuggets had a key dynamic duo with English and Lever during that time, and it could be debated that they were one dynamic player away of possessing a big 3. Some Denver fans will even go as far to say that he should be in the Hall of Fame!
Before his decline during his Dallas Mavericks tenure, he was a point guard who averaged close to 20 points per game during his prime. Lever did more than just score though. There is a reason he recorded 43 career triple doubles, which is now 7th on the all-time list.
While LeBron and Westbrook's 44th triple doubles were impressive, many fans of the game forget how underrated Fat Lever was during his days with the Denver Nuggets.
Want your voice heard? Join the Nugg Love team!
If one doesn't believe this statement, then they should look at some of the statistics his career boasts.
Some of Lever's stats paint a picture of why he was able to pull down 43 career triple doubles.
Fat Lever finished with a career player efficiency rating of 17.8 illustrating how efficient he was on the floor. What gets overlooked is how effectively he was on the defensive side of the floor.
He has a career steal percentage of 3.2% to couple with a defensive rating of 105. One year Lafayette even averaged an astounding 4.1 steals per 100 possessions.
Also, despite his streaky shooting throughout Lever's career, he could score with the best of them when he was hot.
The year the Nuggets made it to the Western Conference Finals against the Lakers in the 1985-86 season, he possessed a true shooting percentage of 47%. The following year it increased to about 51%. With a true shooting percentage like that, it could be argued that Denver would have beat the Lakers in the Western Conference Finals if they had a healthy Alex English the entire series, but that's a debate for a different day.
Before there was Chauncey Billups and Allen Iverson, the best guard to ever dawn a Nuggets jersey was none other than Lafayette Lever.
Everyone knows about point guards like Magic, Isiah, and Stockton, but few know about Fat Lever.
When one analyzes Fat Lever's style of play along with how well rounded his career statistics are, it is easy to see why he is top 10 all time in career triple doubles. He truly was an all-around player during his prime.
While it isn't difficult to overlook talent in an era that consisted of the likes of Magic Johnson, Isiah Thomas, and John Stockton, one shouldn't overlook how key Fat Lever was for the Denver Nuggets.
Nuggets fans will always hold a spot in their heart for Lafayette Lever. However, the rest of the NBA and its fan base should stop underrating this versatile point guard.
Lafayette Lever was one of the premier point guards of the old school NBA for a reason.
This article originally appeared on