Denver Nuggets: Five Potential Trade Partners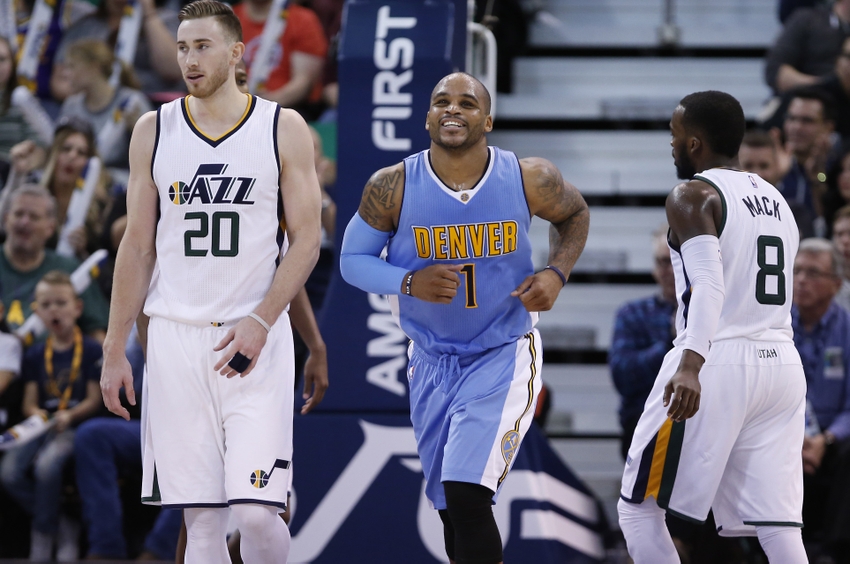 The Denver Nuggets are off to a slow start, starting 7-13 this season. With this in mind, what teams could Denver make some deals with this season?
We are now 20 games into the 2016-2017 NBA season, and we are starting to see what each team is made of. A question that is always fun to think about is, "What possible trades can my team make to improve?" Denver is one of these teams, as they have begun the season 7-13, currently standing at 11th in the Western Conference. So who should the Nuggets try to make a deal with?
That is the question that I will be addressing, as I try to name five potential and interesting organizations that Denver could make a trade with. So without further ado, let's get started.
Remember: If you think there are better trade partners, let us know. We want to encourage your feedback on the article and site.!
1. Phoenix Suns.
I've said it before and I'll say it again, I love Brandon Knight.
The Nuggets could benefit greatly by acquiring a guard like him, and they have some aspects that the Suns may want. If a deal couldn't be worked out for Knight, then Eric Bledsoe could be another guard that Denver could go after. The Suns could use a more proven small forward like Danilo Gallinari, or Wilson Chandler. The recent surge of incredible play from Chandler could also influence Phoenix's mind.
The main reason that I believe the Suns and Nuggets could be good trade partners is because of their respective situations.
Both are struggling teams, but have good pieces to their rosters that could be considered wildcards.
These are the players who have the opportunity to go off each and every night, and truly help their sides. Some examples for Denver include Danilo Gallinari, Wilson Chandler, and even their young rookie, Jamal Murray. The Suns have players like Eric Bledsoe, Brandon Knight, and Devin Booker.
It would be interesting to see what these two could put together, and what the results of their deal could be. Even Eric Bledsoe would be up in the air. Ultimately, the only two players that the Nuggets would be willing to get and the Suns would be willing to let go are Eric Bledsoe and Brandon Knight.
2. Minnesota Timberwolves.
The Timberwolves have plenty of young pieces that could interest Denver in making a big deal. In fact, that has basically been the identity of the Wolves in the past seasons, with young players like Karl-Anthony Towns and Andrew Wiggins making their names known. Players like this catch the eyes of many NBA organizations, and can include the Denver Nuggets.
There are plenty of players on the Wolves roster that the Nuggets could be interested in. Some examples can include the high-flying Zach LaVine, or the young point guard in Kris Dunn. Minnesota could be interested in players like Emmanuel Mudiay, or even a player like Kenneth Faried to match with Towns in the post.
The Wolves could also be interested in the draft picks that Denver has available to them, as the Nuggets currently have two first round picks in the upcoming draft at their disposal.
The Wolves could get even more youth than they have, but just how important would that be to them?
3. Charlotte Hornets
Alright, I'll go ahead and get this out-of-the-way. I love Kemba Walker. In fact, if I had to pick my favorite point guards outside of the Nuggets, Walker would be second, trailing only Stephen Curry. Do I think that the Nuggets could make a deal with the Hornets for Walker?
Denver Nuggets: DFS Picks for the Season Opener against the Pelicans
I do believe that a deal is possible for him. It would take a lot, but I don't believe that he is untouchable. Although it would take a lot, the Nuggets have plenty of young pieces and draft picks that they could offer the Hornets in an attempt to nab the rising point guard.
I didn't discuss the Hornets just because of Walker, as Charlotte has some other guards that could benefit Denver as well. Players like Jeremy Lamb or Nicolas Batum could fit in nicely on the Nuggets' roster as well. The position of need for the Hornets would have to be the small forward spot, a spot in which the Nuggets could offer Danilo Gallinari or Wilson Chandler to them and a draft pick.
These two could fit each other's needs, and I'll be honest, I'd love to see Kemba in a Nuggets uniform. Again, Kemba is the man that is off limits of the Nuggets, but even Marvin Williams would be a nice addition. If the long run plan for Denver is to mature and grow Mudiay, then it may be smart to add a sharpshooter like Marvin Williams. But after his recent contract, that may not be so easy.
4. Houston Rockets.
The Rockets recently blew out the Nuggets in a game held at the Pepsi Center. What did we learn in that game?
Well for one, the Rockets can shoot the three ball. In fact, a large proportion of their points came from beyond the arc, and it was easy to see how. The leader of the team is obviously James Harden, and he is untouchable, but what about players like Trevor Ariza, or Ryan Anderson?Eric Gordon is another name that comes to mind, and the underrated K.J. McDaniels. All of these examples can shoot the three-point shot, something the Nuggets desperately need.
Want your voice heard? Join the Nugg Love team!
What could the Rockets possibly want from a team that they beat by 18 on their own floor? A player that could have caught their eye in that game is Wilson Chandler.
I know I've mentioned him a lot so far, but just because he's been playing well does not necessarily take him out of the trade ideas. In fact, it could enhance them, as he could pick up value with every big game. I also think a Darrell Arthur would fit well with that team, even though the trade couldn't happen until mid-December.
We may not be able to get the star of the team, but there's definitely some players that could be interesting.
5. Golden State Warriors.
Yes, the villains of the NBA could have some pieces that fit Denver's future. The main player that I am focusing on with a deal between these two teams is Draymond Green.
You don't have to tell me how much of a distraction he is off of the court, I know the risks that the Nuggets could be taking by trying to acquire him. What I do see would be a superstar coming to Denver, something the Nuggets haven't had since the Carmelo Anthony days. A successful team needs a star that is trusted to take the big shot in clutch situations, and Denver does not have that right now.
The player that I think could fit in well with Golden State is "The Manimal," Kenneth Faried. Faried is a great rebounder and defender, and with the offensive fire-power that the Warriors possess, they don't necessarily need more offense.
The motto always goes, "Defense wins championships." Faried could be an energetic player who would be an incredible lift off of the bench for Golden State. He's athletic, and can grab plenty of rebounds, something that the Warriors could use more of.
This article originally appeared on