Denver Nuggets: Emmanuel Mudiay Reignites an Important Debate
Brendan Vogt/FanSided via Hoops Habit

Fansided
When the Denver Nuggets switched up their starting five, Emmanuel Mudiay injured his back and fell out of the rotation. Capitalizing on limited time in the final games of the season, Mudiay has reignited the debate over Denver's point guard of the future.
About one month after the Denver Nuggets revamped their starting lineup, Emmanuel Mudiay was sidelined with a back injury. The recovery alone cost him 12 games, but the timing of it cost Mudiay his starting job.
In his absence, 35-year-old veteran incarnate Jameer Nelson took over the starting position.
Bringing stability and leadership to a young team that had suddenly been cast into the thick of a playoff race, Nelson was the safest bet with the first unit.
He was considerably less turnover-prone than the two younger guards and was actually the team's best distributor per 100 possessions during that stretch.
Fellow point guard prospect and top-10 pick Jamal Murray finally found some confidence and he began to see consistent playing time as the backup.
Murray caught on with the fans and Mudiay's future in Denver became a hot topic for the papers and Nuggets' blogs. In the final months of the season, it looked as if the conversation surrounding Denver's point guards had reached its end: Nelson for now, Murray in the long run.
Suddenly, in a crucial game against Houston, Mudiay resurfaced. Mudiay caught 10 minutes on the floor that game, knocking down a pair of threes and moving the ball well. It was an encouraging sign, but the Nuggets lost.
That was back on March 21 and the Nuggets' playoff hopes dwindled with each succeeding day. Russell Westbrook finally extinguished those hopes with an (approximately) 456-ft three pointer at the buzzer on Sunday.
Mike Malone seemed to recognize and take advantage of the sudden change to the tone of the season. At the start of the month, he decided to work Mudiay back into the rotation. He has capitalized on those minutes in a big way.
Live Feed

emmanuel mudiay
In his last five games—an admittedly small sample size—Mudiay has shown flashes of the player that Denver hoped they had drafted.
Using numbers from those games, Mudiay's per 36 stats are particularly encouraging: a slash line of 45.5/36.4/81.1 with 18.6 points, 5.2 rebounds and 7.9 assists.
These are up considerably from his per 36 numbers for the first half of the season: 36.9/30.6/77.5 with 15.0 points, 4.5 rebounds and 5.4 assists.
Again, it's a small sample to work with. But Mudiay has looked a completely different player in this new offense and especially with Nikola Jokic on the floor—something that Mudiay hadn't received his fair share of.
This tweet is from the April 1, meaning it doesn't even take into account Mudiay's recent performances. The net rating with Jokic on the floor has likely increased since then.
Nikola Jokic had an enormously positive impact on teammates this season. He just didn't play enough. 2017-18 Nuggets will be so intriguing. pic.twitter.com/5rIbcRmWVB

— Andy Bailey (@AndrewDBailey) April 1, 2017
Highlighting his recent stretch of impressive performances is the April 2 game against Miami. Mudiay played more than 30 minutes in this game and finished with 17 points on 4-of-9 from the field. Perhaps more encouragingly, he finished with nine assists and just two turnovers.
Mudiay has never been an elite shooter. How, and when, he takes his shots is likely the biggest reason why. In his rookie season, 43.9 percent of his shots were pull-up jumpers. Here's some hard-hitting basketball analysis: that is far too many.
He made a considerable effort to improve his shot selection this season, but he has a better drive/pull-up/catch-and-shoot ratio in these last five games than ever before in his young career.
He's knocked that pull-up percentage down to 18.1, driving to the hoop on more than 60 percent of his looks, while putting up an effective field-goal percentage of 63.7 on the remaining catch-and-shoot opportunities.
Mudiay can thank the Joker for the newfound spacing and the additional looks. The big man has assisted on more of Mudiay's field goals—22—than any other player on the roster. Big Honey is an exceptional passer from multiple spots on the floor.
Often, players on the weak side are either helped off or forgotten about completely when Jokic gets the ball. That opens up looks like this one:
That will definitely help your field goal percentage. Most centers might have to kick that ball out for multiple swing passes, allowing the defense to rotate. Jokic is not most centers.
The shooting improvements are nice, but the key is the uptick in assists. It's a unique privilege to be able to run your offense through your center, as Denver does. But it's never ideal when your big man is the only true playmaker on the team.
Like most aspects of the game, Mudiay has the raw physical tools to excel as a passer. Armed with decent vision and raw strength, he can be a solid distributor—but he turns it over far too often.
His passing skill is best displayed when there's only one true big on the floor and/or when the team runs a lot of high pick-and-rolls. The key here is spacing.
Mudiay has the speed and strength to turn the corner on most opposing guards off a pick. When there's room for him to operate in the paint, he becomes a talented scorer. This scoring ability demands attention, which opens up holes.
Mudiay gets rolling downhill on this play and the defense becomes concerned with stopping his drive—leaving Mason Plumlee wide open.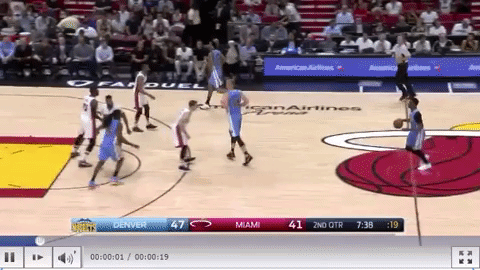 Stuck on the court with either Jokic and Jusuf Nurkic or Kenneth Faried and Nurkic, Mudiay didn't see that kind of space in the first half of the year. Two behemoths inhabited and clogged the paint at all times.
Often, Mudiay found himself driving to the rack only to meet a small army of defenders already waiting for him under the basket.
With more space, Mudiay seems to have found his groove as passer and if he can cut down on the turnovers, that may be his biggest advantage over Murray. Excellent passing and smarter shooting have vaulted Mudiay back into a conversation that had seemed settled not too long ago.
Eliminated from postseason contention, it's now time for the Nuggets to turn an eye to the future. Who should be the starting point guard moving forward in Denver? The debate is officially back on.
This article originally appeared on