Denver Nuggets: Answering Three Burning Questions after Another Tight Loss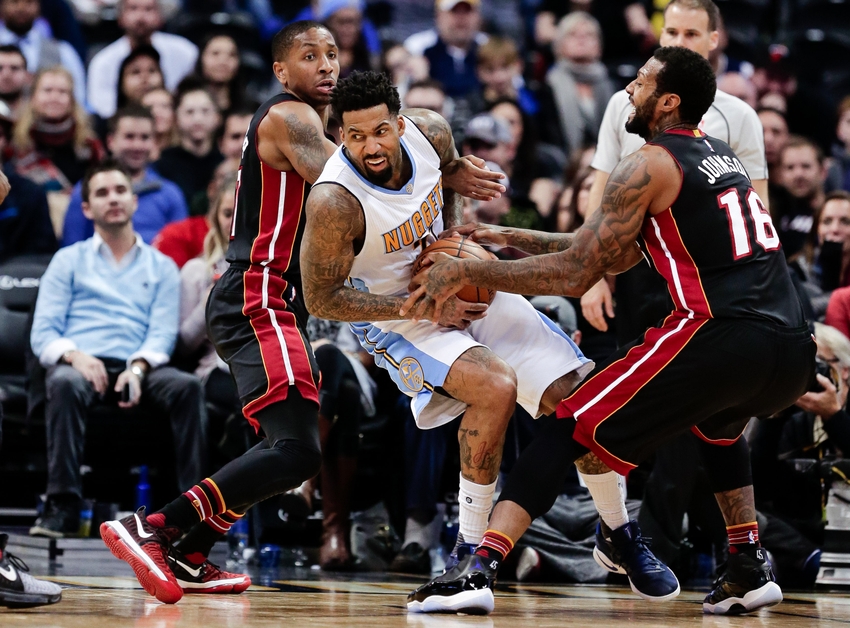 After another horrendous loss, questions concerning this Denver Nuggets team have added up, and we took to Twitter to answer the top three.
The Denver Nuggets, just when their fans thought they turned a corner, relapsed last night. They allowed an already depleted Miami Heat team to control the tempo of the game and eventually suffered another loss because of it.
The Heat ended up winning the game by eight points while Hassan Whiteside lead the way with a powerful 25 points and 16 rebounds. Nikola Jokic did his best to counter the Heat big man as he put up a strong 17 points and 14 rebounds in 8 less minutes than Whiteside.
At the end of the game, Nuggets fans were having a distraught time as they took to Twitter to discuss the teams problems. As I saw all this distrust, I decided to ask the fans what questions they asked, and the return was enormous.
So, with that said, here are the top three most alluring questions that we pulled from Twitter about our Denver Nuggets.
Has Murray Shown Enough?
@Nugg_Love I like murray, and I'm sure the rest of nuggets nations does too, but has he been consistent enough to earn a starting role?

— David Anaya (@funnyfunnyfrodo) December 1, 2016
The Denver Nuggets are in the midst of trying to find their identity. Jamal Murray, who has come onto the seen lately, could be the starter for right now, and honestly he SHOULD be the starter right now. Both Gary Harris and Will Barton have missed 10+ games, and it will be crucial that the offense thrives at the beginning of games.
But, when Gary Harris comes back, Jamal Murray will return to the bench easily. The chemistry that Gary Harris has with Emmanuel Mudiay is one that can not be replaced by Jamal Murray. Along with Harris' ability to slash and adequately defend the NBA's best, it is not doubt that he will return the start, so Nuggets Nation, you will have to wait a bit to see Jamal Murray for extended periods of time.
Along with that, it will be interesting to see if Jameer Nelson continues to start after logging 37 minutes against the Heat. The Nuggets and Coach Malone tend to keep either Nelson or Mudiay in at all times, and starting both means one will get excess minutes.
So giving the Murray the start in front of Nelson and allowing Nelson to be the backup PG would help most likely everyone. This should be an option the coach looks into, but I wouldn't except Murray starting to be a long-term deal.
Murray also took a step back last night. He was allowed 23 minutes, but unlike Jokic, Murray disappointed shooting 3-10 and scoring just nine points. He doesn't contribute too much besides scoring which may be an occasional issue in the future.
Why isn't the Mudiay-Jokic-Murray lineup more prevalent?
The Jokic-Mudiay-Murray lineup has appeared in 10 games, and of those ten games the Nuggets are 4-6 in them. In those 10 games, this lineup saw just 7.5 minutes per game, and in those minutes they averaged 17.2 points. Also their 3.2 turnovers in this time is far below most other lineups that involve Emmanuel Mudiay.
While not often used, the basketball thought process would assume that his lineup would be excellent. It would give Mudiay several outlets when he gets down low on drives. Insert Gallo and Chandler also, and it could Denver "Death Lineup." Even without them, it may be smart for Coach Malone to insert Jokic back into the starting lineup.
Jokic just came off of an excellent 17 points and 14 rebound effort against Hassan Whiteside and the Miami Heat, and if he starts to Heat up (Did you catch that pun?), Coach Malone may insert him back into the starting lineup. The Nuggets starters have struggled to open games, and Jokic may be the answer.
His soft touch and scoring ability would allow Denver to hopefully not get in the whole early.
As so answer the question, those three are in different rotations, so they usually do not get to see time together, but it might be beneficial for Coach Malone to look deeper into using that lineup.
Should the Nuggets shop one of their highly-skilled small forwards?
Yes, or at least I would think so. While no rumors have officially made their way around, with the Mile High City becoming more antsy, rumors may start to appear. With their next 10 games easily winnable, Denver needs to go on a little run in order to silence their antsy fans.
Chandler and Gallinari (especially Chanlder) both have value in the NBA. Chandler has proven that he can be a physical scorer and defender while Gallinari has proven his entire career that he can score. With teams like Houston or Boston potentially craving a defensive mastermind like Chandler, teams could offer enough to claw them from Denver.
With the small ball lineup becoming more prevalent in the NBA, these two may continue to hold solid value among most NBA teams.
So to answer the question, yes, I think Denver will eventually make a deal.
The Denver Nuggets now sit at 7-11, and they are in need of a couple big wins, and it could start Friday night against the Rockets on ESPN.
This article originally appeared on