Denver Nuggets: A Week in Review, The Top Lesson Learned through Three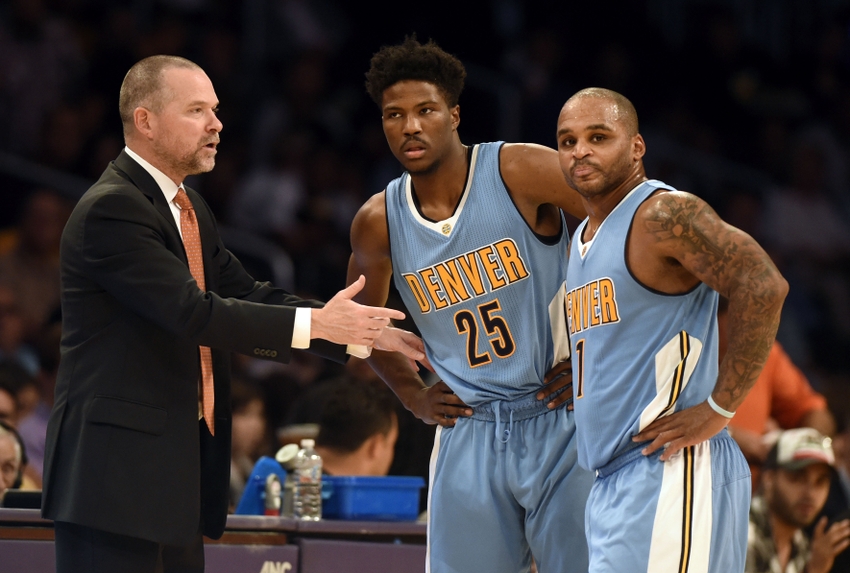 The Denver Nuggets have come out of their first week of preseason action with a 2-1 record. However, they had more than their share of ups and downs.
Last night, the Nuggets officially closed out their opening week of the NBA Preseason with a loss to the L.A. Lakers. The loss was their first of the preseason, which brings their record to 2-1 this week.
With the exception of last nights loss, each of the Nuggets games have been decided within only a four-point margin. However, even with their winning record the Nuggets have shown some serious flaws in their game.
Now, it's only the preseason and they still have a lot of time to fix these flaws; but nonetheless, these flaws are still potentially season-wrecking.
Want your voice heard? Join the Nugg Love team!
It wasn't all bad for the Nuggets this week though, as evident from their two victories on the road. They also thrived in areas which help show where this team focus if they want to win more games.
But before we go over the Nuggets strengths and weaknesses from this week, let's review their play from each game.
Denver Nuggets vs. Toronto Raptors, Oct. 3rd
The Nuggets opened this week with a nail-biter against the Toronto Raptors last Monday, winning by only two points. The game was played at the Scotiabank Saddledome in Calgary, Alberta, Canada. It was part of the NBA Canada Series.
Jusuf Nurkic lead the Nuggets in both points and rebounds , while Will Barton lead them in assists with five.
This game was ultimately a 'battle of the bigs', more specifically it was a battle between Nurkic and Jonas Valanciunas. The two fought for boards all night, and their work from the post was reminiscent of a time when teams were more reliant on bigs on the offensive end.
In the end, Valanciunas won the point battle with 20, but Nurkic narrowly edged him off the boards with ten rebounds.
The game was decided by the final shot, which was a missed three-pointer by Raptors guard, Norman Powell when Toronto was down by two points.
It wasn't all good news for the Nuggets though. Unfortunately, they lost Gary Harris to a groin injury after he played only ten minutes on the floor.
For a more in-depth look of what to take away from this game, by Nathan Beighle, click here.
Denver Nuggets vs. L.A. Lakers, Oct. 7th
For their second game of the week, the Nuggets traveled to the Staples Center to take on the L.A. Lakers. This was their second of six road games -out of a total of eight games-  for them this Preseason.
This was also technically the Lakers first game in the Staples Center in the post-Kobe Bryant era.
Emmanuel Mudiay and Jamal Murray lead the Nuggets in assist, with them both tallying six dimes each. Barton lead the team in points with 20, while Nurkic lead them rebounds with 14.
The Nuggets as whole, beat the Lakers in total assists by four and dominated L.A. off the boards by a difference of 13 rebounds. But the Nuggets had a tough time guarding D'Angelo Russell. The Lakers point guard tallied 21 points, while shooting 7-14 from the field and a phenomenal 4-8 from beyond the arc.
The game almost went to overtime after Thomas Robinson nailed an off-balance three pointer as time expired. They reviewed the shot to see if he was fouled, but it didn't matter because he failed to get the shot off in time so it was waived off.
This was after the Nuggets overcame an eight-point deficit heading into the fourth quarter, but roared back under the play of rookie Jamal Murray.
The Nuggets played without Gary Harris (groin), Darrell Arthur (knee), Danilo Gallinari (rest) and Kenneth Faried (rest).
You can read more about this game in a post by Matthew Huff right here.
Denver Nuggets vs. L.A. Lakers, Oct. 9th
Denver ended their week with another game against the L.A. Lakers last night. This game was played on a neutral court for both teams in the Citizens Business Bank Arena in Ontario, California. However, since it being relatively close to the Staples Center, the crowd was mostly composed of Lakers fans.
That's not unexpected though, as that's likely how it would've panned out at any neutral court location because the Lakers are a very popular NBA franchise.
Nurkic once again lead the Nuggets in both points and rebounds, scoring 21 points and grabbing 16 boards, respectively. Mudiay lead the team in assists with a Nuggets preseason high of seven dimes.
For the majority of the game, the Nuggets and Lakers were fighting a back-and-forth matchup going into the fourth quarter tied up at 85 points each. But the final quarter was taken over by the Lakers, more specifically by Lou Williams and D'Angelo Russell.
The pair totaled for a combined 58 points in this game, shooting 21-34 from the field and an incredible 8-14 from deep.
The Nuggets struggled mightily to defend the high pick and roll offense the Lakers used in the fourth quarter. That lead to many wide-open threes from Williams, Russell and Jordan Clarkson.
Nuggets coach Mike Malone seems to be taking on the Spurs' mentality for the preseason, by once again resting key players. In their second game it was Gallinari and Faried, while in last night's game it was Nikola Jokic, Wilson Chandler and Jameer Nelson.
Click here, if you want to read about what you should take away from this game in a post by Tim Hart.
This Bottom Line Is…
Even though they came out of this week with two wins, they shouldn't get too ahead of themselves. They didn't play to the best of their abilities and if they don't fix their flaws, it may end up feeling like a long season for Denver basketball.
Their biggest problem was with turnovers, which they managed to commit a +15 differential against their opponents this week. That's horrendous considering they were tied with the amount of turnovers in their first game against the Lakers.
Denver suffered from the same problem last season and it doesn't appear as if they worked on it at all during the offseason. This could seriously damage any hopes that the Nuggets may have of the playoffs if they don't fix this problem. If not, they could lose a lot a games by even wider margins.
Another problem the Nuggets displayed was with their defense. More specifically, guarding against the pick and roll.
They had a tough time switching on the defensive end, which could mean one of two things: 1. there is a lack of communication or 2. it's only the preseason, so they aren't putting in full effort. Neither reason is too serious, and should be easily fixable before the season begins.
It wasn't all bad for Denver though. They got some fantastic contributions from their younger players which may indicate who Malone will want this offense to play through. The two standouts of the week Jusuf Nurkic and Jamal Murray.
Nurkic dominated off the boards and from the post, but more importantly he thrived when he played with Nikola Jokic. If these two continue to find their groove together, then Denver may become one of the most feared frontcourts in the NBA.
Murray played well as the dominant ball-handler, and he was able to score almost at-will in certain instances. Depending on how long Harris will be out for, Murray may actually end up winning the starting spot at shooting guard.
Again, this was only the first week of the preseason for the Nuggets, so it's important not to get too caught up in the action just yet. But you have to admit, it's great to have basketball in our daily lives once again.
This article originally appeared on