Denver Nuggets: A Look at Their Christmas Day Jerseys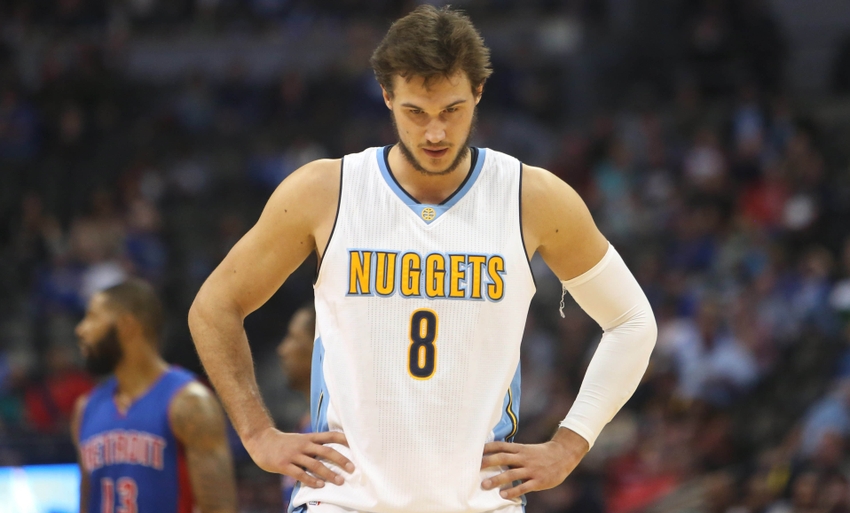 The Denver Nuggets are lucky to receive a Christmas Day jersey this season, so we decided to analyze how it looks.
It's not too common for the Denver Nuggets to get a Christmas Day jersey anymore. However, this year is a different story. The league decided to stay with cursive team name on the jerseys this year for all the teams with it a bit tweaked so they wouldn't look like exact replicas from last years' models.
This made us wonder how Denver's looked since we actually were lucky enough to have one this season. The league doing this may signal that they are taking notice of how well Denver is doing going through their rebuild process, but that's a story for another time. The results are very sleek.
As one can see, it is a yellow jersey with a light shade of blue on the number and lettering. Everyone has a preference, but I feel that the league did a nice job with our Christmas Day jerseys this year. There is only one downside.
If one goes to NBAStore.com to order this jersey, they can only get a Gallinari jersey. For whatever reason, the Nuggets always seem to be the ones who are shorthanded with jerseys of other players. This isn't to say that Gallinari is a bad player, but it would be nice to rock a Wilson Chandler or Jamal Murray one of these if they had them. Not to mention there are other players that other Nuggets fans would love to get their hands on in these models such as Nurkic, Jokic, Mudiay, Harris, and so forth.
Unfortunately, Nuggets Nation will have to be happy that the league even came out with a special jersey for Christmas this season, and if it's only a Gallinari one they're willing to sell, then that is what us fans will most likely settle for this season.
Overall, these Christmas Day jerseys for the Nuggets have a nice appeal this year, and they are pretty slick.
This article originally appeared on