Denver Nuggets: 5 Best Moments of the Offseason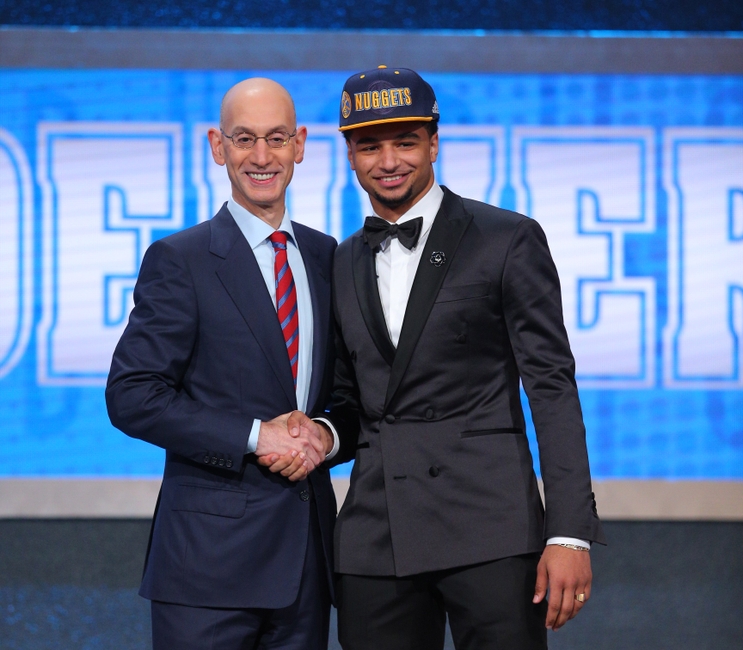 While the offseason can be a drag for hardcore NBA fans, this one has been far from uneventful, especially for the Denver Nuggets.
The Denver Nuggets had a pretty mediocre season in 2015-16. A 33-49 record and 10th-place finish in the West isn't much to write home about, but the organization followed up an average season with an eventful offseason.
The last few months for Denver has birthed a fair amount of optimism for the future of the club. The team was active in free agency, successful in the draft and several players found success in whatever venture they pursued over the course of the offseason.
With all that in mind, here are the five best moments of the offseason for the Nuggets, starting with:
5. Wilson Chandler Catches a Giant Fish
Wilson Chandler has become a somewhat forgotten man in Denver. Despite being a very productive player when on the court, Chandler missed all of last season with a hip injury. With so many other effective role players on the team, he wasn't an overly noticeable absence.
However, the team will surely be happy to have a talented player like him back on the court in 2016-17. It remains to be seen if he'll bring his giant goliath grouper with him.
Despite not playing a game since 2015, Chandler still made headlines thanks to this ridiculous catch. Reeling in a 350-pound grouper isn't something you see every day.
Realistically, this catch is inconsequential for Denver this upcoming season, but it was a funny and entertaining moment nonetheless.
And who knows, maybe the fish will bring some good luck to this year's Nuggets squad.
4. The Pursuit of Dwyane Wade
It's not often that a team's failure to sign a free agent is considered a positive moment, but that's precisely what happened for the Nuggets this offseason. While actually signing Dwyane Wade would have been better, the mere pursuit of him is notable.
Denver has never been known as a prime free-agent destination.
So the fact that they were one of the three finalists for Wade's services is promising. Wade was thought to be legitimately considering signing with the Nuggets, at least to the point where he listened to their pitch with an open mind. This is a big deal for two reasons.
First, it shows that Denver might not be such a bad free agent destination after all. While they'll never be at the level of a Miami or New York or Golden State, this at least means they have a fighting chance when pursuing free agents.
Second, it proves that the Nuggets are actually willing to spend money on big-name free agents. Even though the team has plenty of solid shooting guards, management realized they had a chance to improve the overall squad by adding Wade.
The fact they recognized that and took the right steps to try to bring Wade in is a huge deal. It's a very promising sign for Denver and their fans going forward.
3. Juan Hernangomez Signs With the Team
The Nuggets are no strangers to the draft-and-stash. Recently, they employed this strategy with both Nikola Jokic and Joffrey Lauvergne.
The selection of Juan Hernangomez in this year's draft seemed to indicate they were heading this direction again, but the Spaniard surprisingly inked a deal with Denver this summer. This confirms he'll be on the roster and ready to contribute to begin the season.
Hernangomez could be a difference maker in 2016-17. While the Nuggets aren't low on power forwards with both Kenneth Faried and Darrell Arthur on board, the rookie could provide something different.
He's comfortable shooting from distance and fits the mold of the prototypical stretch 4. This is something the Nuggets haven't really had in the past.
Plus, at 6'9″ Hernangomez could actually function as a small-ball center if the Nuggets so desired. After all, the 6'8″ and much less versatile Kenneth Faried found himself in that position fairly often last season.
In an evolving league where smaller lineups are excelling, Hernangomez could be a dangerous weapon. It's hard to view his signing as anything other than beneficial for Denver. The sooner he comes overseas to acclimate himself to the NBA, the better.
2. Nikola Jokic's Olympic Performance
For Nuggets fans, the Olympics may not have been as simple as naturally rooting for Team USA. Nikola Jokic, the team's most promising young big man and the third-place finisher in 2015-16 Rookie of the Year voting, played for Serbia.
And beyond simply being on the roster, he actually played quite well in spots. There's no doubt some Nuggets fans were torn on whether to root for their country, one of their favorite team's best players, or some combination of both.
But one thing is certain: management had to be impressed with Jokic's performance on such a big stage.
Jokic's best game came in a near-upset of Team USA during group play. He dropped 25 points and added in six rebounds and three assists in the 94-91 loss for Serbia.
This kind of showing against the dominant defensive big men on Team USA is obviously an encouraging sign for Jokic's prospects going forward.
And although he wasn't quite as productive in Serbia's following games, he was still a productive piece of their eventual silver-medal winning squad. Jokic didn't necessarily need this performance to solidify his status as a future star, but it certainly doesn't hurt.
Jokic's Olympic accomplishments were definitely a welcome sight for the Nuggets and their fans.
1. Drafting Jamal Murray
The biggest positive of the summer for the Nuggets was their acquisition of Jamal Murray. Murray was a player who could have gone top five in the draft and no one would have batted an eye.
But things didn't work out that way as the Kentucky product slipped to Denver at number seven, allowing the team to get the guy they wanted all along. This was an ideal start to what ended up being an extremely productive draft for Michael Malone and company.
Murray is expected to be one of the Nuggets' best scorers in the near future.
Denver really struggled from behind the arc last season and they addressed that issue in the draft by spending three first-round picks on guys who can all shoot the deep ball.
If the team is planning to completely turn things around and make three-point shooting a strength rather than a weakness, Murray will have to be the center of it. He figures to get the most playing time of all the Denver rookies, so he'll have the greatest opportunity to produce.
While his success isn't guaranteed, the Nuggets landed themselves an extremely promising rookie. The draft overall really couldn't have gone much better for them, and it all starts with Murray who looks to have all the necessary tools to be Denver's next big star.
This article originally appeared on