Denver Deals: How to Fully Buy Into the Youth Movement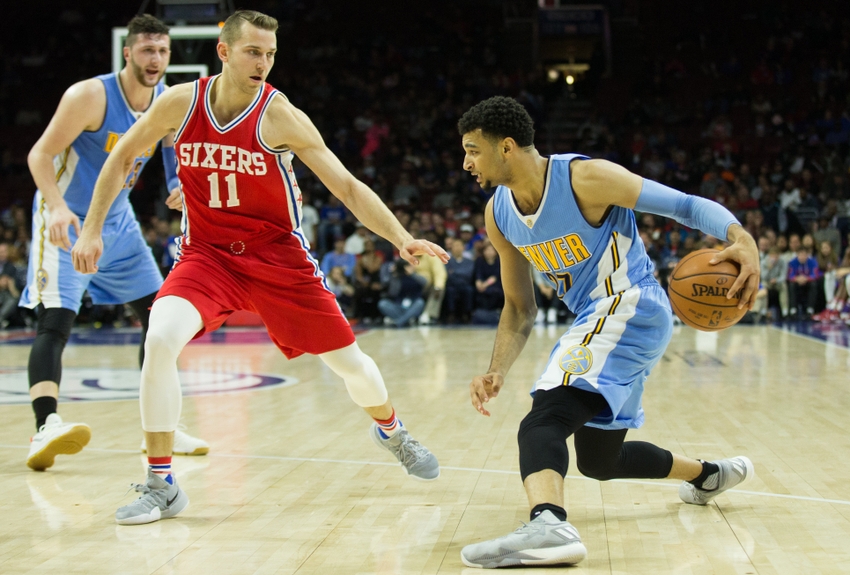 With the Denver Nuggets projected as a borderline playoff team, maybe it's time for them to buy into their youth and start selling off their veterans.
We're already one-fourth of the way through this current NBA season, and the Denver Nuggets are not on pace to becoming a playoff team. They've only won one-third of their games to this point, and to say that they've struggled to get that would be an understatement.
There have just been so many games decided solely on the Nuggets' play in the fourth quarter. More specifically, the final minutes of the fourth. Losses like these tend to be heart-breakers for not only the fans, but the players and coaches as well. After constant heart-breakers, we all tend to try to look for some solutions of how to make the Nuggets a stronger, and more consistent team.
Denver Nuggets: DFS Picks for the Season Opener against the Pelicans
For most people, that means looking to trade some of Denver's younger assets for an established all-star in order to make this team a legitimate playoff contender. However, the Nuggets are so heavily loaded with promising young talent that they should seriously consider becoming even younger, and even more promising. Unfortunately, that means sacrificing a playoff spot in the immediate future but it could mean even bigger things for this team.
I mean, let's be honest, trading for a superstar doesn't really work anymore. Just look at the Carmelo to New York trade, the Dwight Howard to L.A. trade and the Kevin Garnett/Paul Pierce to Brooklyn trade. Do you notice something pretty odd about those trades? Well, to put it simply none of the teams who received the superstars became anything close to resembling a championship contender.
In fact, each of those teams -the Lakers, Knicks and Nets- all developed into something that'd be more accurately described as a laughingstock. So in all seriousness, it really doesn't seem like such a good idea trade for a developed superstar. Instead, the Denver Nuggets should be looking to develop a superstar of their own. Maybe it's time for the Nuggets to buy into a youth movement.
So with that in mind, here are three trades that the Nuggets should seriously consider pulling the trigger on between the end of December and the trade deadline.
Danilo Gallinari to the Boston Celtics
The Deal:
Nuggets get
PF, Amir Johnson; SG/SG, Jaylen Brown; Brooklyn's 2018 First Rounder via Boston


Celtics get
SF/PF, Danilo Gallinari; SF, Evan Turner
Celtics get
SF/PF, Danilo Gallinari; SF, Evan Turner

Trail Blazers get
PF, Cody Zeller; Clippers 2019 First Rounder via Boston
Denver- B+
Look, I realize that Gallinari has been a fan-favorite since joining the Denver Nuggets in 2010. But doesn't it feel wrong to keep him on a team that should be looking to rebuild?  I mean, he's 28 years old and he doesn't look to have much more of a prime left. So it's probably in both parties best interest for a mutually beneficial trade.
In this deal, Gallinari get's to join a legitimate playoff team, whose team he'll largely improve. He'll no longer need to be looked at as a number one option, which is exactly what he needs for his career. In exchange, the Nuggets get a promising young guard in Jaylen Brown and a future first rounder from the Brooklyn Nets.
They'd also receive Amir Johnson, but given his age and the amount of cap space the Nuggets have, it can be assumed that they'd reach a buyout.
Boston- A
A move like this could a serious step toward Danny Ainge's current goal: beating LeBron, and making it to the NBA Finals. Look, I know that they should probably have their eyes set on a championship. But if we're being completely honest here, getting past the Cavs would be huge in itself.
They would add another borderline all-star to their roster in Gallinari, while also re-adding arguably their best sixth man from the past decade in Turner. This trade would easily make them the second best team in the eastern conference, and a force to be reckoned with for the foreseeable future.
Even after a move like this, the Celtics would still have ridiculous amount of assets. Enough to maybe even trade for a disgruntled superstar. *cough* *cough* *Paul George*
Portland- B
You'd have to think that this is exactly what the Trail Blazers need right now, right? I mean, the whole Evan Turner signing didn't exactly work out how they expected as he's failed to be anywhere close to as good he was in Boston.
Granted, everyone else foresaw his struggles because he only seems to strive when he's the dominant ball-handler. Nonetheless, the Blazers offered him a huge contract and you really can't blame Turner for accepting it… I mean seriously, $70 million?!?! For Evan Turner?!?!?!?!?
Either way, by dealing Turner the Blazers get an adequate floor spacing big in Cody Zeller, who's quite effective off-ball. They also get a first round pick, which is really just a sweetener.
Kenneth Faried to the Toronto Raptors
The Deal:
Nuggets get
SG, Terence Ross; 2017 Second Rounder


Raptors get
PF, Kenneth Faried
Denver- C+
Well now that we're already started with this rebuild, we may as well go in at full force. After Gallinari, the next player who deserves to be on a better team is easily the Manimal. He's undoubtedly been one of the most notable Nuggets of the past decade, and his energy is nearly unmatched by any of his teammates.
So, in all honesty, this trade is really more of a win for Faried than it necessarily is for the Nuggets. Even still, Denver would still greatly benefit from a deal like this. Not only do they get another small forward -which they'll need after trading Gallinari- but they also get to thin out their absolutely overloaded frontcourt.
The Nuggets also get a future second rounder because, well… Faried is better than Ross.
Toronto- B
I'm not going to lie, I really want this trade to happen for the Raptors. Partly because it would mean a reunion between Faried and Masai Ujiri, but mostly because it would allow the Raptors to play fast. Like really, really fast.
By cutting ties with Terence Ross, Toronto could give significantly more minutes to fan-favorite Norman Powell. Which, in turn, would allow for the use of an incredibly fast, small-ball line-up of Kyle Lowry, Powell, DeMar DeRozan, DeMarre Carroll and Faried. A line-up like this would offer everything you would want in a small-ball team: shooting, speed and solid defense. Add in Faried's incredible rebounding ability and you've got yourself a death line-up.
Wilson Chandler to the L.A. Clippers
The Deal:
Nuggets get
SF, Wesley Johnson; SF, Luc Mbah a Moute; 2018 and 2020 First Rounders


Clippers get
SF, Wilson Chandler; 2017 and 2018 Second Rounders
Denver- A-
The third trade that the Denver Nuggets should definitely take part in, would involve dealing Wilson Chandler to the L.A. Clippers. For the Nuggets, it would mean a solidification of direction toward a rebuild.
This move would free up even more minutes for the incredibly young roster in the Mile High City. In exchange for Chandler, they would bring on Wesley Johnson -who they would likely buyout- and Luc Mbah a Moute. But the best part is that they manage to pick up two future first round picks.
Los Angeles- B+
This season has been nothing short of spectacular for both the L.A. Clippers and Wilson Chandler. Chandler has been putting up career high numbers in almost every statistical category imaginable, while the Clippers are finally looking like the superteam they were always supposed to be.
I mean, it only makes sense right?
Even thought the Clippers boast an impressive 16-4 record, they still have the same weakness as usual. They aren't really that good at the small forward position. Guess which current Nugget also happens to be a small forward… Wilson Chandler!!!
Bringing these two parties together would be a match made in heaven. Especially considering the Clippers could acquire him without giving up Jamal Crawford or J.J. Redick.
Where to go from here
Okay, now that we've gotten through all of those potential deals let me make one thing clear: the Nuggets are not tanking. I repeat, the Nuggets aren't making these moves to tank. Instead, they would be working toward bettering their perspective potential.
With trades like these, the Nuggets would make it clear that they'd prefer to develop a superstar of their own. When you look at their list to choose from, then you'd probably feel confident in them doing so. I mean, between Mudiay, Murray, Brown, Nurkic, Jokic and a bevy of first round draft picks it's pretty safe to say that they'd land on at least one of them, right?
At least it's worth a shot.
Final Roster:
PG- Emmanuel Mudiay, Jameer Nelson
SG- Jamal Murray, Gary Harris, Jaylen Brown, Mike Miller
SF- Will Barton, Terence Ross, Malik Beasley, Alonzo Gee
PF- Luc Mbah a Moute, Juancho Hernangomez, Darrell Arthur
C- Jusuf Nurkic, Nikola Jokic
*Plus a ton of draft picks
So there you have it, a Denver Nuggets roster fully geared toward the future. Now, I'm not going to say that this roster is destined for championships, but I'm fairly confident in their ability to develop into serious playoff contenders.
This article originally appeared on