Dennis Schroder's Improved 3-Pointer Helping The Hawks Win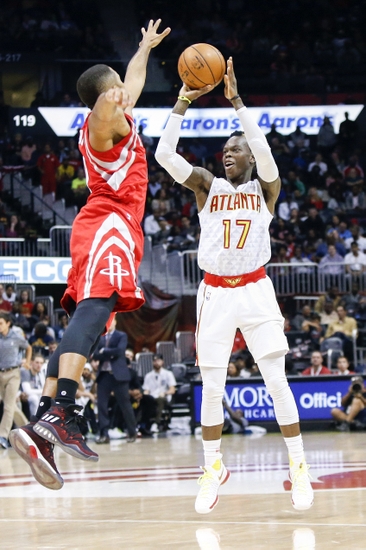 The Atlanta Hawks are 7-2 now, and their success can be attributed to many things, but one of the underrated aspect's of Atlanta's ability to win games is Dennis Schroder's 3-point percentage.
A point guard needs a few tools under their belt to compete in the NBA. Typically, ball-handling and court vision are on the top of that list. The point guard is in charge of running plays, making sure everyone is involved on both ends. Also add in shooting the ball at the right moment and managing the speed of the game. If a player can do all of these things he'll be a good point guard. If you add in a consistent 3-pointer and the ability to take the ball to hole, you'll have the potential to be an elite point guard in today's league. All of the elite point guards can do one or the other.
Dennis Schroder is playing well as Atlanta's new point guard. He's doing many of the things the Hawks needed him to do while playing alongside Dwight Howard. Dennis knew that if he improved his long range shooting, it would make the pick and roll between him and Howard more lethal. Earlier in his career, we all knew that shooting the ball from outside the arc was a glaring weakness for Schroder. This fueled him to work with his fellow teammate Kyle Korver, back in the 2015 off-season.
Since then, Dennis has become a much better perimeter shooter making 39.4% of his long range shots. So far this season, he's on 3.7 attempts per game. He also spent time before this season working on his jump-shot with Hawk's Assistant Coach Ben Sullivan. Before coming to Atlanta, Sullivan spent some time with the San Antonio Spurs as an assistant video coordinator. During his time in San Antonio, Sullivan worked under Chip Engelland, a well-known shooting coach who helped Kawhi Leonard on his 3-pointer. Kawhi Leonard just so happens to shoot a career average 39.1% from beyond the arc.
Dennis Schroder went back to Germany and Hawks shooting coach Ben Sullivan and trainer Chris Chase are also there for continued workouts.

— Chris Vivlamore (@CVivlamoreAJC) August 16, 2016
If Dennis can consistently keep his 3-point percentage over 35%, it'll be hard to stop him from scoring. Dennis is one of the quickest and craftiest point guards in the NBA. This is important because it'll make defenders pay for going under screens. On pick and rolls, Dennis is fast enough to blow past his opponent if they go over picks. If he can keep shooting the 3 like he has, it'll force the man in front of him to make a tough decision on whether to go over or under a Dwight Howard screen. Confusion on defense could result to easy baskets with one of the best rollers to the basket in Howard.
Dennis Schroder is averaging 16.3 points, 6.2 assists, and 3.8 rebounds. This is a pretty nice stat line for a first time starter, and Schroder's improved long range is why it looks the way it does. The Hawks will win some key games this season if Dennis keeps this up.
All Stats Obtained From NBA.com and BasketballReference.com.
More from Soaring Down South
This article originally appeared on