Demetrius Jackson Heading to Maine Red Claws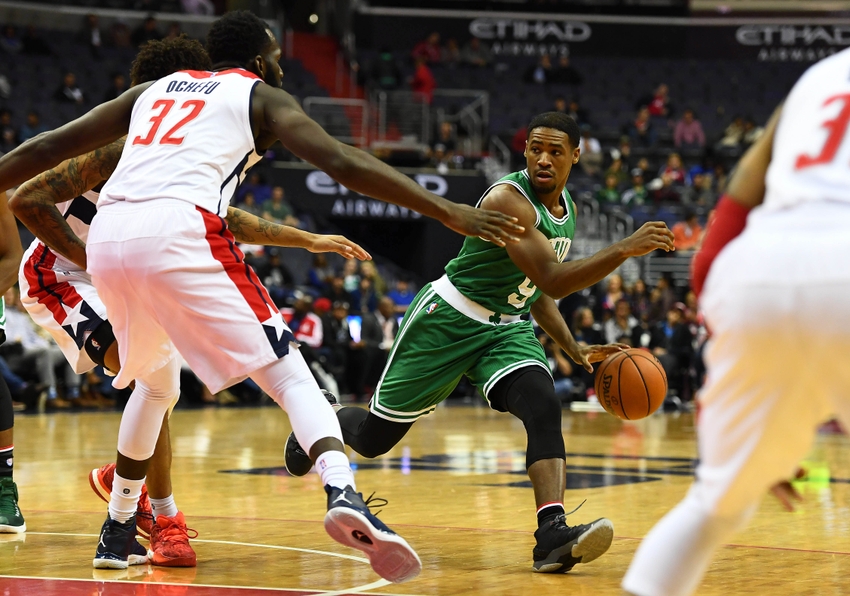 Demetrius Jacksons' stint in the NBA is put on hold as he gets assigned to the Maine Red Claws
The Boston Celtics have felt great about their second round draft pick Demetrius Jackson, and he has spent the beginning of the season on the NBA roster. Jackson has seen very limited minutes, with only one opportunity to actually get in the game flow. It comes as no surprise that the Celtics have assigned him to the Maine Red Claws (Via CBS Sports),  putting him in a better position to develop, and wait around to bring extra depth if injuries come in the back court.
More from Hardwood Houdini
The Celtics have been destroyed by injuries all season long, they are yet to get a game with more than two of Marcus Smart, Kelly Olynyk, Jae Crowder and Al Horford healthy at the same time. That being said, with Smart back at full strength, the Celtics have everyone available in their back court.
The Celtics' front court depth has been exposed, but their back court continues to give Stevens multiple options. Isaiah Thomas, Avery Bradley, Smart and, to a lesser extent, Terry Rozier are firmly holding the top four spots, then there is Gerald Green who has also been getting minutes, leaving nothing for Jackson.
The Celtics also have James Young, but he has spent more than enough time in the D League and has little to gain there. Jackson, on the other hand, needs those reps and that playing time. Jackson plays with the ball in his hands and has a lot of offensive upside. In the NBA, it is too difficult for him to work on those areas, and garbage time minutes or select playing time in blow outs will not give him the kind of development he can get in Maine. Jackson will not be able to figure out how he needs to attack, and he will not have an opportunity to get a proper feel for how he needs to adjust and improve if he is not on the court.
Boston's outlook on Jackson is long term. They have a young a deep back court, and there are no concerns whatsoever about Jackson being ready right now. The Celtics have always been patient with their guards and both Smart and Rozier had their stint in the D League. Jackson may have to spend more time there because of the depth, but that is where the Celtics want him.
The Celtics look at Jackson as a way of maintaining their guard depth throughout the future. They like his potential but there is nothing he can add to this current NBA team. The Celtics have nothing to gain by keeping him in the NBA, and he will get a better opportunity to get comfortable and learn how he needs to play to be a better NBA player.
This does not mean that Jackson will not see anymore NBA minutes this season. The Celtics have shown a willingness to bring players back and forth, but that will only become a factor if they suffer even more injuries and the fifth and sixth guards are not able to pick up the slack.
This article originally appeared on