DeMar DeRozan nearly completes one of the best poster dunks of all time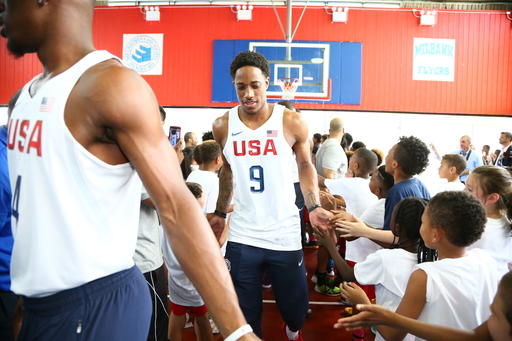 The United States annihilated Team China on Tuesday night by a score of 107-57. At the end of the fourth quarter, with the exhibition victory all but official, Toronto Raptors all-star shooting guard DeMar DeRozan attempted one of the most disrespectful poster dunk attempts ever seen — going full 360 mid-air, before ultimately missing and drawing a foul call:
If he was able to convert the attempt, even the NBA Finals MVP was willing to acknowledge it would have been one of the best ever:
The attempt was so electric, Kevin Durant was assessed a technical foul for leaving the bench, walking onto the court, and doing a pirouette under the rim with his hands raised immediately after the whistle was blown.
That little spin was definitely worth two free throws.
DeMar. Fam….😳https://t.co/WXaIX3PA7g

— Bleacher Report (@BleacherReport) July 27, 2016
Man if @DeMar_DeRozan would have made that dunk, would have been top 5 All Time! #USABMNT

— LeBron James (@KingJames) July 27, 2016