DeAndre Liggins Wins Game Ball As The Cleveland Cavaliers Take Down The Toronto Raptors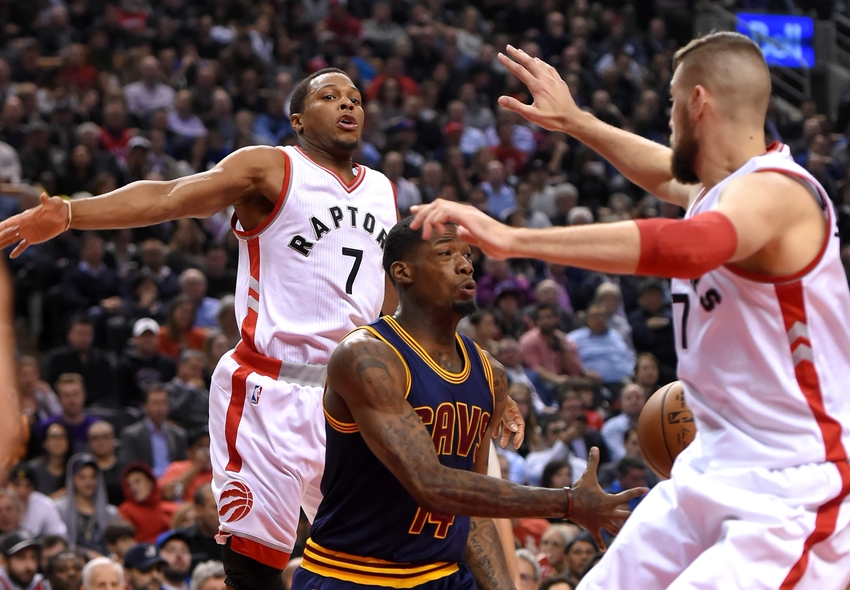 LeBron James said the game ball goes to DeAndre Liggins after the Cleveland Cavaliers defeated the Toronto Raptors 116-112.
After Cleveland Cavaliers shooting guard J.R. Smith went down with an ankle injury during the first quarter, it was anyone's guess at who would be filling in for Smith as he hobbled to the locker room. To the surprise of many, it was DeAndre Liggins who came in the game in place of Smith.
Liggins, a 6-foot-6 combo guard who has bounced between the NBA and the NBA D-League since being selected 53rd overall by the Orlando Magic in the 2011 NBA Draft, came in the game and provided the Cleveland Cavaliers with the defensive lost and intensity that Tyronn Lue and LeBron James had said the team has been missing over the last few games.
A former standout at the University of Kentucky, Liggins is no stranger to being a starter for a high-powered program. He played shooting guard beside John Wall in his sophomore year as the Wildcats went 35-3 before losing in the NCAA Tournament's Regional Final. He played beside Eric Bledsoe and DeMarcus Cousins in his time at Kentucky in that same year. The next season, Liggins played point guard beside Brandon Knight as a starter.
His play inspired the confidence of head coach John Calipari then and six years later not much has changed. Calipari offered additional praise of Liggins in an interview with Amico Hoops before the Cavs started their preseason action.
Calipari on DeAndre Liggins: "If there is a key shot in the game I'll be honest with you, I give him the ball and let him take that shot."

— Matt May (@MattMayKY) December 10, 2010
Liggins is a defensive-minded guard who may remind many of a player of that the Cleveland Cavaliers already have on their roster. It's true that Iman Shumpert, who is a versatile perimeter player at 6-foot-5, came to the Cavs tailor-made for a 3-and-D role. It's also true that, like Shumpert, Liggins hasn't inspired much confidence with his three-point shot early on in his time with the Cleveland Cavaliers. Last night, Liggins made his first and only three of the season.
While Liggins, who was a career 38.0 percent shooter from three-point range in the NBA D-League and made 39.1 percent of his three-point attempts in his final season at the University of Kentucky, shows that he can shoot it he's not on the team for his offense. He's on the team because of his defense, hustle and ability to make the right plays on offense.
In fact, last game Liggins finished with a defensive rating of 96.5. The next highest defensive rating belonged to Tristan Thompson. Thompson finished the game with a defensive rating of 106.1. Despite finishing the game with just 5 points and 1 assist, Liggins finished the game with an offensive rating of 121.0. For comparison, Kyrie Irving, who tallied 24 points and 7 assists had an offensive rating of 120.4. Liggins' numbers were a direct result of his style of play.
He hounded Kyle Lowry and DeMar Derozan whenever possible and though he didn't hold them scoreless, he more than held his own against two of the best guards in the league. Another telling stat of Liggins' activity was his defense. He contested 9 shots (4 three-point attempts) in 21 minutes and had 2 deflections. Only James contested more shots (10) and more three-point attempts (7). Liggins was tied for first in deflections. He did all this in half the time that James was on the court.
Offensively, Liggins was always in the right spot for spacing and probably tallied such a high offensive rating because he didn't try to hijack the offense. He played off of Irving, James and Kevin Love well and seemed every bit like a player able to fill in for Smith for however long his injury lingers. For that, James said Liggins earned the Cavs' game ball.
LeBron James tells @FOXSportsOH: "Game ball goes to DeAndre Liggins," for solid job Liggins did of filling in for injured JR Smith. #Cavs

— Sam Amico (@AmicoHoops) December 6, 2016
He played well last game and has played well in general since joining the Cavs. The Cleveland Cavaliers who have also shortened their rotation my find themselves giving extra minutes to Liggins from here on out.
What did you think of the Cleveland Cavaliers performance against the Toronto Raptors? What kind of impact did you think DeAndre Liggins had on the game?
More from King James Gospel
This article originally appeared on