DeAndre Liggins Has To Play Point-Forward In LeBron James' Absence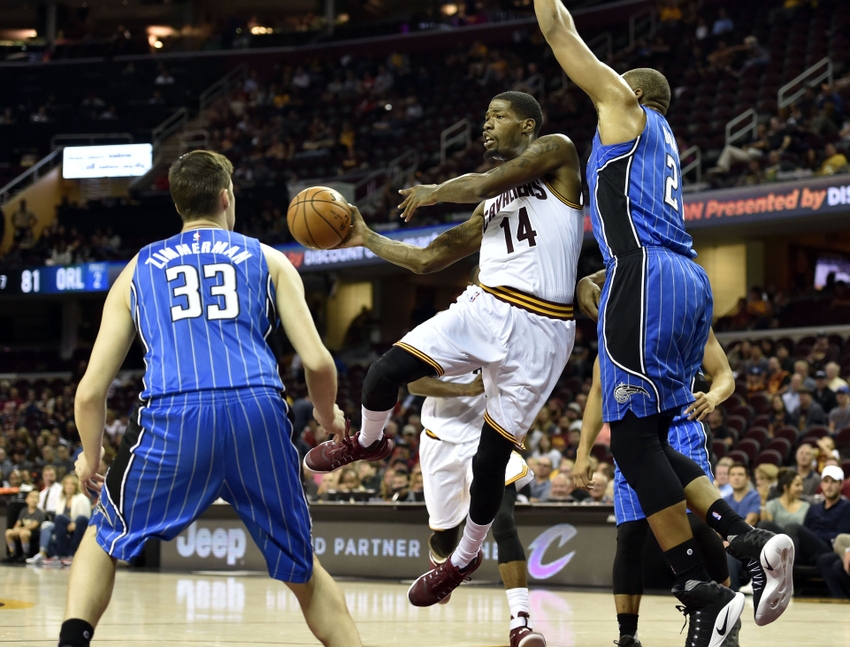 DeAndre Liggins is the key to the Cleveland Cavaliers winning without LeBron James.
For the Cleveland Cavaliers to win games without LeBron James they have to let DeAndre Liggins play the role of primary facilitator and point-forward.
Of course, there isn't a player in the league who is truly like James. James is a player who can score from anywhere in any way, has the body of a power forward, is a once in a lifetime athlete and is a magical facilitator. He's actually so unselfish but hustles so hard he's the prototypical glue player. Yet, all of all his abilities, it's his ability as a point-forward that's hardest for teams to replace.
Finding guys who can score, be a glue guy or play defense isn't too hard. Finding players who the cerebral advantage over their opponents that James does is. If a player is that smart and able to get all of his teammates going like James can, a team is not likely going to give him up.
The Cleveland Cavaliers played their 20th game without James as they took on the Indiana Pacers Wednesday night. While Kyrie Irving and Kevin Love were able to get it going, with a combined 41 points and 21-43 shooting from the field. However, Iman Shumpert, Richard Jefferson and Channing Frye were not. They hit combined for 3 three-point makes and 6-21 shooting from the field.
Those three are players that heavily rely on James to find them for open shots.
According to NBA.com, Frye converts 63.3 percent of his three-point attempts on passes by James. Shumpert shoots 36.4 percent on three-point attempts on passes by James. Jefferson makes 33.3 percent of his three-point attempts of passes by James but 45.5 percent of his field goals in general when assisted by the King.
While Irving had seven assists, he's an inherently different player than James.
Irving is supposed to attack as a scorer all game. Therefore, if he wants to become more of a facilitator to get shooters involved there has to be another scoring threat in isolation. Yet, without James, the team lacks great isolation play on the perimeter outside of Irving
The Cavs next best scorers in isolation are two young players facing an uphill battle.
Rookie Kay Felder is 5-foot-9 and will have inefficient nights even though he's a talented scorer. Jordan McRae is shooting 25.0 percent from the field after seven games of action despite the Cleveland Cavaliers envisioning him as their Jamal Crawford. While both players are options, they would have to be in a groove for Irving to take his foot off the pedal and facilitate.
That's an issue because James usually starts facilitating early and he does it often.
Consequently, rather than rely on these two to score in isolation, the Cavs need a facilitator to play behind James.
Mike Dunleavy Jr. and James Jones, who are two other Cavs players capable of playing small forward, aren't facilitators. Furthermore, they rely on James as a facilitator like Jefferson and Shumpert.
With that said, that leaves only one option for the Cleveland Cavaliers to replace James as a facilitator in the lineup. Liggins.
Luckily for the Cavs, Liggins not only has the necessary court vision to be the team's primary facilitator, he also can consistently fire passes from a variety of angles. That's a passing skill that only he, Irving and Felder have outside of James.
He's not James, and shouldn't try to be. However, there is one particular feature of his game that mirrors James. Liggins' ability to set his teammates up after he gets free from a screen isn't just impressive, it borders on being elite.
That's the primary reason he should be starting in place of James on nights James rests.
Using his abilities as a facilitator in last night's contest against the Detroit Pistons, the Cleveland Cavaliers scored 22 points in the final quarter as Irving, James and others rested. Liggins assisted on 22.2 percent of the Cleveland Cavaliers points in this period.
Liggins often stands at the top of the key as he operates as the primary decision-maker and facilitator. From here, his 6-foot-6 height and basketball intelligence allows him to see players work themselves free inside and to make easy passes over the top of the defender in the pick-and-roll. Showing both great touch and depth perception, Liggins makes deft passes to teammates when they're in a great position to score.
Not to be underestimated as part of the reason why James is such a devastating force as a facilitator is his ability to penetrate the lane and finish strong at the rim. Yet, that's another area where Liggins can excel. Liggins isn't an exceptional athlete like James and doesn't even possess a truly explosive first step. However, he shows a masterful use of his length, change of speed and timing to get into the lane. Then, once Liggins is in the lane, he's usually aggressive and attacks the rim.
It's a small sample size but Liggins has taken 60.0 percent of his shots at the rim this season. He's also gotten to the free-throw line 50.0 percent of the time he's tried to score. Liggins has also been responsible for 15.4 percent of the team's assists while he was on the floor this season. His assist percentage is only lower than Felder's (22.8 percent), Irving's (27.7 percent) and James' (43.4 percent). His free-throw rate is only surpassed by Chris Andersen's (66.7 percent). Furthermore, the percentage of shots he takes at the rim is only dwarfed by Andersen (75.0 percent) and Tristan Thompson (80.5 percent).
Those numbers are indicative of an aggressive player who keeps his head up to make an assist. That type of player is capable of producing an offensive rating of 109 points per 100 possessions, just a single notch behind sharpshooter J.R. Smith's offensive rating of 110.
For the Cleveland Cavaliers to win games without James, they'll need to find a viable option for replacing him in the starting lineup. Liggins is the player who, stylistically, is most similar to James. He'll be the best player for the Cleveland Cavaliers to start at small forward in James' absence. That's not even factoring in Liggins' defense.
Do you think DeAndre Liggins is capable of filling-in for LeBron James? Let us know in the comments section or Twitter @KJG_NBA.
More from King James Gospel
This article originally appeared on