Dario Saric is Having Issues, and We Seem to be Ignoring Them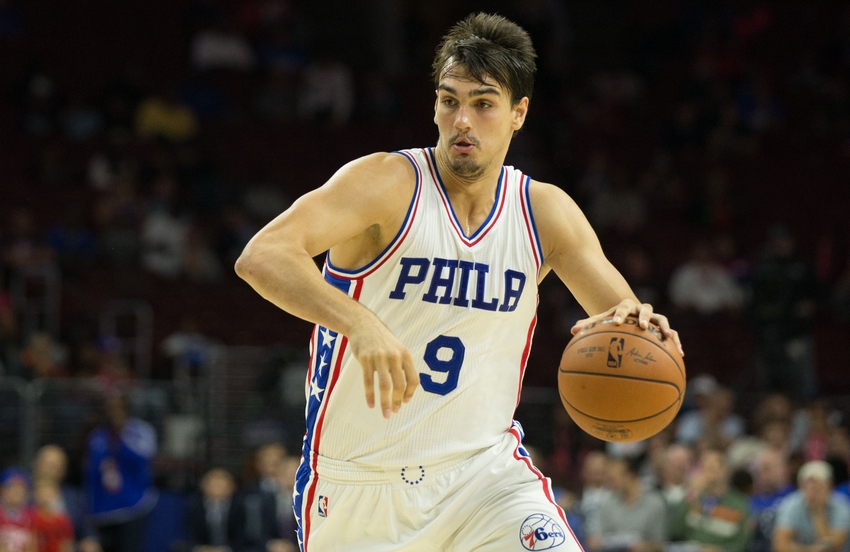 The Philadelphia 76ers are having trouble getting Dario Saric in a groove, and that seems to be something we aren't talking about a whole lot.
Through the first few games of the Philadelphia 76ers season, there has been a lot to talk about regarding the largely fresh roster that the Sixers put out on the floor.
Overall, the product on the floor has been pretty much as expected or better than expected.
Joel Embiid is obviously the highlight. Despite coming off of two straight seasons of not playing and just strictly doing rehabilitation, he's playing like he was just drafted out of college.
More from The Sixer Sense
The other highlight is Sergio Rodriguez. Despite not playing in the NBA and taking his talents overseas for a few years, he's proving to be a leader of sorts on the floor that can get the ball moving and help get things rolling for the Sixers. The offense looks more cohesive with Sergio on the floor overall.
One of the high expectation players was also Dario Saric, but unfortunately, he hasn't really panned out to what fans and the team has expected of him, at least not so far.
Of course, the team is just a few games in, but it still is a bit odd that we're seeing a lot of the new players live up to par and we're seeing Saric struggle.
What's perhaps even more interesting is that no one seems to be talking about the struggles of Saric — so let's talk about it.
Dario Saric is averaging 5.0 points, 5.5 rebounds, 2.0 assists, and 1.5 turnovers per game. Saric is shooting 19 percent from the field and 14 percent from beyond the arc. Certainly not metrics that we expected from the player who was pushing 50 percent shooting from beyond the arc in his final European season last year.
His offensive rating is another number that conveys just how poorly his first two games have gone, with an offensive rating of 47.
Saric's 10 total points have just four players on the roster below him. His field goal percentage is the worst on the team considering all players who have played at least 10 total minutes. Per 36 minutes, Saric is only scoring more points than T.J. McConnell and Robert Covington (considering again, only players who have played at least 10 minutes) and the only guards that are below Saric in assists per 36 minutes are Gerald Henderson and Nik Stauskas.
Overall, Saric's passing isn't necessarily paying off when looking at assist numbers, but it's showing promise. He seems to work well along Okafor, although he has only passed a handful of times to him. Okafor has taken only one shot off of a Saric pass, but it was a nice hook pass from Saric that led to a score from Okafor.
Embiid and Saric show promise as a pairing based on the limited passing statistics that are available. 11.5 percent of Saric's passes go to Embiid, and Embiid has made 66.7 percent of his shots attempted off of Dario passes. Again, with just two games under the team's belt, the stats have not leveled out to what we should expect throughout the season, but there's some foundation there.
Luckily, Saric's defense isn't terrible beyond the arc. His opponents so far are shooting 37 percent worse than normal when Saric defends their 3-point shots. For 2-pointers, however, his opponents are shooting 20 percent better. These stats too are impacted by a small sample size, and should level out to be smaller numbers as the season progresses.
Overall, there is a very small sample size when it comes to defense, so it might be best to nullify his game altogether when considering his performance, or at least consider it not available given the minutes he has received so far and the action he's seen on the defensive end.
The eye test tells us there's massive work to be done with Saric on defense. He gets blown past just about everywhere on the court, especially in the key. He shows little to no effort in the key on defense.
On offense, he also just looks confused on some plays, setting some screens on no one in the Hawks game (shown in the pictures below).
There was a moment in the Hawks game where Saric got the ball wide open at the top of the arc. He dribbled once looking to pass, and took a shot, sinking it. Although he looked confident taking the shot, his decision making seemed to take a second to really kick in. Looking back at the play, it looks obvious to take the shot, but it doesn't appear to have been apparent for Saric.
That 3-pointer has been the only made one of the season for Saric so far.
Overall, I do think it's a problem that Saric is having all of these issues both statistically and with the eye test. That being said, it's not all his fault.
For one, it's tough to make that transition from overseas basketball to the NBA. While some might say that Sergio Rodriguez is making the move just fine, he has prior experience in the NBA. This is a new experience completely for Saric, and it may take some time to get adjusted.
Additionally, the playbook that Brett Brown has told the point guards to run with is not exactly friendly. It doesn't exactly put Saric in the best positions to score or assist his teammates. He is often given the ball at the top of the key as soon as the point guard crosses half court and needs to make a move, and not included for the rest of the offensive set.
Moving forward, Saric should hit some sort of a groove, one would hope. It also needs to become apparent to the team that Saric is struggling with the current offensive setup. The offense is primed well and catering to the needs of some of the big men like Joel Embiid and Richaun Holmes, but Saric needs a system that also gives him a chance to shine. This holds true for many other players as well. It seems as if some players are more afterthoughts to Brown and the Sixers rather than focal points. That's not a good way to start this season from a leadership perspective.
Luckily, Saric is recognizing that there are issues.
Speaking to the media, Saric said "I feel my time will come."
He also told Brian Seltzer that he felt like the different location of the 3-point arc (it's further out from the rim in the NBA than it was when he played in Turkey) as well as how he sets screens and pops after them has been a problem. Recognizing the issue is a big deal for Saric, and it's good that he's seeing what needs to be fixed early on.
I'll be keeping an eye on Saric and how the team uses him in this week's games. I'm hoping for improvement both from Saric as a whole, as well as with how the team uses him.
This article originally appeared on