Damjan Rudez's instant offense, comfort lead him to roster spot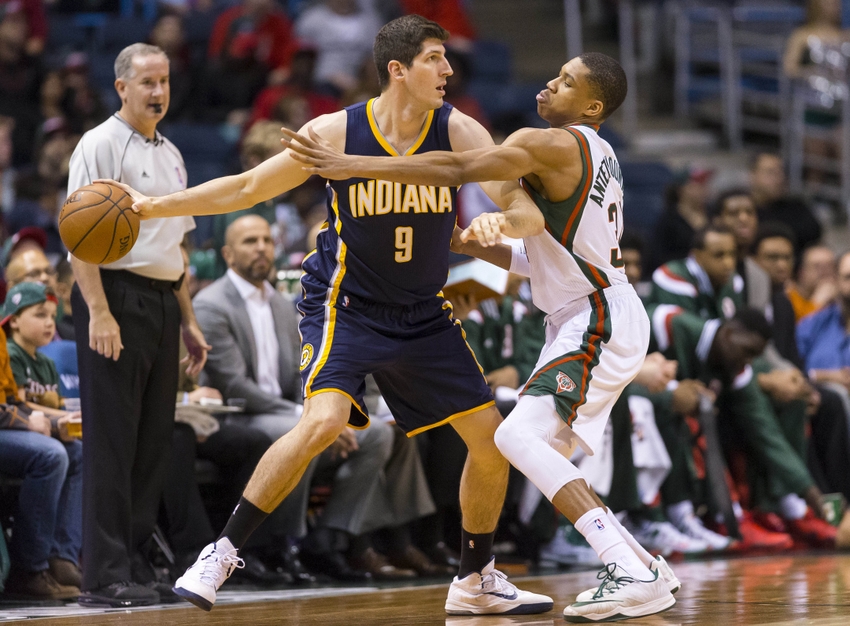 Damjan Rudez came to Orlando fighting for a roster spot but with a leg up on the competition. After a strong preseason, he will stick around in 2017.
Damjan Rudez still remembers the night of his career game. The only thing that might be different in the Amway Center is the lighting.
On Jan. 25, 2015, Rudez scored 18 points on 7-for-10 shooting including 4-for-7 shooting from beyond the arc. The Indiana Pacers turned a deficit entering the fourth quarter into an easy win over the rebuilding Orlando Magic.
Rudez joked during media day that everything looked the same inside the building. There was already something of a comfort level.
Then against the Pacers in last Friday's preseason game, Rudez went off again. He scored 15 points on 4-for-6 shooting, sparking a 44-point second quarter that ignited the team and led to a victory with the starters playing to the end.
"Maybe our highest IQ player on the team," coach Frank Vogel said after that game last week. "He just really has a great feel for the game. He's a knock down shooter so there is a reason he's here. He has had a great camp for us."
The joke between Rudez and Vogel, dating from their days in Indiana is that Rudez can stay in so long as he does not miss. That joke continues.
But it shows the kind of instant offense Rudez can provide for a team. A theme that was pretty consistent throughout the preseason.
Each time he stepped on the floor, it felt like good things were going to happen. That is a big reason Rudez will make the Magic roster, Adrian Wojnarowski of The Vertical reports.
Forward Damjan Rudez has made the Orlando Magic's opening night roster, league sources tell @TheVertical.

— Adrian Wojnarowski (@WojVerticalNBA) October 22, 2016
This preseason, Rudez averaged 5.0 points per game in six preseason games in 14.4 minutes per game. He shot 55.6 percent from the floor and 57.1 percent from beyond the arc. This is the kind of player Rudez is. Instant offense as a stretch-4.
"I'm just trying to do what I've been doing for years," Rudez said. "I'm trying to have fun out there and enjoy and most of all have good decision making and prove I can be a reliable part of any team, just contribute in a good way with my outside shot, passing the ball and be a good team player. The decision is not up to me. We're all trying to do our best to be a part of the team and make a name for ourselves."
Rudez is not likely to get a ton of playing time.  Rudez could be good for moments when they need instant offense. But he undoubtedly struggled last year with the Minnesota Timberwolves — just 9.7 points per 36 minutes on 54.0 percent effective field goal percentage in 33 games last year.
The 30-year-old forward has only two NBA seasons under his belt, but still is viewed something of a veteran. He certainly keeps things light.
Mario Hezonja played with Rudez on the Croatian National Team and considered him a key veteran for the team and his career as he started his career with the international team.

"On the national team, he was one of the really few guys that was close to me and approached me in a really friendly way," Mario Hezonja said. "That's what I really respect from him. That's why I'm trying to give it back to him right now because he really deserves respect from me. I want to push him on the team. I want him to stay here and be in the NBA. As a player and as a person, especially, he deserves that I take care of the stuff that can be taken care of from my side."
Rudez could end up being something of a security blanket. A veteran shooter they can rely on to help keep the team loose off the court and spark them on the court. He has already done that in the preseason games he appeared in.
His familiarity with coach Frank Vogel also could be a help. Vogel said he asked the Magic to look into Rudez's availability heading into camp. That comfort certainly helped him with this second chance with Vogel.
"He knows very well what I can do," Rudez said. "He used me a lot on the court. I'm just trying to make good plays out there and good reads. I think passing is very good and contagious. I'm trying to have good decision making on the court. I feel his confidence in me. It's always easier to play when your coach has confidence in you."
Rudez is not going to get a ton of playing time. The Magic have Serge Ibaka starting at power forward. Bismack Biyombo will get his turn at the position too. As will Aaron Gordon. The minutes for Rudez will be sparse.
But when he comes in, as the Magic learned two years ago, Rudez can get hot and change a game's energy with his shooting.
More from Orlando Magic Daily
This article originally appeared on