Damien Inglis: A Journey From France To New York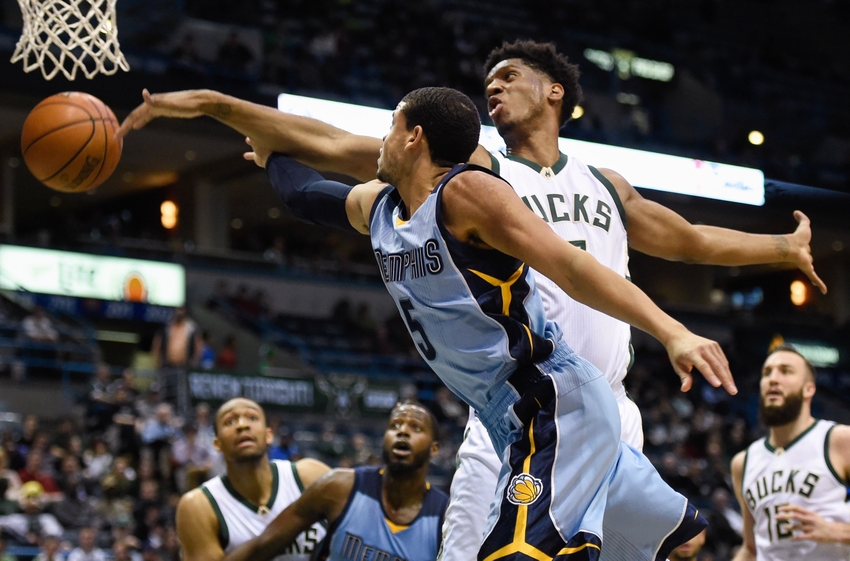 After suffering an injury in 2014, Damien Inglis was assigned to the NBA D-League in 2015. Now in Westchester, Inglis is hoping to earn a call-up.
---
It's been more than three years since Damien Inglis found his way into the NBA. Before he was drafted, he had already played four years of professional basketball. Inglis, a native of France, played for Centre Fédéral de Basketball of the NM1 at the age of 15. The France native played for the club for three seasons before signing a three-year contract with Chorale Roanne of the LNB Pro B League.
Instead of staying with that club for three years, Inglis opted for the 2014 NBA Draft.
Then it happened: his dream came true.
Every young player dreams of hearing their name announced at the NBA Draft. With the 31st overall pick, the Milwaukee Bucks selected an athletic 6'9″ forward, Damien Inglis.
"I was happy finally my dream came true. But when he called my name, I knew the work was starting right now," Damien Inglis told Daily Knicks. "The grind was starting right at that time, so I was blessed and I'm still blessed. But right now is where the dreams really start because I got to grind it out and get back to where I want to be. I was really happy at that day, but right now I'm still working on getting my dream being a reality, so I was blessed at that time."
Inglis has great measurables that included a 7'3″ wingspan. Having a wingspan like that is extremely beneficial, which only helps the Frenchman's ability to guard multiple positions.
He went through many setbacks during his first season in Milwaukee. Inglis suffered a broken foot in a draft workout and was unable to participate in Summer League. The forward missed the first weeks of the 2014-15 season. Later on, it was confirmed he was still not cleared to return and had to have surgery on his ankle.
Inglis didn't have the opportunity to step on the court during the 2014-15 season. The first time the Milwaukee fans saw their young forward was in Summer League in 2015.
Damien Inglis totaled 20 games with the Bucks, but also saw multiple stints in the NBA D-League. Since Milwaukee doesn't have an affiliate, the team used the flex assignment rule and assigned Inglis to the NBA D-League multiple times. The 6'9″ forward competed in 16 games last season— 13 with the Westchester Knicks and three with the Canton Charge.
After averaging 9.9 points, 4.9 rebounds, 1.7 assists, and 1.4 steals in 21.4 minutes per game in Westchester, the Knicks brought Inglis back in early October. Inglis believed it was his best opportunity.
"I just love the culture. That's whats best about here. I feel like they have the best D-League set-up so far, so I can work," Inglis said. "I'm working on my game everyday with coaches, with every coaches. And that was the biggest reason for me, so I'll be able to work here so that's why I came back here. And my trainer, my personal trainer, lives in the city too. Whenever I want to get shots up and work on my game, I just call him and we work together. I think that was the main thing that brought me back here."
Since the start of the season, Mike Miller, head coach of the Westchester Knicks, has praised Damien Inglis' commitment and what he can bring to the table. With many of the players from last year's roster no longer on the team, Miller expects Inglis to be a contributor in all facets of the game.
"Damien [Inglis], we expect to be a numbers guy for us; to put up points, rebounds, and be efficient," Miller said. "We think he can do that. We need that."
The Knicks are still in the early stages of the 2016-17 season, but the France native has been a productive player thus far. He has shown he can get it done on both sides of the ball.
He has the strength to out-muscle the defender and get shots up in the post, which was something he displayed against the Canton Charge.
Inglis has proven he can put up productive stats—14.8 points, 7.2 rebounds, 3.5 assists, and 1.2 steals in four games—but he prides himself on being an exceptional defender.
He's a solid on-ball defender and will benefit by working under a defensive minded coach in Miller. 
"It's critical cause that's what brings people back to the league. Being able to knock down shots and grab rebounds is a big thing in the game right now. The main thing is defensively," Inglis said.
"Are you going to be able to guard your guy? So right now, I'm just trying to bring everything I can bring," Inglis continued. "It's kind of hard cause I'm guarding the best guy on the other team [and] I got to help. And offensively, I have to be efficient, so it's hard so far, but I like it. I like the job and I like everything here so far."
Even though the Knicks have played in a few games this season, Inglis has shown his improvements from the previous season. He's benefiting from last year's stint with the team, as he had the opportunity to get accustomed to the team's system and develop a chemistry with the players.
Out of the 20 players that suited up for the 2015-16 season, six players, including Inglis, returned to the team this season.
Just like Damien Inglis embraces taking on the tougher opponent on the opposing squad, he's embracing is current challenge: earning a call-up.
Through the early part of the season, he's looked impressive and could potentially be a candidate for a call-up later on in the season if he maintains his productivity.
This article originally appeared on