Damian Jones Debuts with Santa Cruz Warriors v. Sioux Falls Skyforce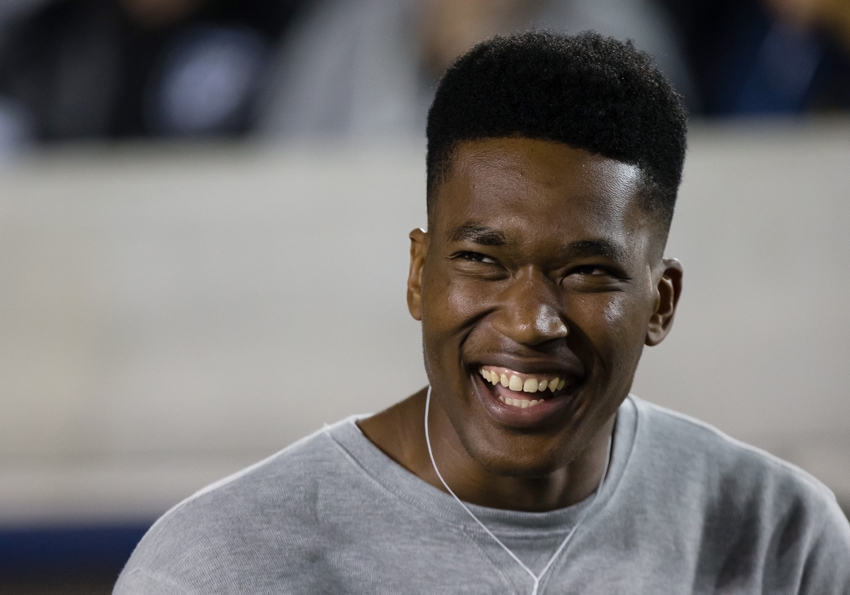 Damian Jones made his pro debut with the Santa Cruz Warriors on Friday night against the Sioux Falls Skyforce.
The Santa Cruz Warriors (2-3) failed to top the Sioux Falls Skyforce (4-1) on Friday night at Kaiser Permanente Arena, falling 100-93.
Despite an early lead in the first quarter and an incredible comeback effort in the third quarter, Santa Cruz was simply unable to overcome the calls made against them, which resulted in Sioux Falls shooting an unbelievable 48 free throw attempts.
Cameron Jones paced the Warriors with 22 points (7-15 FG), six rebounds and seven assists. Scott Wood followed that up with 21 points and six rebounds, while Phil Pressey had a double-double with 17 points and 11 assists to go with his six rebounds.
Still on assignment via the Los Angeles Clippers, big man Diamond Stone dropped in 10 points (4-9 FG) and five rebounds for the Warriors. He played a limited 13 minutes due to foul trouble (5).
Jabril Trawick led all scorers with 30 points (9-15 FG, 12-13 FT) and six rebounds in 35 minutes off the bench for Sioux Falls. Former Golden State Warriors big man Keith Benson had a huge double-double with 23 points and 17 rebounds. Point guard Briante Weber had a double-double as well, posting 15 points and 14 rebounds to go with his seven assists.
As for Damian Jones? He had two points (1-5 FG), seven rebounds, two assists, one block, three fouls, and two turnovers; yet despite such a humble stat line, he finished a team-high +4 in 22 minutes of play, just two minutes shy of his minutes cap.
Damian Jones on playing perimeter defense: "They think it's a mismatch, but it's not. I'm about to lock em up, so it doesn't matter to me."

— Angelo Mendoza (@iAMgoldenstate) November 26, 2016
Since being selected with the 30th pick in the 2016 NBA Draft by Golden State, Jones has spent much of his time recovering from a surgery to repair a torn right pectoral muscle, which he suffered while lifting weights during the draft process. He mentioned prior to the game he thinks his pec is now at 100%, and he said there were no problems after the game.
Jones admit, however, that he's still working on getting his conditioning to where it needs to be. The 21-year-old 7-footer is currently on what's said to be a 2-game assignment with Santa Cruz, which began with the Sioux Falls game and will possibly conclude Sunday on the road against the Reno Bighorns.
"First time getting out there, I was little winded, you know, [getting] up and down, but I mean, it was alright," said Jones. "Sunday's gonna be a better game, I feel."
Adonal Foyle taking to Damian Jones after the game in Santa Cruz. Says DJ just needs to get the rust out pic.twitter.com/ZsIqPG9ZFt

— Angelo Mendoza (@iAMgoldenstate) November 26, 2016
Former Golden State center Adonal Foyle was in the building Friday night to watch Damian Jones, and he was kind enough to speak to Blue Man Hoop at halftime. Foyle helped explain Jones' situation working back into the world of basketball and what Jones can contribute to the Warriors if given the opportunity.
"I think for him it's just getting comfortable," said Foyle. "Just when you're off from basketball for a while, it's like foreign — you just gotta go back there, get some touches, hit some people. He's gonna be fine. He's athletic, he's quick, he's not afraid of contact, he has a soft touch, he has the whole package."
Damian Jones with the windmill jam out the handoff pic.twitter.com/uY0dMe115E

— Angelo Mendoza (@iAMgoldenstate) November 26, 2016
Santa Cruz Warriors head coach Casey Hill also talked about Jones in postgame interviews, commenting on Jones' performance against Sioux Falls.
"It's probably what everyone expected — just a little raw. That's all," said Hill. "I mean he's got so much potential to be a spectacular big. He just needs to get caught up to the game a little bit."
Damian Jones will be on the road with the Santa Cruz Warriors against the Reno Bighorns, which fans will be able to catch on Facebook Live at 3:00 p.m. (PST). For the game against the Skyforce, click here:
More from Blue Man Hoop
This article originally appeared on