Dallas Mavericks: Young Players Are Living Up To Expectations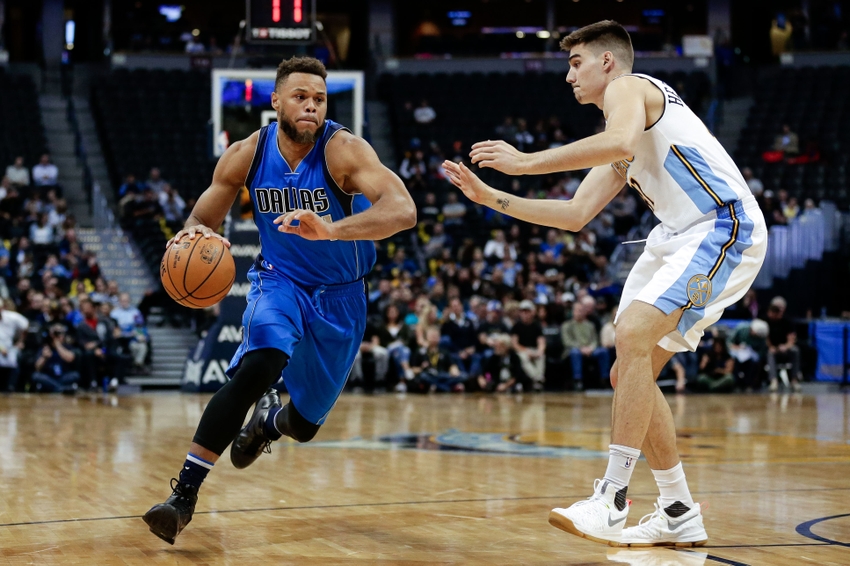 The Dallas Mavericks added more youth to their roster this offseason, and despite early struggles, the team's future looks bright.
One of the main concerns for the Dallas Mavericks in the past few seasons has been their lack of youth. Since winning the championship in 2011, Mark Cuban and the rest of the front office has been on a mission to make the team younger.
This has to do with the way the Mavs are operating right now. They aren't willing to say they are in rebuilding mode — because they want to stay competitive with Dirk Nowitzki — but they're making small changes each season that work for their future.
In the past two years, they've made some real progress. In 2014, the team acquired Dwight Powell in their trade for Rajon Rondo. Then, 2015 saw the team draft Justin Anderson. Finally, 2016 featured signings of Harrison Barnes and Seth Curry.
Coming into the 2016-17 season, the Mavs were expected to be more reliant on their younger players, as they were expected to make up the majority of the bench. So far, they've been living up to expectations.
Harrison Barnes has been on an absolute tear to start the year. With a larger role and a spot in the starting lineup, he's averaging 22.6 points and 6.1 rebounds per game while shooting nearly 50 percent from the field. He's already recored three 30-point games this season and looks like a different player, whether it's been his playmaking on offense or his ability to force turnovers on defense.
Barnes has been getting more touches late in games and has been one of the best clutch time players for the Mavs this season. At the moment, he looks destined to become the top option on the team.
Justin Anderson was expected to take a leap in production this season and he's done just that. He's averaging 8.3 points, 4.5 rebounds, 1.3 assists and 0.9 steals per game — numbers that are all improved from last season. His athleticism has been a major key yet again as he's been able to throw down some monster putback dunks and make some impressive plays at the rim on defense.
Dwight Powell has been an important piece for the Mavs early on because of Dirk Nowitzki's injury and the fact that Andrew Bogut has missed two games. He has raised his average in points, rebounds, assists, blocks and steals and he's been working in the paint — like last season — while also improving his midrange jumper.
Seth Curry came over to the Mavs in the summer after a hot ending to the 2015-16 season. He's adjusted to a nice role coming off the bench and seems to have finally found a home in the NBA. He recently set a career-high in scoring as he logged 23 points against the Los Angeles Lakers.
There's something about these four players mentioned above that is encouraging for the Mavs. Each currently has career-high averages in multiple statistical categories. None of them have hit their prime yet and they're all showing major signs of improvement this season.
One key feature for this group of players is their ability to play multiple positions. Barnes can play small forward or power forward. Anderson can play shooting guard and small forward.
Powell can play power forward and center. Curry can play point guard and shooting guard. They are all versatile players capable of impacting the team in more than one way.
One interesting thing I'd like to discuss is the slow start for the Mavs. While they have just two wins in their first eight games, things might not be all bad.
If the team had exploded out of the gate and had been competing with the best and earning wins on a consistent basis, chances are these players might not be getting as much playing time. However, with the team struggling, head coach Rick Carlise has been opting to give the younger guys heavier minutes and has even given players like Curry and Anderson chances to start.
Carlisle had this to say on the team's younger players (via Mavs.com):
"I think we need to transition the team young. That's a fact," the coach added. "I think we all know that. And so, you know, we've worked hard to get this roster of younger guys together. They've all earned their way on the team, and so we work tirelessly with them. You know, they've produced in situations where needed, but first-year guys seldom hold up on an every-night basis. That's just a fact in this league. But right now, they're helping us bridge this difficult situation with injuries."
While it's certainly not fun to watch the team struggle, the Mavs are getting some key development in for pieces of the future, which is going to help them in the long run.
All of the players discussed in this article (Barnes, Anderson, Powell, Curry) are between the ages of 22 and 26, which is the perfect age gap for a core of young players to build some chemistry and focus on making the team better.
The bottom line is that we had expectations for each and every one of these young players coming into the season and right now they are meeting and surpassing everything expected out of them. Though the Mavs as a team may not be performing well, the future looks bright in Dallas.
This article originally appeared on