Dallas Mavericks: There's No Need To Rush Back Injured Players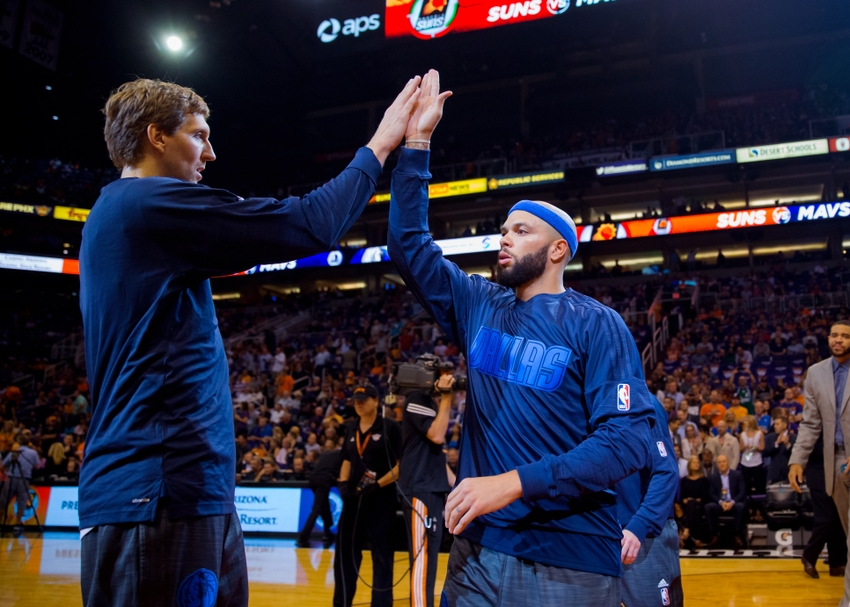 The Dallas Mavericks are struggling to keep their team healthy, but with their current situation, they shouldn't try to rush injured players back.
The downfall for the Dallas Mavericks in 2015-16 came mainly because of injuries.
You can say that they simply weren't as good as the Oklahoma City Thunder–which was true–but with about half of their team injured in the dying moments of the season, it's safe to say their level of health was an issue.
The Mavs made some moves during the summer and entered this season with more youth in the lineup, hoping to avoid any major injuries.
While their younger players have been staying out of trouble, it's their veterans that have suffered the most. Players like Dirk Nowitzki and Deron Williams–arguably the team's two best players–along with Devin Harris have missed time already this season with lingering injuries.
Just before the season began, Harris suffered another injury to his left foot and has been on the bench ever since. He's likely still a few of weeks away from making his season debut.
Devin Harris has been cleared for light shooting with shoes on, according to Rick Carlisle. It's gradual progress but it will be "weeks."

— Earl K. Sneed (@EarlKSneed) November 15, 2016
Williams is dealing with yet another hamstring injury and has played just five games so far. He opened the season with a 25-point outing against the Indiana Pacers and served as one of the most productive players on the team before falling to injury.
Nowitzki has had an Achilles injury that has limited him to just three games so far this season but he could be close to returning. He's been missed big time on the offensive end of the court as the Mavs have struggled to score in his absence.
He had this to say on what he has been dealing with (via Mavs.com):
"It's definitely better. Otherwise, I wouldn't try to be back out here again. Last week, when we decided to shut it down against Portland, I just couldn't move anymore. Every step was painful. … I really started slow on Thursday, and before that I didn't even step a foot on the court. This whole time while they were gone I just did rehab, cardio and lifted. I didn't step on the court at all, and I didn't do any jumps."
Nowitzki and Williams will provide a big boost to the Mavs' offense as the team has scored more than 100 points just two times this season. Harris would give the bench more depth as he usually serves as one of the first players to enter the game for the team's starting point guard.
However, at this point in the season, there's no need for the Mavs to rush any of these players back.
We knew coming into the season that the Mavs weren't going to be a great team. In fact, we knew they might not even be a playoff team and they'd likely be hovering right around seventh through ninth place in the West.
But so far this season, they look a lot worse than we thought they would be. Their offense has been lacking–even with players like Nowitzki and Williams in the game.
Their defense has been slightly better but not anywhere near where it needs to be. On top of everything else, they've had a serious shooting problem, especially from the three-point line.
It hasn't been pretty and it certainly hasn't been encouraging for a team just looking to make the playoffs.
There's a reason why the Mavs shouldn't worry about rushing a couple of key players back though. The first is obvious.
You don't want them coming back when they aren't 100 percent and getting hurt again, which is something that Rick Carlisle recently acknowledged when speaking on Nowitzki (via SportsDay):
"He wants to get back, that's for sure," coach Rick Carlisle said. "But he understands and we understand that he's got to be right before he comes back. We don't want him coming back for a game or two, then sitting another week."
But the other reason is because of the growing players and the unavoidable future that is to come in Dallas. There's a time–whether it's one, two or three years from now–when the Mavs will be playing without Nowitzki.
It will be just like it is right now except there won't be the glimmer of hope that rests in his return. They'll be on their own and they'll have to find a way to win without him.
With the youth the Mavs have on the roster right now, it would be beneficial to let them work on their own and try to transform into players that can win games on any given night.
Best-case scenario for Mavs might be Harrison Barnes as a bright spot in a bad season that leads to a high lotto pick.

— Tim MacMahon (@espn_macmahon) November 15, 2016
Harrison Barnes is doing a good job of working on his game in the absence of Nowitzki, but it takes a total team effort to win games and the Mavs can't get back in the win column when only two or three guys score double-digit figures in a game.
So it basically comes down to developing. The team is obviously not good this season and might not even finish the season at or above .500 and a rebuilding process has been in the making for a few years now, whether the front office likes it or not.
The best thing to do at this point in time is to let players like Williams and Nowitzki take as long as they need to get healthy without being rushed back into action.
It's been a rough start for the Mavs, but it'll get even worse if one of their best players comes back and immediately heads back to the bench.
The team can benefit from relying on their future stars and allowing them to run the show and that's exactly what they need to do while they go through a difficult part of the schedule.
This article originally appeared on