Rajon Rondo's amazing feud with the Mavericks is still alive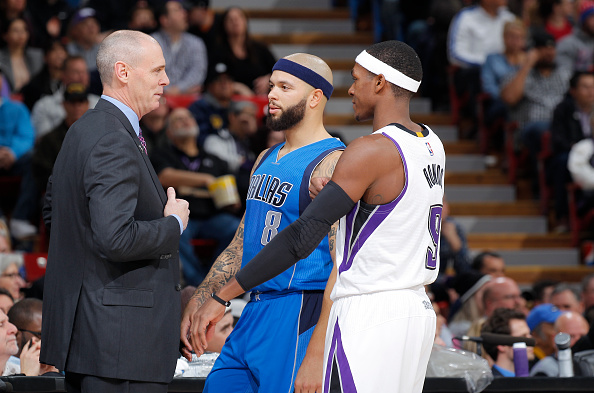 Sacramento Kings point guard Rajon Rondo is not a huge fan of his former team, the Dallas Mavericks. And, after how they split last year, there's a good chance the Mavericks organization doesn't like him either.
On Sunday, Rondo had the last laugh when his Kings pummeled the reeling Mavs by 22 points. It sent them stumbling further down the standings; with regards to the playoffs, they're currently on the outside looking in, 1.5 games behind the eighth-seeded Houston Rockets.
Rondo finished with 11 points, 11 assists and four rebounds in the win, and afterwards he didn't mince words when describing how he truly felt about his former team:
Rajon Rondo said he wants the Mavs to get their "plane ticket" for the offseason the same day the Kings do.

— Jason Jones (@mr_jasonjones) March 28, 2016
Just to briefly recap: In December of 2014, Dallas sent Jae Crowder, Jameer Nelson, Brandon Wright and a top-7 protected 2015 first-round pick to the Boston Celtics for Rondo and Dwight Powell.
At the time, Dallas had one of the best offenses in the league, but zero athleticism at the point of attack. In order to make a deep playoff run, they needed to upgrade the point guard spot, and Rondo was (apparently) the best available option.
The trade dissolved in Dallas' hands. In 46 regular-season games in a Mavericks jersey, Rondo averaged 9.3 points and 6.5 assists. He shot 43.6 percent from the floor, 45.2 percent from the free-throw line and repeatedly bumped heads with head coach Rick Carlisle.
Things only got worse in the postseason, when Rondo essentially gave up on the team and was ruled out with a "back injury" after two games. Dallas was quickly eliminated in the first round by the Houston Rockets.
Meanwhile, in Boston, Wright and Nelson were flipped for future assets while Crowder has miraculously turned into a borderline All-Star and strong candidate to win Most Improved Player.
Rajon Rondo almost drops a F bomb on TV! 😂

The #Mavs get him heated.#Kings pic.twitter.com/6FLFoKMtjb

— NBA On Def Pen (@NBAOnDefPen) March 4, 2016
His three-point shot went from ugly to respectable, and his hard-nosed defense became a calling card for one of the league's toughest teams.
In Sacramento, Rondo leads the league in assists. In Dallas, the search for a franchise point guard continues.