Dallas Mavericks: Predicting 2016-17 Statistical Leaders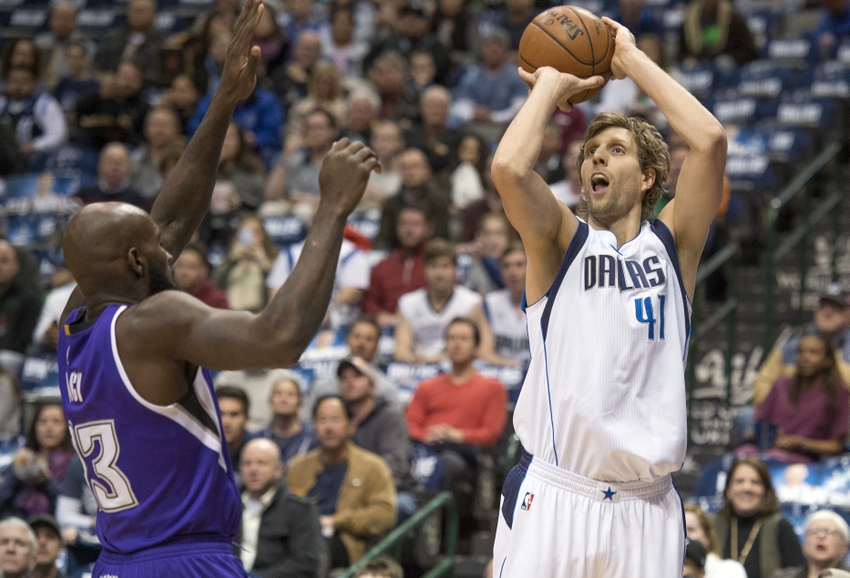 The Dallas Mavericks made some changes during the summer, meaning they could have a few new statistical leaders for the 2016-17 season.
The Dallas Mavericks made a few moves during free agency this summer.
Their biggest signing came in the form of Harrison Barnes. Shortly after that, they traded for Golden State Warriors big man Andrew Bogut. Then later on in July, the team added a pair of former Sacramento Kings players in Seth Curry and Quincy Acy.
Throughout the fine-tuning of the roster, the Mavs lost key players like Chandler Parsons, Raymond Felton and David Lee.
As a result, they are set to rely on a few new names to help them round out their output and compete on a nightly basis. With that in mind, here's my predictions on who will lead the way for the team in 2016-17.
Scoring
2015-16: Dirk Nowitzki – 18.3 PPG
Prediction for 2016-17: Dirk Nowitzki – 17.9 PPG
Despite another attempt to limit the load for Dirk Nowitzki, I still believe he will be the team's primary scorer in his 19th NBA season.
Deron Williams and Wesley Matthews will still average double figures and I'm sure Harrison Barnes will up his averages yet again, but as long as Nowitzki is playing and the Mavs don't have a clear-cut superstar, he's the guy that is going to lead the team in scoring most nights.
His average will most likely drop a bit because of the added offense coming off of the bench, but Nowitzki will remain a solid 15 to 20-point scorer night in and night out.
Rebounds
2015-16: Zaza Pachulia – 9.4 RPG
Prediction for 2016-17: Andrew Bogut – 8.4 RPG
For the majority of last season, Zaza Pachulia was a beast inside the paint and on the boards. However, he eventually cooled off later in the year and it hurt the Mavs.
Andrew Bogut is set to become the Mavs' newest starting center — their fifth in the last five years — and should enjoy a nice increase in rebounding this season. He's averaged double-digit numbers in the rebounding category four times in his career, and while he won't do that next season, Bogut will likely put up 10 to 15 double-doubles (or more) throughout the course of the season.
Without a rebounding force like Draymond Green, Bogut will be seen as the primary rebounding big man in Dallas.
Assists
2015-16: Deron Williams – 5.8 APG
Prediction for 2016-17: Deron Williams – 5.4 APG
As expected, point guards dominated the assisting category for the Mavs last season. Williams, J.J. Barea and Felton provided the top three averages as Parsons and Matthews rounded out the top five.
For that reason, I expect Williams to repeat as the assists leader on the team. His average has decreased just about every season since 2010-11 but there just aren't really any players in the starting lineup known for their assists.
Dallas Mavericks: Wesley Matthews The Key To Competing In West
Matthews and Barnes have never averaged more than three assists in their respective careers and the year 2007 was the last time either Nowitzki or Bogut had three or more. Unless a bench player like Barea or Anderson distributes the ball better, Williams will again lead the team.
Steals
2015-16: Wesley Matthews – 1.0 SPG
Prediction for 2016-17: Justin Anderson – 1.2 SPG
Wesley Matthews has a career steals per game average of 1.1. His tight defense and hard-nosed style is what helps him create turnovers for his team.
Next season, however, the Mavs will have a different steals leader: Justin Anderson. As a player that got the majority of his playing time at the end of the season, Anderson became a key piece on both ends of the floor.
He showed that he was capable of playing solid defense, and as he continues to grow, I expect his numbers to do the same. Anderson will likely get much more playing time this next season and could possibly get sixth man-type minutes. His athleticism will help him earn more steals in 2016-17.
Blocks
2015-16: Salah Mejri – 1.1 BPG
Prediction for 2016-17: Salah Mejri – 1.8 BPG
Salah Mejri was a breakout player for the Mavs last season. Serving as the NBA's first Tunisian player to play in an NBA game, Mejri –like Anderson–didn't start getting consistent playing time until the end of the season.
He used his 7'2″ frame to control the paint and had some monster games inside, like when he had four blocks on Feb. 24 or six blocks on Mar. 20.
As a returning player, Mejri will now be the team's backup center. As a result, he'll get more minutes and a bigger role off the bench. Look for him to be a force in the paint again.
Three-Point Shooting (At Least One Attempt Per Game)
2015-16: Chandler Parsons – 41.4 percent
Prediction for 2016-17: Seth Curry – 43.5 percent
The Mavs had a tough time shooting threes last season. As a team they were ranked only 23rd in the league in three-point percentage — their second lowest rating since the 1999-00 season.
This summer, they signed a few good three-point shooters, but none more impressive than Seth Curry. Just like his brother, Curry has range and a follow through that not too many other players have. In fact, last season he shot 45.0 percent in 44 games played with the Kings.
Curry's three-point shooting, paired with his playmaking, is what will earn him minutes next season. He should have a big year from beyond the arc.
Free Throw Shooting (At Least One Attempt Per Game)
2015-16: Dirk Nowitzki – 89 percent
Prediction for 2016-17: Dirk Nowitzki – 89 percent
The Mavs have been a great free throw shooting team for years, and they added Deron Williams last season to add to their success in the category, but Dirk Nowitzki is still the best free throw shooter on the team and will be until he retires.
Nowitzki is ranked 15th on the all-time free throw shooting percentage list and is fourth best among active NBA players. He's shot lower than 88 percent just once in the last eight seasons and continues to be impressive from the line.
Look for Nowitzki to have more success at the charity stripe and replicate his 2015-16 season with another year of 89 percent shooting.
This article originally appeared on