Dallas Mavericks: Justin Anderson Plays "Best Game in Two Years"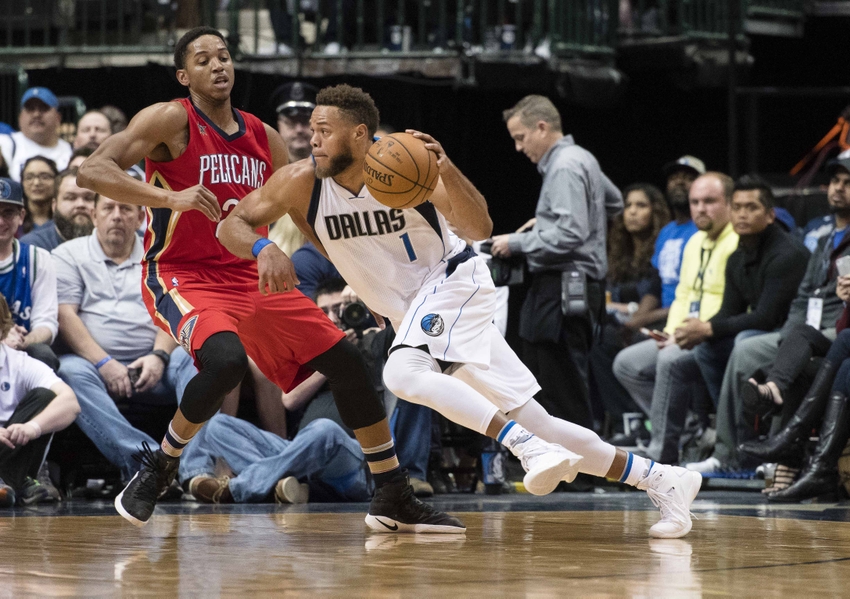 The Dallas Mavericks earned their third win of the season on Sunday against the Pelicans and second year forward, Justin Anderson, played a huge part in the victory.
After being drafted in the first round of the 2015 NBA Draft, Anderson came into Dallas as a rare youngster looking to crack Rick Carlisle's rotation. When injuries struck, Anderson was thrust into the rotation and he gave the Mavericks a bolt of energy that was desperately needed.
This only set the stage for year two.
Anderson came into year two with much hype and speculation only to have a mediocre start to the season that has left some fans with a worried outlook for the kid. But Anderson rebounded on Sunday night as he had his best game of the season by posting 14 points, 8 rebounds, and 2 assists on 23 minutes of play.
"Anderson played his best game in two years," Carlisle said after the game. "Big shots, always in the right place, tough defense. It's exactly what we need from him. No more or no less."
This is high praise coming from Carlisle as he said this was the best game Anderson has played in the past two years. The most important thing that Carlisle said was how this was exactly what they needed from him…no more or no less.
It's the 'no more' part that has been getting Anderson in trouble over the first part of the season. Armed with explosive athleticism and a competitive drive second to none, Anderson has tried to put the team on his back too much at times, trying to help the team win despite the injuries.
"I've been feeling like I needed to do more internally. You know, human nature says Dirk's out, DWill is out, JJ is out, you just want to do everything you can to help your team and sometimes that can hurt your team," Anderson said after the game.
It's about keeping things simple for Anderson as sometimes it's almost as if he is unleashed rather than strategically placed into the game. As far as who he credits for the big game off the bench and the improved play?
Anderson looked to none other than the player development staff and Carlisle himself.
"I looked myself in the mirror and put the hard hat on. Major shout out to our player development guys. Just allowing me to stay the course and working with me. I'm just humbled to be in this spot right now and trying to keep the game simple," Anderson said. "I wanted to re-evalute it and I talked to coach. I asked him what he needs from me, he made it very clear and I went out and did that tonight. That's what makes him a Hall of Fame coach, he know exactly what to do to get the best out of his guys," Anderson said while praising Carlisle after the game.
But does all of the injuries to the veterans on the team affect the play of Anderson? Does the injuries to other players play a negative affect on the role that Anderson is supposed to have?
Absolutely, and Rick Carlisle agrees as he talked to the media after Anderson's big game on Sunday.
More from The Smoking Cuban
"I'm really happy for him, he's had his struggles, he's figuring some things out. For our role players, playing without Dirk, without some of our better playmakers. These guys are having a much tougher situation to deal with. The game is harder," Carlisle said.
This is the underlying problem with a handful of players on the Mavericks roster. From Wesley Matthews to Justin Anderson, roles have changed on the team as players have went down. Without the playmakers in Barea, Harris, and Williams (at times), Dallas has had to force Matthews, Anderson, and even Curry into playmaking roles.
But Anderson stuck to his guns on Sunday night and was one of the main reasons Dallas came away with their third win of the season. Even Harrison Barnes acknowledged the impact of Anderson when he answered his first question after the game by voluntarily mentioning Anderson.
"Felt good, definitely thought Justin Anderson was the difference maker tonight. His energy and effort got us over the hump," Barnes said.
Anderson was the difference maker on Sunday night and the organization and fan base hope he can continue the trend in the right direction.
As far as the twitter reaction from the dedicated Mavs fans, Anderson takes notice of them all.
"Our fans man…I've been seeing on twitter, Mave Fans For Life regardless, it was pretty cool to play back in front of them tonight," Anderson said.
This article originally appeared on