Dallas Mavericks: Harrison Barnes Looks Like A Completely Different Player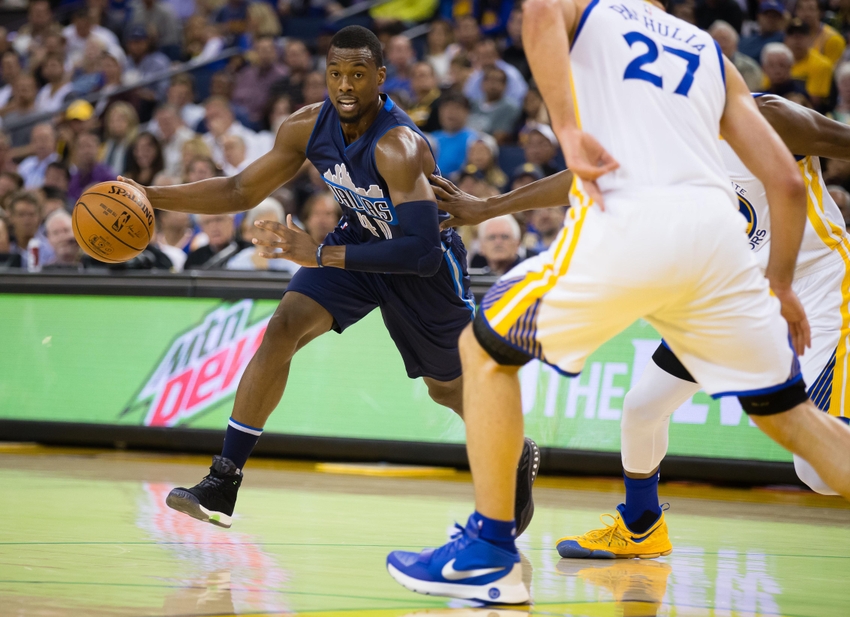 It's early, but Harrison Barnes has become the No. 1 option for the Dallas Mavericks and he's looked like a brand new player in the process.
The Dallas Mavericks made a bold move during the summer by giving Harrison Barnes a max contract.
After missing out on a couple of key free agents, the Mavs had their backs against the wall and needed to make a big move.
With Kevin Durant moving from the Oklahoma City Thunder to the Golden State Warriors, Barnes was set to find a new home, and he ended up finding himself in a different franchise and on the verge of accepting a much larger role.
The expectations were high for Barnes heading into the season, as he was going to be operating as a top option in Dallas with more touches and the chance to grow as a player. But while more was expected, some knew that the contract had the potential to turn bad for the Mavs.
The preseason wasn't pretty for Barnes as he suffered through many poor shooting nights similar to the ones he had in the 2015-16 Finals, but once the regular season came along, something clicked and Barnes has looked like a new player–one that is capable of taking over the scoring load in Dallas.
Let's break down his first seven regular season games with the Mavs.
Barnes has had double-digit scoring efforts in every game this season and is currently averaging 25.9 points per game–a top-10 number in the league.
A couple of interesting things to recognize is that Barnes has scored 25 points or more in four games this season and 30 points or more in three games. With the Warriors, he scored 25 or more for the final time on Mar. 18, 2015, and scored at least 30 just one time.
An increase in scoring has led to a field goal percentage of 51 percent and a free throw percentage of 92 percent, with both serving as career highs. He's playing 38.7 minutes a game compared to his 30.9 in 2015-16.
While offense is certainly Barnes' most noticeable improvement, he's also improved in the way he plays the game.
He's averaging 5.9 rebounds per game compared to his 4.9 in 2015-16 and he's become an effective passer and playmaker for the team. He's made some really nice plays when driving to the lane, whether it's been creating shots or kicking the ball out to the three-point line.
Also, we're seeing him go one-on-one more than ever, as he's taking advantage of players when Rick Carlisle slides him up to the power forward position.
Whether he's taking mid-range jumpers or driving to the lane and completing crafty finishes, he's been thriving in areas where the Mavs desperately need him.
Then there's his ability to be clutch.
He hit a three with a couple of seconds left on opening night that sent the game to overtime and he also hit some late shots against the Milwaukee Bucks that were huge, but he has had no better late-game performance than his outing against the Los Angeles Lakers.
When the Mavs went down by two points with roughly seven minutes left in the fourth, Barnes came back with seven points in a row to give the team a lead they wouldn't lose.
The Mavs are already in another hole in terms of injuries as Deron Williams has already suffered from his first minor injury of the season and Dirk Nowitzki is sidelined with an Achilles injury.
While Barnes' game hasn't changed because of the injuries, he is getting more chances to close games and he's succeeding. Rick Carlise said this about his current play (via Mavs.com):
"You know, he can be one of those guys that can be a dependable top-three player on a good team. And he's got a great opportunity right now, 'cause he's going to touch the ball a lot. You know, he's driving it more than he's ever driven it in his career, and he's got a real good rhythm shooting the ball."
While Barnes is serving as one of the brightest spots on the team early on in the season, he's also starting to work his way into a few big conversations. Think about the Most Improved Player award.
If Barnes continues to put up these numbers and if he continues to produce with a larger role, he could be a major candidate for the honor. He could also be a dark horse All-Star candidate among a conference as crowded as the West.
But we have to take a step back and remember where Barnes was at before the season began.
It was obvious that he was probably going to be a slightly better player with a larger role and more touches, but the definition of a slightly better player means his averages move up maybe a few points or so.
Instead, he's seen significant jumps in shooting percentage and points per game–something that is reminiscent of James Harden's move from OKC to Houston. It's as simple as a key role player getting a bigger and better chance with a team ready to embrace the talents they provide.
Monta Ellis and Chandler Parsons were once thought of as the future, but Barnes provides the most realistic possibility as he's just 24 years of age with increasing numbers and a few more years before he hits his prime.
At one point it seemed impossible. The Mavs would never find a player to take the load after Dirk Nowitzki retired, but at the moment Harrison Barnes looks capable of serving as a successful replacement–especially since he plays his best basketball at the power forward position.
It all depends on if he is capable of staying consistent and putting together a complete season filled with numbers similar to the ones we've seen in his first seven games.
This article originally appeared on