Dallas Mavericks: Establishing A Ceiling For Quincy Acy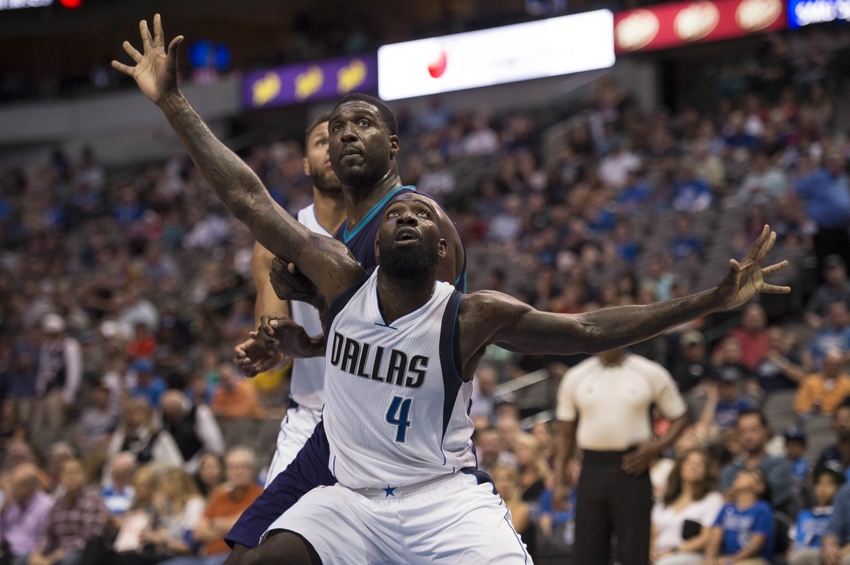 Quincy Acy is one of the newest members of the Dallas Mavericks and a different environment could signal an increase in production.
The Dallas Mavericks signed forward Quincy Acy to a two-year deal this summer in an effort to boost their forward depth.
While Acy has primarily played small forward throughout his career, he has the capability of playing power forward, which is a position he'll surely see some time at this season.
He'll enter 2016-17 in a familiar situation. He's started the year with a new team in three of his four seasons in the NBA as he's played for the Toronto Raptors, Sacramento Kings and New York Knicks before returning to the Kings last year.
Acy has improved over the last two seasons as he's earned an average of 5.6 points and 3.8 rebounds while shooting 51 percent in 16.9 minutes of play. His numbers haven't been spectacular and he certainly hasn't been a featured option on any of the teams he's played on, but he's made his living providing a punch off the bench and contributing in the paint.
This summer marked the beginning of a new era for Acy. He signed with the Mavs, who will serve as the fourth team he's played for, but there was something different about the deal.
Acy was born and raised in Texas and eventually played college ball at Baylor, meaning Texas has always had a place in his heart. Whether it was over social media or through interviews, he's expressed his love for the city and has talked about how he is "living out a dream."
It's always a plus when a player comes to play for his hometown and when he is genuinely excited about getting the season started, but it's another thing when that player still has room to grow.
As Acy prepares for his fifth season in the NBA, he'll still be just short of his prime years. At 26 years of age, Acy has shown slight improvement but still looks like he has much more he could introduce to the league.
So what should we expect from him in 2016-17? And more importantly, just how good could he be for the Mavs?
Let's start off by taking a look at what's he's done in the preseason so far. He played the first three games of the preseason but suffered from an ankle injury that will probably keep him out until the season opener.
Quincy Acy (ankle) likely to miss last two preseason games. Goal is to have him ready for season opener Oct. 26.

— Eddie Sefko (@ESefko) October 16, 2016
However, the games he did play in saw him do more of the same things we've seen him do in previous seasons. He was active in the paint, and used his physical side to score hard-earned points and snag boards.
His three preseason games saw him average 5.0 points, 3.3 rebounds and 1.3 assists on 52 percent shooting while playing 18.7 minutes per game.
The important thing to remember about Acy's game is that he plays the role of bench support. He comes off the bench and uses his toughness to make an impact on both ends of the floor, whether it be blocking shots and collecting rebounds or tossing in short buckets.
J.J. Barea had this to say on Acy's game (via SportsDay):
"We got some guys who are going to play with an edge," J.J. Barea said. "We need more of that. We need to be more (like) bad guys. Q will help with that. Sometimes, we're too nice. We just have to be tougher."

7 Must Watch Games for the Dallas Mavericks This Season
In a couple of my previous articles, I've compared him to former Mavs' forward Al-Farouq Aminu, who played with the team in 2014-15.
During that stretch, Aminu played a key energy-booster role as he would enter the game and play hard defense while contributing on the offensive end of the floor–particularly in the paint. He could shoot threes every now and then but wasn't considered a sharpshooter by any means.
That's basically what kind of game Acy plays except his is a little bit more toned down. Of course Aminu filled the stat sheet a little more, but his style and the way he moves around the court is just like Acy.
They both have long bodies and long arms to help with their success on the defensive end of the floor and they play both forward positions with an emphasis on everything from scoring and assisting to rebounding and blocking shots.
I'm not going to come out and say Acy is going to be the next Al-Farouq Aminu, because both are just 26 years of age and both haven't hit their prime yet. However, I think an Aminu-type role is something Acy will excel at over the course of the next two seasons.
If he gets the playing time, I'm of the belief he could turn into a 10-point, five rebound kind of player with a steady amount of steals and blocks. I also think he's capable of strengthening his three-point shooting game as he broke out and shot 39 percent last season.
With the way Rick Carlisle runs the rotation and with a player like Dwight Powell likely in front of him in terms of minutes, we can't expect Acy to have a big season just yet, but I can definitely see him giving the Mavs help in all areas on the court and serving as one of those overlooked role players on the team–the kind comes of the bench and provides that energy that the team needs at times during the season.
By putting all of this together, you can determine a ceiling for Acy. He's not the next great star in the NBA, but he has a chance with a winning team this season and he'll likely use the momentum form signing a deal with his hometown team as a motivating factor throughout the year. He's simply one of those hardworking role players that does the little things to help the team win
The most important thing to consider with Quincy Acy is that he's a growing player. As a result, we'll likely see him boost his stats a little bit again this season. Watch for him to grow into a role where he provides energy for the team off of the bench and gives them steady production as a part of the second unit.
This article originally appeared on