Dallas Mavericks: 3 Ways to Trade for DeMarcus Cousins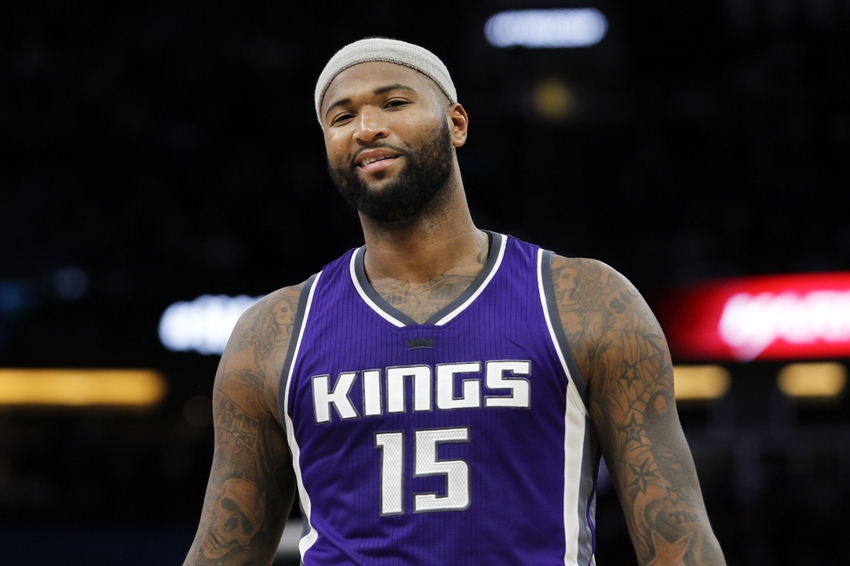 DeMarcus Cousins is once again at the forefront of trade rumors as his time in Sacramento is counting down. Would the Dallas Mavericks be a viable landing spot?
As long as DeMarcus Cousins is in a Sacramento Kings jersey, his name will remain in trade rumors.
It seems the words "Cousins" and "trade" have been married together for a couple of years now but his time in Sacramento could truly be coming to an end this season as the Kings have to get value for their big man before he walks in free agency next summer.
Could the Dallas Mavericks make a move?
For the sake of hypotheticals, I'm not going into whether I believe Dallas would be better off making one of these trades or if Dallas would even do them. This piece is solely on what I think would be close to even for both sides depending on what Sacramento is looking to get back for Cousins.
I also recognize other teams in the league could offer sexier packages to the Kings, but have instead dedicated this piece to just the Mavericks being the trade partner with Sacramento.
So let's have some fun and look at three different ways the Dallas Mavericks could possibly trade for DeMarcus Cousins.
1.) Good Value, But No Veteran Long Term Commitment
Option one is if Sacramento wanted good value back, but didn't want any long-term investment in a veteran. The deal would look like this:
Mavericks get
DeMarcus Cousins, Omri Casspi


Kings get
Deron Williams, Justin Anderson, Dwight Powell, 2017 First Round Pick
Sacramento: The first round pick would obviously be big for Sacramento as Dallas continues to dig their hole deeper this season. The pick is looking like a top 10 pick if Dallas continues down this same path.
Justin Anderson and Dwight Powell would instantly give the Kings more young pieces that would get quality minutes in the rotation. Justin Anderson would be the second most valuable asset in this deal as Sacramento needs younger wing depth.
Deron Williams could either be their starting point guard or not, but either way, his contract ends this summer. So it would be just a short-term rental in Sacramento. Losing Cousins would be huge, but getting back Anderson, Powell, and a potential top 10 pick in this upcoming loaded draft would be a nice return.
Dallas: Giving up both young assets and their upcoming first rounder would be tough, but getting DeMarcus Cousins COULD be worth it.
The Mavericks would be giving up quality bench depth, but with Dorian Finney-Smith and Salah Mejri on the roster, they could shoulder the load.
The starting unit would consist of Cousins, Nowitzki, Barnes, Matthews and either Barea or Curry. The bench unit would have Curry/Barea, Harris, Casspi, Finney-Smith, and Bogut.
2.) Quality Veteran, Create Cap Space, Get Younger
In this case, Sacramento would want a starting quality veteran to go along with younger assets. They would also want to create cap space going forward by attaching another contract.
Mavericks get
DeMarcus Cousins, Kosta Koufos, Omri Casspi


Kings get
Wesley Matthews, Justin Anderson, Dwight Powell, 2017 First Round Pick
Sacramento: Even though the Kings signed Arron Afflalo this past summer, Wesley Matthews would take his spot immediately as the starting two guard. His leadership and defensive ability would be huge for a younger Kings team.
The Justin Anderson, Dwight Powell, and 2017 first round pick logic would be the same as previously mentioned in option one.
The other key to this deal is getting the Koufos contract off the books as he still has roughly 3 years, $25 million left on his deal.
Dallas: This would be a massive package to give up for basically one player, but depending on their view of Cousins, it could be worth it for them.
First off, getting Cousins to pair with Barnes for the next multiple years would be the ultimate goal. After that, it gets interesting. You still have Nowitzki and Williams in the starting unit but that would mean Curry or Harris would step into the shooting guard spot.
If this deal was realistic, a trade involving Bogut or Koufos for another quality wing player would be ideal.
3.) A Multiple Team Trade
In this situation, Sacramento would value getting the most draft picks and/or younger assets in the deal…something Dallas doesn't have a plethora of. This would mean Dallas would have to pull in one or two other teams to make it all work.
For the sake of the numerous options, the following is an example of the above logic.
Dallas Receives: DeMarcus Cousins, Darren Collison
Sacramento Receives: Atlanta 2017 First Round Pick, Dallas 2017 First Round Pick, Justin Anderson, Deron Williams, Mike Scott
Atlanta Receives: Dwight Powell, Devin Harris, Dallas Second Round Pick
Philly Receives: Tiago Splitter
Sacramento would get TWO first round draft picks, a young stud in Justin Anderson, Deron Williams and Mike Scott. Dallas gets their centerpiece in Cousins. Atlanta gets two solid rotation players to bolster their bench and Philly gets the Splitter contract to help them hit the cap floor.
The chances of Dallas pulling off any of these hypothetical trades are slim to none. Plus, if any of these trades came to fruition, it would have to be after all players are eligible to be traded.
So for you fans out there with the pipe dream of Cousins in Dallas, here are a couple of options that COULD get the job done.
More from The Smoking Cuban
This article originally appeared on