Dallas Mavericks: 3 Matchups to Watch Vs. Nuggets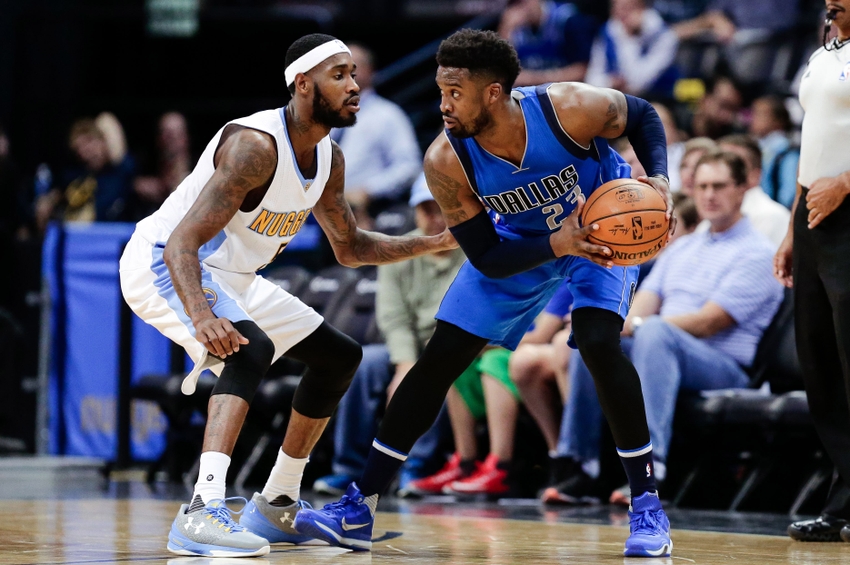 The Dallas Mavericks host the Denver Nuggets at home on Monday night. Here are three matchups to watch as both teams try to turn things around.
The Mavericks are coming off a tough loss to a good Houston Rockets team on the road after beating the Indiana Pacers the night before that. Still battling a handful of injuries to some of the main staples of the rotation, the Mavericks will be short-handed once again on Monday night.
Dirk Nowitzki, Andrew Bogut and J.J. Barea will all be OUT due to injury on Monday night. Devin Harris will be worth monitoring, but should be good to go on Monday night.
Denver is coming off an eight point victory against the Orlando Magic a few days ago. Wilson Chandler missed the game against Orlando, but his status for Monday night is unclear at the moment.
For the Mavericks, this starts a two game home stretch where they should have a decent shot at winning both games compared to their previous opponents.
The Nuggets and Mavericks enter the matchup with a combined record of 14-33.
Here are three matchups to look forward to watching.
1.) Dwight Powell vs. Kenneth Faried
One matchup to watch on Monday will be the battle of the backup power forwards in Powell and Faried.
Both bring a jolt off the bench and give their team an ability to go small with them at the five if needed. But more importantly, they both bring above average athleticism to their second units.
Most would say that Faried is the better, more polished player, but Powell is not that far behind. Faried can rebound at a better rate than Powell, but Powell has a better outside shot than Faried.
On the season, Faried is averaging nine points and eight rebounds on 23 minutes of play while Powell is averaging seven points and five rebounds on 20 minutes of play.
This will be an energetic and fun matchup to watch on Monday.
2.) Danilo Gallinari vs. Dorian Finney-Smith
To be clear, this does not mean it will be an even matchup, but simply a matchup to watch on one end.
Gallinari comes into the game as a polished European forward who can play both forward positions. He gives Denver a unique scoring option where he is averaging 16 points on 35 minutes a night. If Wilson Chandler doesn't play, Gallinari would naturally be asked to take on more of the scoring role.
After Nowitzki went down to injury, Finney-Smith was inserted into the lineup to help take some of the defensive responsibilities off of Harrison Barnes. Standing at 6'8″ and a long wingspan, Finney-Smith has been asked to guard some of the best forwards in the league.
He will most likely matchup with Gallinari on the defensive end in a matchup that should be fun to watch. Will the gifted Italian get the best of the undrafted kid?
3.) Emmanuel Mudiay vs. Deron Williams
More from The Smoking Cuban
The third matchup is the battle at point guard between two Dallas guys.
Mudiay is the former 7th overall pick by the Nuggets, but has yet to really reach the hype that some put around him. With a questionable outside shot and subject playmaking ability, Mudiay is still trying to find his groove in the league.
Deron Williams comes into the matchup back healthy and leading the Mavs. He has appeared in 15 of the Mavs 23 games where he is averaging 12 points and six assists a game.
Williams will look to take advantage of the youth of Mudiay as Dallas will need Williams to score the ball if they plan to take the victory. Mudiay's speed versus Williams craftiness on the offensive end should be a fun matchup to watch on Monday.
If Dallas truly is still vying for the playoffs, games like Monday night should be must win games.
This article originally appeared on