Dallas Mavericks 2017 NBA Draft Big Board 2.0
Isaac Harris/FanSided via The Smoking Cuban

Fansided
With the Dallas Mavericks looking like they will be selecting in the lottery this summer, here is the second installment of our Dallas Mavericks 2017 NBA Draft Big Board.
The Dallas Mavericks currently sit with a 22-32 record as the 5th worst team in the Western Conference. With Dirk Nowitzki, Deron Williams, J.J. Barea, Andrew Bogut and others all missing time (some significant) due to injury, the Mavericks haven't been able to get over the injury bug all year.
Throughout the first month of the season, Dallas seemed destined for a top 3 pick in the draft with the chance of landing the first overall pick. Now, after getting some veterans back from injury, the Mavericks have been vocal in pushing for the playoffs.
But nobody knows how this "playoff push" will turn out.
Will the Mavericks be successful in their playoff push and get to the seventh or eighth seed? Will they make the push and barely miss? Will injuries strike again and they decide to tank the last month of the season?
The Mavericks could literally land anywhere (well, not anywhere) in the first round of the 2017 NBA Draft.
The following is the second installment of our Dallas Mavericks Big Board where I rank the top 15 prospects based off position need, roster makeup/contracts, and direction of the Dallas Mavericks franchise moving forward.
Lonzo
Ball (Prev. 2)
G,
UCLA
1
Ball moves slightly, by a very thin lead, ahead of Fultz on my board for a couple of reasons. One reason is the rise of Seth Curry at shooting guard. If Curry continues to grow into a good player, is it worth taking Ball over Fultz because of the fit next to Curry?
Curry has cemented his spot as the two guard in the starting unit and is a smaller framed shooting guard. Ball would be the ball handling point that is big enough to guard the bigger guards in the league that Curry can't.
We saw an example of this over this past week where UCLA put Ball on Dillon Brooks of Oregon off the ball where he played great defense on him late in the game. This was also the game where Ball took over late and led the Bruins to a victory in a highlight reel of a game for the kid.
Ball is a different type of player, but is one of the best playmaking point guards we have witnessed come out of college. He stands at 6'6″ and has a game similar to a young Jason Kidd. Almost every draft board across the league will have Fultz and Ball as the top two names.
Markelle
Fultz (Prev. 1)
G,
Washington
2
Overall draft board, Fultz still sits at the top, but if Curry continues to blossom, Ball might be the better fit. For the past couple of months, I have had Fultz as a clear top pick, but over the past couple of weeks, I believe it is more of a 1A to 1B type of situation.
Fultz is regarded by many to be the top overall pick in the draft no matter the team. He is arguably one of the two potential superstars in this draft as he is the complete package…as a freshman. He would be one of the two players the Mavericks would select if they did land the first overall pick in the draft.
Dennis
Smith Jr.
G,
N.C. State
3
The Mavericks need for a long-term point guard makes Dennis Smith Jr. take the third spot on the board. Smith could be the most athletic point guard of this loaded draft class and is scoring at a high clip at NC State. Most draft boards have Smith as a top 5 pick in the draft.
Talent is talent, and if the Mavericks have the fourth overall pick in the draft with Josh Jackson still on the board, it will be hard for them to pass him up. The 19 year old is having a great year at Kansas where he has drawn comparisons to Gordon Hayward and Andre Iguodala. He could step into the Finney-Smith role next to Harrison Barnes in the small ball lineup going forward.
Frank
Ntilikina
G,
France
5
If you listen/read to any Mavs related draft news, you will hear about their liking of Frank Ntilikina out of France. He is a 6'5″ point guard who has all the physical tools to be a top-notch point in the league. With an improving outside shot, don't be surprised if Dallas makes it a goal of theirs to land Ntilikina in the draft.
Lauri
Markkanen (Prev. 7)
F/C,
Arizona
6
Markkanen is a player that has been rising up the draft boards as the seven-foot sniper proves his overall game. He has the potential to be a stretch five in the league as he still improves his defense and rebounding down low.
Markkanen would come in and learn from Nowitzki in his first year in the league as a seven foot outside shooter.
Jonathan
Isaac (Prev. 8)
F,
Florida State
7
Can you draft someone off pure physical tools? Isaac is a 6'11" wing player at Florida State that can hit the three and drive the paint. He does have a thin frame, but is an intriguing prospect that some scouts are drooling over.
He would come in and fit into the wing rotation with Barnes, Finney-Smith and Anderson going forward.
Malik
Monk (Prev. 9)
G,
Kentucky
8
Monk is a hard one to project based purely off his skill set and size. He is almost too small to play shooting guard, but never gets the chance to play point guard at Kentucky. Scoring wise, he is right there with Fultz as the best scorer in the draft.
He is much higher on overall draft boards, but for the Mavericks there would be other priorities. Dallas already has a similar player in Seth Curry who is starting to prove his worth along with Wesley Matthews who spends time at two guard also. Then factor in Harris and Barea under contract.
Monk has exceptional talent, but I think someone will select Monk before Dallas will even have to debate it.
De'Aaron
Fox (Prev. 10)
G,
Kentucky
9
Fox, just like Monk, is a little higher up some draft boards, but I have my hesitations. He is exceptionally quick with the basketball and has elite athleticism, but his outside shot and body frame scares me going forward.
He is currently shooting 17% from behind the arc at Kentucky and weighs just 170 pounds. A comparison that has been thrown around is Elfrid Payton. All that being said, at pick 9, grabbing Fox would be a great value.
Jayson
Tatum (Prev. 11)
F,
Duke
10
Based off potential, Tatum could be in the top 5 conversation like he was going into his first season at Duke. He has the prototypical body and game for an NBA small forward at 6'8″, 200 pounds.
After missing the first part of the season due to injury, Tatum has came on strong as of late with an impressive outing against North Carolina this past week. With Giles moving out of my top 10, Tatum naturally moves into it.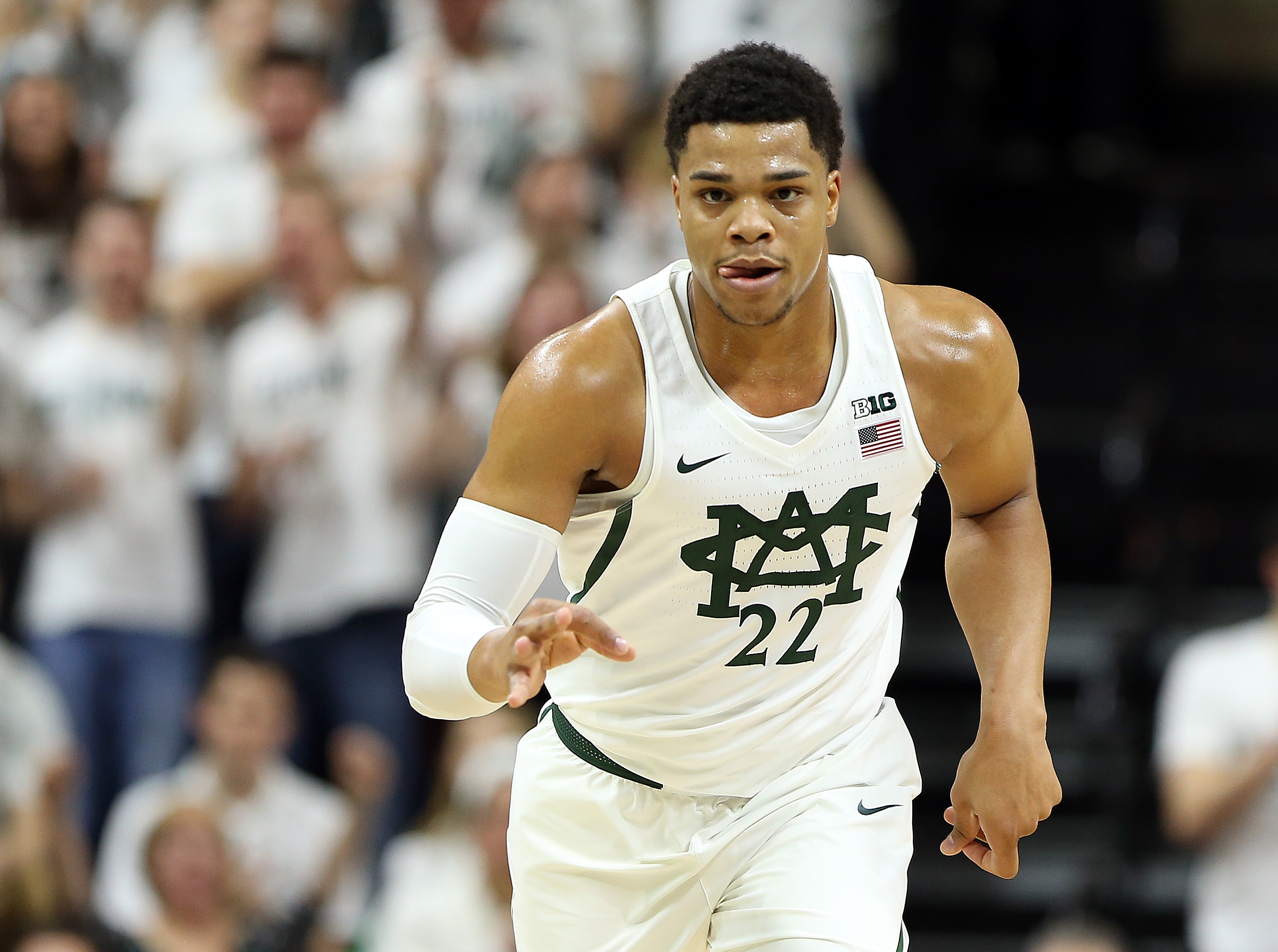 Harry
Giles (Prev. 6)
F,
Duke
11
At some point, Giles has to get back to the #1 ranked high school player in the country like he was coming into Duke…or at least we hope. The two major knee injuries could scare off some, but if he is medically cleared by NBA teams, Giles could really be something special.
But Giles hasn't gotten there yet. He has appeared in 13 games this season and averaged just five points and four rebounds a game. If Giles grows into the player Duke envisioned him being this year, he will most certainly go back up the draft boards.
If Dallas did land Giles, what better big man to learn under in your first year than Dirk Nowitzki.
Miles
Bridges (Prev. 14)
F,
Michigan State
12
Bridges is just the latest smaller, energy driven power forward to come out of Michigan State. Standing at just 6'6″, Bridges gives the Spartans playmaking and athleticism at the four spot similar to past players in the program. He has the talent to play in the smaller NBA and would likely come off the bench in Dallas.
Justin
Patton (Prev. Unranked)
F/C,
Creighton
13
Patton is the only newcomer on my Mavs big board as the big man replaces Bam Adebayo.
Patton is a 6'11" center at Creighton that has came onto the scene as of late. Patton is averaging 20 & 10 a night as he has Creighton ranked in the top 10. The big man is displaying almost a complete all around offensive game while he can even step out and hit the outside shot.
If Patton keeps the impressive play going, don't be surprised if he cracks the top 10 on draft night.
OG
Anunoby (Prev. 13)
F,
Indiana
14
Anunoby started making his lottery case last year at Indiana and was building his way into a top 10 pick until a recent injury that will sideline him for the remainder of the season. He is athletic, long, and physical as one of the best wing players in the draft. It is unsure how his injury will affect his decision to come out or his draft stock. I could see him being a better version of Aminu at the next level.
Terrance
Ferguson
G,
Australia
15
Ferguson was originally supposed to attend Arizona, but decided to go play professional ball in Australia instead. Ferguson is a sharpshooting wing that can fill it up with some of the best in the class. Back in November, Chad Ford said he could have been in the same category as Monk if he stayed committed to Arizona.
For the Mavericks, getting a point guard in this upcoming draft class would be ideal. But in some situations, it might be hard for Dallas' brass to pass up on a particular talent.
With Dallas in a half-way rebuild mode and having some veterans on expiring contracts, the draft board could be wide open for them come the summer. Even with Harrison Barnes locked in long-term, drafting a wing that could play alongside of him in smaller lineups wouldn't be the end of the world.
This is the second installment of my Dallas Mavericks 2017 NBA Draft Board and future updates will continue to come throughout the Spring.
More from The Smoking Cuban
This article originally appeared on