D.J. Augustin shines as finisher in win over Dallas Mavericks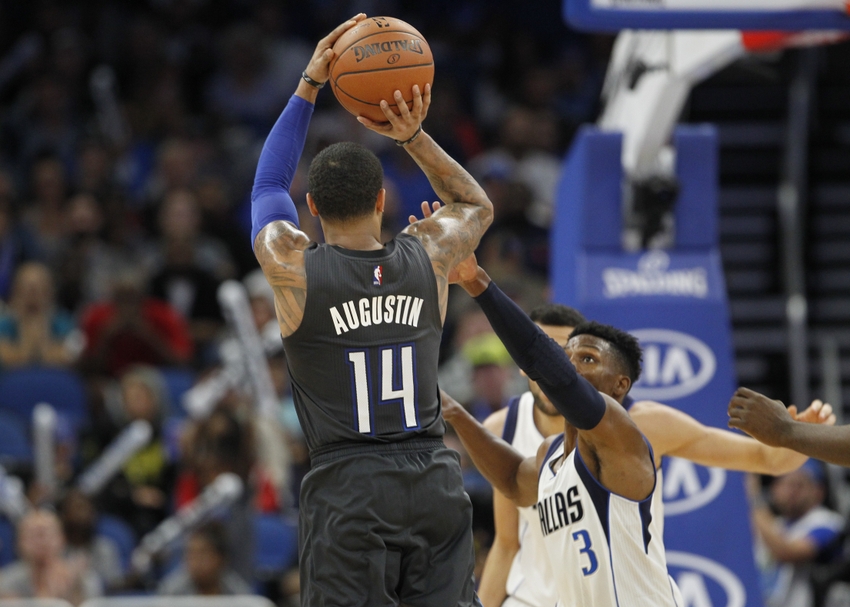 D.J. Augustin accounted for 10 of the Orlando Magic's 29 fourth-quarter points in a win over the visiting Dallas Mavericks on Saturday.

87

95
As shot after shot on both sides clanked, Saturday's game between the visiting Dallas Mavericks and the Orlando Magic was ripe for someone to take over.
For the first three quarters, it was former Chinese Basketball Association standout Jonathan Gibson who provided the only fireworks, making five threes to keep the Mavericks afloat in a defensive brawl with the Magic.
With the Magic down three heading into the final frame and starting point guard Elfrid Payton struggling to develop any kind of rhythm, head coach Frank Vogel put the keys to the offense in the hands of backup point guard D.J. Augustin.
Augustin, the smallest player on the court, delivered down the stretch and sparked a Magic win in a game they could not afford to let slip away, given the Mavericks' fatigue levels and injuries.
Playing the final 17:38, Augustin provided shot-making that Payton cannot, while also making heady decisions to ignite the Magic to a 29-point fourth quarter that proved to be the difference in the game.
"He had some big shots and I had to get after him a little bit because he passed up a couple right before that stretch, trying to be unselfish," Vogel said. "And that what he does out there. He carries that threat with the three ball and making plays within the pick and roll. He and C.J. Watson together were a big reason we got the victory."
In a four-minute stretch starting at 10:23 remaining in the fourth quarter, Augustin made all four of his shot attempts, including back-to-back threes for a personal 6-0 run that put the Magic up five and forced the Mavericks to call timeout. He even sprinkled in there a nice pass in traffic to Bismack Biyombo for an easy dunk. The shot in the arm he provided was just what the team and the hometown fans needed in what was otherwise a fairly lifeless game.
The shot in the arm he provided was just what the team. The hometown fans needed in what was otherwise a fairly lifeless game.
After that short outburst, Augustin did not score again. But he kept the offense humming. With about two minutes to play, he found Evan Fournier for a dagger three that gave the Magic a seven-point lead. On the ensuing possession, he drew an offensive foul from Gibson that all but sealed the game.
Jodie Meeks returns to Orlando Magic practice
"D.J. has to be aggressive like that every night," Evan Fournier said. "That's what we need from him coming off of the bench. We need points. He's a guard that can shoot and since we are kind of struggling offensively, we definitely need him to score points like that."
When all was said and done, Augustin finished the game with team-highs in points (18) and assists (6), including 10 points and four assists in the fourth quarter alone.
While it is always dangerous to extrapolate too much from any one game, it is worth noting Vogel chose C.J. Watson as the second point guard to pair with Augustin in the fourth-quarter, dual-point lineups, not Elfrid Payton.
Indeed, the ball movement in the fourth quarter seemed to flow a bit better with two point guards that opponents also had to respect from the 3-point line.
Of course, Payton brings many skills to the table in terms of defense and creating plays for others. But it is also hard to overstate how sorely the Magic need a player like Augustin who can knock down jumpers off the dribble.
Especially on a night the offense continued to struggle. Augustin lit the fuse to deliver the win this evening.
Payton should still start and is the more complete player in general. But in games like Saturday's where the offense needs a lift (and there might be a lot of those this season, let's be honest), the Magic now know that Augustin has the chops to do just that.
"It helps a lot," Nikola Vucevic said. "They are both [Augustin and Watson] very good players. They have played for a very long time in this league. They have seen a lot of different things. They are helpful to us a lot. They can both make plays and both shoot. D.J. has come up big for us a lot of times this season. That's why you have veterans to help you out when things aren't going too well."
Philip Rossman-Reich contributed to this report.
More from Orlando Magic Daily
This article originally appeared on