Curiosity or Necessity: Alex Abrines Needs a Shot
Daniel Richardson/FanSided via Thunderous Intentions

Fansided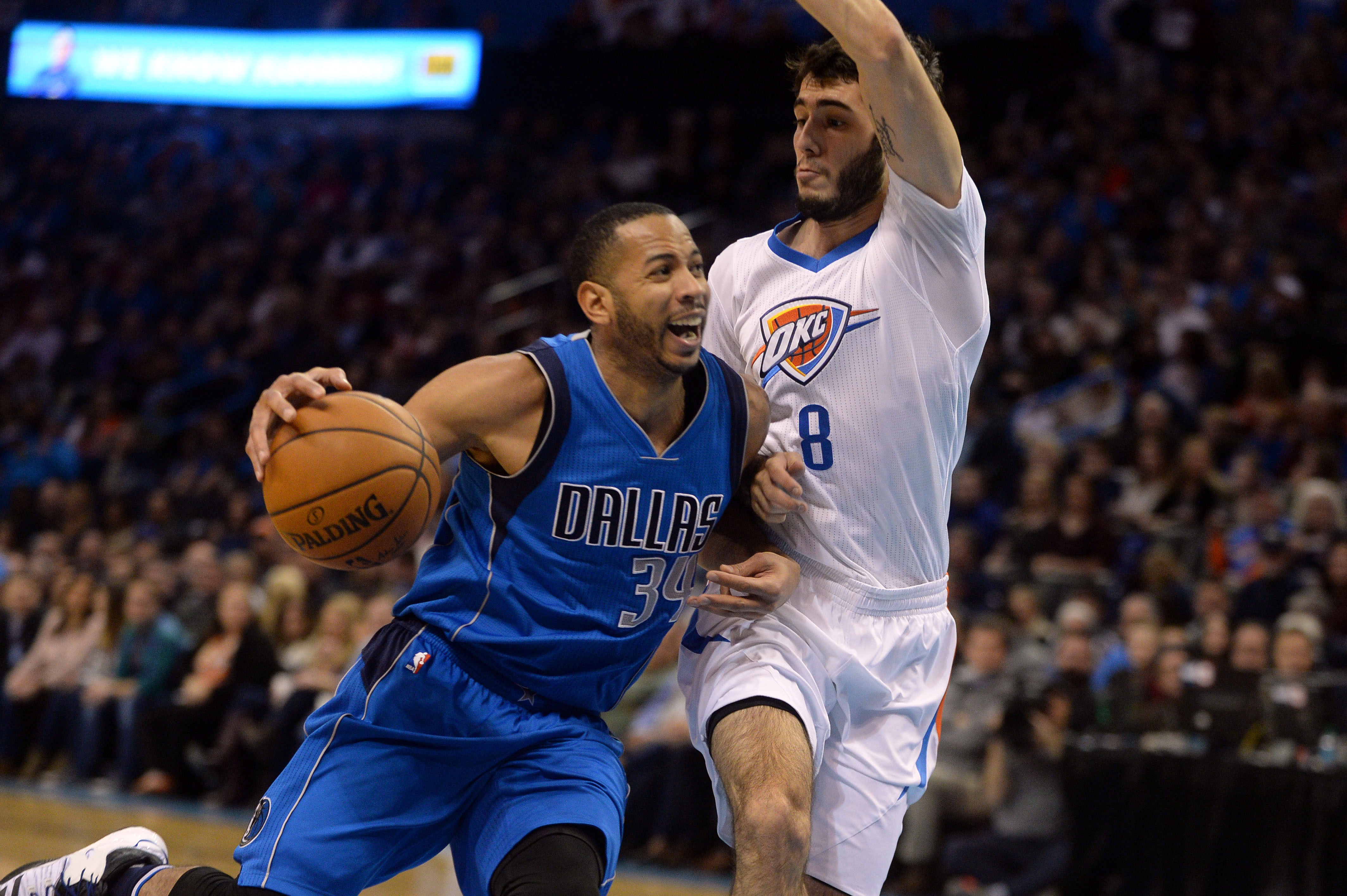 Alex Abrines may not be a primary play maker, but he could be a temporary fix for the Thunder's bench woes.
The Oklahoma City Thunder roster is filled with players that have skills that would transfer well to most any team. Andre Roberson's perimeter defense would make him a great fit on a team like the Memphis Grizzlies or the Denver Nuggets. Anthony Morrow, when in form, could be used on a number of contending teams looking for a quick boost off the bench. The list goes on.
As currently constructed, this roster, disjointed as it may be, has stayed together and poised enough to stay above .500.
A tough month of January, the team powered through and survived going 7-8. It did not come out healthy unfortunately. Enes Kanter broke his ulna hitting a chair on the bench – frustration with a call seemed to be his motivation.
Related Story: Kanter – Domino Effect of a selfish Act
Although a forgivable accident, it wasn't a smart move by him as he left his team with a big hole in its offensive scheme.
This team is going to have to find extra offense from someone – Alex Abrines.
Enes Kanter is second on the team in usage percentage; the Thunder's bench essentially went wherever he took them offensively. During the nine games Victor Oladipo missed, Kanter stepped up. With Enes sidelined, the onus is on Billy Donovan' and the coaching staff to rework the bench unit again.
The seldom used shooting guard out of Spain has shown the ability to lend Russell and Co. a hand on the offensive end. This isn't to say that Alex Abrines is the cure-all for the absence of Kanter, but having him on the court for an extended look couldn't hurt.
In 2015-16 Alex Abrines played for the Barcelona Lassa team and performed well. He shot 54% from the field and 41% from three in 25 games. Winning the Euroleague Rising Star award, Alex Abrines had a comfortable career budding in Spain.
After the departure of Kevin Durant, the front office finally convinced the hesitant Abrines to come over – 3 years, $17 million. He has shown flashes of athleticism and aggressiveness on offensive. His understanding of the game and his instincts on offense can't go unnoticed.
RELATED STORY: The origin story of Alex Abrines
In 14.3 minutes played this season, his ability to stretch the floor and provide spacing for the squad is promising. Abrines is third among rookies in 3 point attempts — shooting 37.4 percent on 3.2 attempts. One thing that is apparent with him is that he has no qualms with letting the ball fly. Especially when he's open. Alex Abrines shoots 1.8 open 3's a game and hits them at a 40% clip.
Only three rookie guards average more than 3 attempts a game from behind the arc – Abrines leads the group in percentage.
The Spaniard sharpshooter's current situation sees him as a floor spacer off the bench, often going stretches where he doesn't see the floor. He has recorded seven DNPs this season. The slight guard tends to be a liability on defense, that doesn't mesh well with Billy Donovan's affinity for defensive play.
Must Read: Thunder player grades for first half of season
At 6'6, the length is there, but his small frame allows for easy blow-bys and post-ups from bigger players. That hasn't stopped the inquisitive mind of the Thunder head coach from testing him in lineups.
In December Alex Abrines saw his minutes increase to over 15 a game partnered by a productive month. He averaged 7.6 points on 40% from the field and 41% on 4.8 attempts from three. The 23-year old reached his career high 18 points on the road against the New Orleans Pelicans.
For context, this Roberson miss is indicative of what Abrines brings to the table. The Pelicans are more than happy to live with whatever comes out of giving him a wide open three. This season, almost 75% of the time it's a miss. Allowing him to shoot this shot than letting Steven Adams or Kanter work in the post is more than ideal defense.
Abrines might not have a reputation in the league yet as a must guard, but Holiday had to stay attached. If Roberson is on the wing here, Holiday almost assuredly sags off his man and clogs the paint. He stays close to Abrines the whole way as he spaces the floor and allows Adams enough room to operate in the paint.
Abrines "screens" for Westbrook, Russ keeps the ball while Adams' defender tries to defend the roll. Russell Westbrook garners so much defensive attention that he brings not only his defender, but also Abrines' – which leads to a wide open wing three. Just having the threat of a knockdown shooter open on the wings allows for so much more than Westbrook throwing his body into five defenders.
This elevator doors set after a timeout was perfectly executed as the bigs "closed the doors" beautifully to give Alex Abrines just enough space to launch the above the break three. A shot he hits 37% of the time.
Movement with the ball allows him to glide to the rim. Even with his slight build, just the threat of him hitting another one behind the arc has the defense chasing him.
Alex Abrines has played most of his minutes at the shooting guard position, with only a few short stints at small forward because of his small frame. If the team wants to find a way to manufacture some offense, fitting Alex Abrines into a lineup where he plays next to another floor spacer would help. Two man lineups of Abrines and Oladipo are a plus +13 point per 100 possessions. The lineup of Westbrook, Adams, Oladipo, Abrines, and Domantas Sabonis is a Plus +59. In a limited sample of 24 minutes.
Must Read: Five Shooters the Thunder Should Target
More from Thunderous Intentions
This is not a championing for starting Abrines, rather an extended look at what it could be.
Since the Pelicans explosion, he's shooting 37% percent from 3 on almost 4 attempts a game. A 63.9% true shooting percentage is definitely nothing to overlook.
Against the Miami Heat, Abrines showed how he can make defenses think twice before leaving him to protect the paint. Miami defenders were clearly occupied with the lob or Westbrook getting to the rim.
Once the weak side defender committed to help in the paint, Westbrook darted a pass over to an open Abrines.
Alex Abrines is a rookie, but he has played professionally for a while now. If the coaching staff shows some trust in him, it could go a long way. Having a shooter alongside Westbrook or while he rests on the bench could help distribute the load while also allowing Alex to find his own rhythm and confidence.
This article originally appeared on