Covington Should be Swapped in Lineup for Hollis Thompson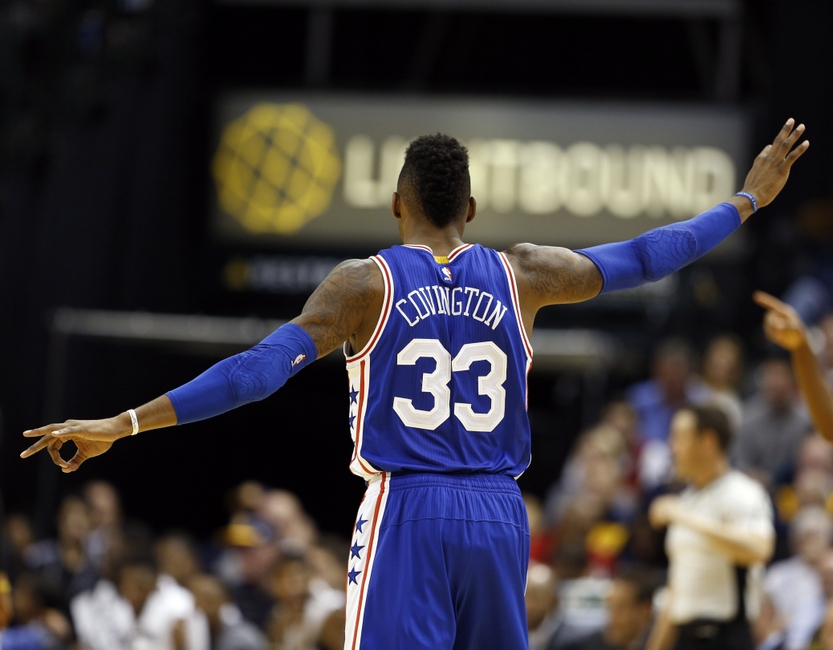 With Philadelphia 76ers swingman Robert Covington struggling, it would make sense for Coach Brett Brown to use with the second unit.
As those of us who have been watching the Philadelphia 76ers this season can see, the team has a number of flaws that it needs to address. One of those major flaws has been a lack of real consistent scoring from the wing players. A guy that has been experiencing those woes the most has been Robert Covington.
As a starter this season, Covington has been streaky at best and cold at worst. He has been prone to taking relatively bad shots. Like many 3-point shooters, it is evident that Covington is trying to shoot his way out of the slump. Unfortunately, it hasn't worked in his favor. So what's head coach Brett Brown's best mode of action here?
More from The Sixer Sense
With most scorers who go cold, it would make sense for a head coach to move them out of the starting lineup. Brown should move Covington to the second unit.
This would allow RoCo to work with a different set of guys, who, for the most part, are offensively deficient. Covington would become the primary scoring option of the night shift. Maybe this new role would wake him up and he could finally get hot.
Obviously, the next question would be — "Who would move into the starting lineup?" My answer for this would be quite simply — Hollis Thompson.
Thompson has been with the Sixers longer than anyone not named Brett Brown. He's been primarily used as a poor man's "3-and-D" kind of player. Temporarily it would make sense to allow Thompson to get some starter minutes, as he really hasn't had the chance to break that threshold.
This wouldn't be permanent, however, because Hollis is ideally at his best coming off the bench. But given the struggles that RoCo has been going through and Hollis' recent hot hand (he's shooting 37 percent from beyond the arc this season), it would help all parties involved to make the switch.
Both Covington and Thompson would be able to show what they can do in different situations. Hollis hasn't had significant starter minutes in a while, and Covington has had nothing but starter minutes.
Change is typically good, and maybe this change would work for the both of them.
This article originally appeared on