Covington's Drastic Switch Over the Last Five Games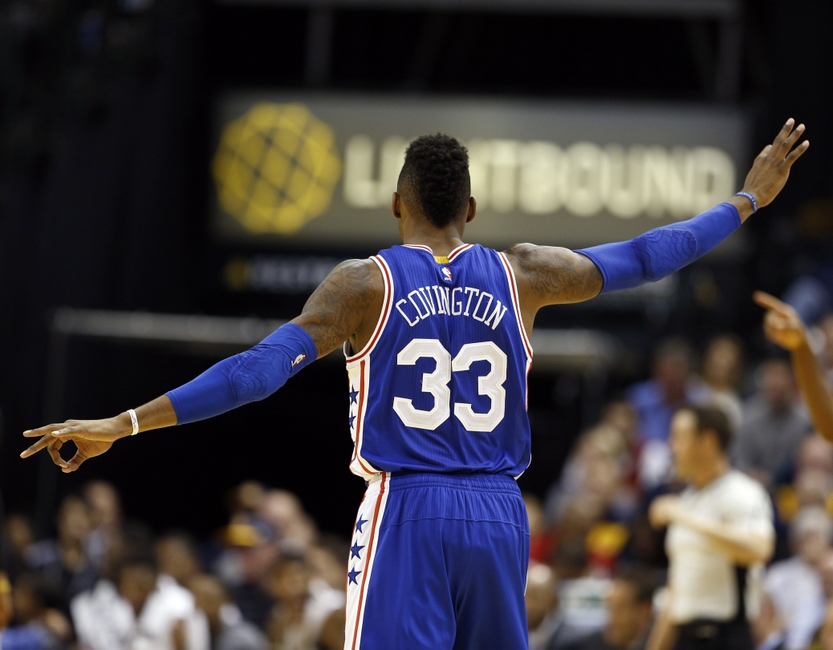 Philadelphia 76ers' wing man Robert Covington has shown over the last five games that he's back from his early season slump.
Robert Covington started off the season exactly how Philadelphia 76ers fans and coaches didn't want him to — in a slump.
Slumps are something that aren't strange to see from Covington. If one had to use one word to describe the play of Covington throughout his career, it would probably be streaky. Covington often has strings of games where he's really hot, and then has a comparable amount of games where he's ice cold.
That's not a good look as a player. In the NBA, consistency is key.
More from The Sixer Sense
For now, however, Covington is over his slump that he started the season with. He warned us that he would be over it soon.
"So far, offensively, I've struggled a little bit," Covington said a few weeks ago. "But shots will fall when the time comes."
What we failed to acknowledge, however, was that while Covington was failing as a shooter, he was improving in other areas. His defense this season, and even towards the end of last year, really improved. He showed flashes of being a lock-down perimeter defender, and if he could just refine his 3-point shot, he could easily become a great 3-and-D player in the NBA, something that any team could use with the lack of wing talent in the league.
The Sixers reportedly were interested in Allen Crabbe this summer, who was a restricted free agent. Crabbe is a solid 3-and-D player, but with Covington on a contract for just over $1 million for the next two seasons, he could be a much better bang-for-your-buck player. With Allen Crabbe getting over $18 million per year from the Blazers, it would have taken a lot of money to pull him from Portland.
And while we should have been admiring his improvements on defense and were instead pointing out his offensive flaws, he was slowly getting back into his groove.
Through the first five games of the Season, Covington was a disastrous 5-for-30 from beyond the arc, which equates to under 17 percent from beyond the arc. In the latest five games, however, he's sunk 14 of his 35 attempted 3-pointers, which is a success rate of 40 percent from beyond the arc. That's not half bad.
He's also taking an average of one more 3-pointer per game over the latest five games, which is showing that as he's hitting more 3-pointers, his teammates are getting more confidence in him as well, making him a more immersed part of the offense.
With the Sixers struggling immensely from beyond the arc, and their best 3-point shooter being a 7-2, 250 pound big man, there's room for Covington to succeed, and he's over the slump. Whether it was early season jitters or one of his famous Covington slumps, it's over now, and we can only hope it stays that way.
This article originally appeared on