Could Klay Thompson be traded to the Grizzlies?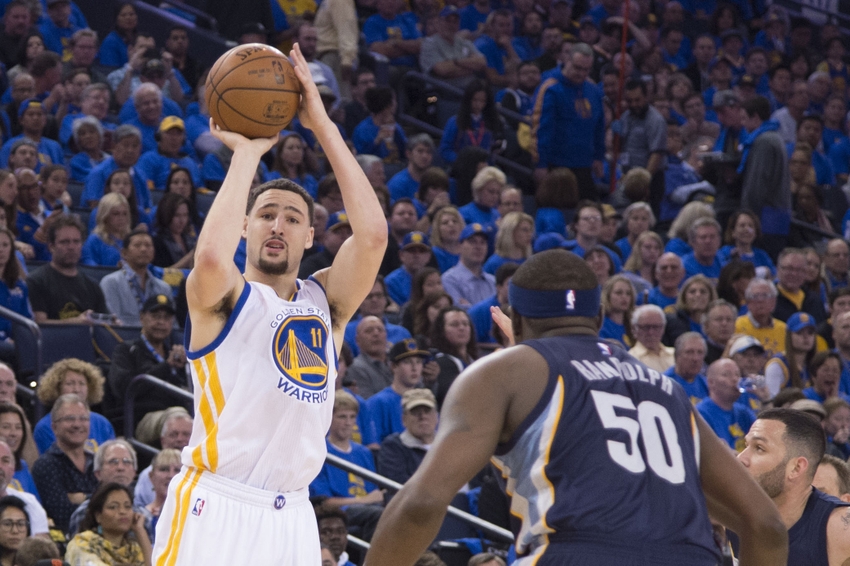 It has been noted that the Memphis Grizzlies need more out of the shooting guard position this year. Tony Allen has been atrocious on offense, and that's putting it nicely. Should the Grizz look to trade to shore up the 2-guard spot, could Klay Thompson be an option?
As my fellow writer, Parker Fleming, pointed out, the Memphis Grizzlies have a shooting guard dilemma. Allen has, of course, been hurt for many of the games to start the season, but when he has been on the court, it hasn't been pretty. While Memphis has several in house options to shore up the 2-spot, though, none are truly ideal.
If the Grizzlies decides to look outside of the organization, the Golden State Warriors should be the first place they look. I know what you're thinking, but by the looks of it Klay Thomson is, in fact, available.
Regardless of if the rumor is true or not, what might a Grizzlies trade for Thompson look like Could the Grizzlies put together a nice enough package to make it work? I think they can put the package together, but will the Warriors pulls the trigger? Lets go through a couple of the scenarios.
Option #1
I know looking at it, it doesn't look like much, but it is actually a solid option. Sure the Grizz would have to throw in some of their picks, but getting Thompson would be worth it.
More from Beale Street Bears
The Warriors would be getting a solid big, Zach Randolph. Adding Randolph to back up or play alongside Draymond Green would be huge for the Warriors. Depth has been their biggest weakness so far this year, I mean Javale Mcgee is their best back-up big. They also get Tony Allen, who they can slot in their starting five. Allen would give them an added defensive presence to an already stout defense.
It's quite obvious why this trade makes sense for Memphis: they get Klay Thompson. Thompson will slot nicely into the starting line up, and will add enormous value on both sides. He adds lights out 3-point shooting, which open the floor up for Parsons and company. Memphis also wouldn't lose much on defense either. Thompson is no slouch on defense, he could still take any of the assignments that Allen would normally take.
Option #2
This option makes a different type of sense for the Warriors. You would, of course, have to throw in multiple Grizzlies picks, but this trade should entice Golden State.
In the trade, they would be getting a slew of guards, something they would need if trading away Thompson. Tony Allen, Vince Carter, and Wade Baldwin IV, give Golden State someone it can plug in right away, plus solid bench depth.
Kendall Marshall deserves a shot with the Memphis Grizzlies
Adding Brandon Wright, once healthy, gives Golden State another option at the back-up big man positions. Wright can play solid minutes off of the bench, helping on both the offense and defensive ends. With Zaza Pachulia struggling, and McGee as the only option, Wright would be a welcomed sight.
Prediction
In my opinion, Golden State shouldn't mess with their team. They have an incredibly potent starting line-up, which Thomspn is a big part of. With the Warriors losing only twice, its not time for them to panic. They are still one of the top teams in the league, behind the Cavs and Clippers right now.
If Golden State ends up trading Thompson, it'll be due to someone's ego. We knew when the Warriors signed Kevin Durant, that everyone's touches would drop, many pundits said there would be problems. If Golden State trades Thompson, those pundits may be proven right.
Thompson may end up getting traded, but ultimately, Memphis isn't likely to be that lucky destination. Though, the speculation has created a Twitter frenzy, causing many fans to create their own trade scenarios, but none as elaborate as this one.
Want your voice heard? Join the Beale Street Bears team!
This article originally appeared on