Could Avery Bradley be an All-Star?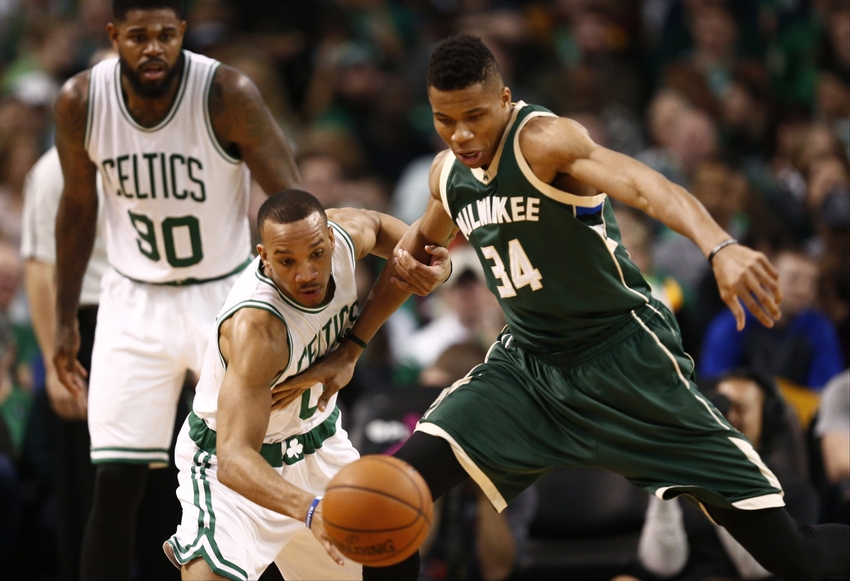 This could be Avery Bradley's breakout year and first All Star Appearance
It's hard to believe that Avery Bradley is considered a veteran on this Boston Celtics team. He is the only player that played alongside of the big three. He is the only player who experienced the Doc Rivers era. Throughout his seven year career, Bradley has gone from a role player to a key starting piece on a competitive Celtics team.
While he is mostly known for his defensive tenacity and ability to shut down marquee scorers, this year Bradley has shown the ability to contribute on both sides of the floor. Bradley is just on the cusp of going from an above average role player to an All-Star in the NBA. If he can keep up this type of production, he should be noted as one of the top shooting guards in the Eastern Conference.
So what makes Bradley such a special player?
He is an underrated three point shooter. Last year, even while the Celtics struggled shooting the three ball, Bradley shot an efficient 36.1 percent from three. This year he is shooting  a very impressive 40.9 percent from beyond the arch. One concern however, is that Bradley should be attempting more three pointers than he did last year. Hopefully he can improve on taking more shots from downtown.
Bradley has also improved his scoring numbers. Last year he was second in scoring behind Isaiah Thomas as he averaged just over 15 points a game. This year, Bradley is averaging almost 18 points, even with the addition of Al Horford. His shooting from the floor has improved from 44.7 percent to around 47 percent. Bradley has also increased his shot selection as he is attempting 15.5 shots a game compared to last year where he averaged 13.4 shots per game.
Another interesting stat which Bradley has improved on this year is his rebounding. As a shooting guard, he leads the Celtics in rebounds this year as he is averaging just under eight rebounds a game. This is a significant increase compared to just under three rebounds a game last year. This improvement helps the Celtics immensely as they need perimeter players to help on both the offensive and defensive glass. So far, Bradley leads all shooting guards in this category as he even out-rebounds big men such as Randolph, Aldridge and Millsap. His rebounding numbers are not only incredible because he is a shooting guard but also because he is an undersized shooting guard.
So where does Bradley stand amongst shooting guards? Currently Bradley ranks first in rebounds, second in double doubles, seventh in scoring, 11th in both three point percentage and assists, and 12th in steals.
It is also important to note that Bradley stands six foot two inches tall and weighs just 180 pounds. He is undersized for his position as the average height for a shooting guard ranges from around six foot four to six foot seven and average weight from around 195 to 220 pounds. The case could be made that physique should in fact be that of a prototypical point guard in the NBA. However, on a day in and day out basis Bradley is forced to guard players much larger than him.
If Avery Bradley can continue his production on the offensive side of the floor, look for him to be in the mix for an All Star selection this coming February.
More from Hardwood Houdini
This article originally appeared on