Comparing Timberwolves' Karl Anthony Towns to Kevin Garnett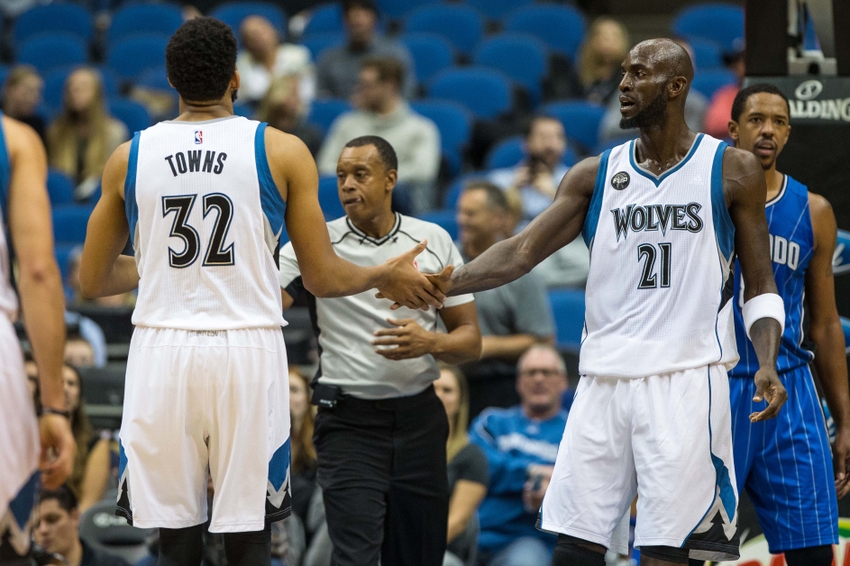 The comparison between Timberwolves big men Karl-Anthony Towns and Kevin Garnett is an easy one to make.
Karl-Anthony Towns had a phenomenal rookie season; no one can argue that.
Towns spent his rookie season under the wing of NBA legend Kevin Garnett after KG came back to the Timberwolves the previous year. The goal was to get the band back together under Flip Saunders, with the veteran coach assisting the young arsenal of athletes coming into the program.
With the draft and early success of Karl Anthony-Towns, eyebrows around the league are being raised.
There are a lot of similarities between Towns and Garnett, yet there are just as many differences. Garnett was a big story coming into the NBA in 1995; he was a high school superstar.
Before the draft, he even made the cover of Sports Illustrated, with the subtitle, "three weeks ago Kevin Garnett went to his high school prom. Next week, he'll be a top pick in the NBA Draft." The Big Ticket ended up going fifth-overall to the Timberwolves, straight out of high school in 1995. Garnett was a bad boy, he was mean, and he was a guy the other team didn't want angry. His attitude showed on the court with his energy.
Twenty years later, there was another young basketball superstar emerging. Karl Anthony Towns spent one year at the University of Kentucky.
If you don't remember, the 2014-15 Kentucky Wildcats were the team that almost went undefeated for the season. Kentucky lost to Frank Kaminsky and Sam Dekker of Wisconsin in the Final Four. Karl-Anthony Towns was drafted by the Wolves first-overall in 2015.
Towns, unlike KG, is a nice guy. He's the nerdy guy who plays video games and reads comics. He was even a guest star on a Disney show. On the floor however, there is no nice guy, he's viscous and mean.
Karl-Anthony Towns had a far better rookie year than Kevin Garnett had, but I still see some similarities. The Big Ticket had some struggles in his first year. He scored 10.4 points per game and only grabbed 6.3 rebounds per game. He shot 49.1 percent from the floor, which considering the kind of shots he took, is not too bad. Garnett also only started 43 games out of the 80 he played that season.
Karl Towns had an amazing rookie year. In my opinion, it was the best rookie season of any player since Shaquille O'Neal. Towns scored 18.3 points and snagged 10.5 rebounds per game. He also shot a fantastic 54.2 percent from the floor while starting all 82 games. You just don't see rookie seasons like that.
While there are serious differences between Kevin and Karl, there are still plenty of similarities. Garnett might have struggled a bit in his first year, but it was easy to see the potential in him. Towns, while he had a fantastic rookie year, still has a lot of potential.
There is a problem with big men on every level of basketball. Mobility. Big boys usually aren't quick, but KAT and KG are two of the most mobile big men I've ever seen. The way that they can get to the basket on offense and close out on defense speaks volumes on their quickness.
I think that if Garnett had played one year in college (and perhaps put on some weight) like Towns did, they would have had eerily similar rookie seasons in the NBA.
Garnett struggled with transitioning from playing in a high school to playing with the greatest players in the world. Obviously he warmed up to it just a bit, winning an MVP, one championship with the Celtics, and taking the Timberwolves to the playoffs eight times, including making it to the conference finals.
Hopefully, for the sake of all Minnesota fans out there, Towns will be just as good if not better.
More from Dunking with Wolves
This article originally appeared on