Column: Now more than ever, Chris Bosh should be appreciated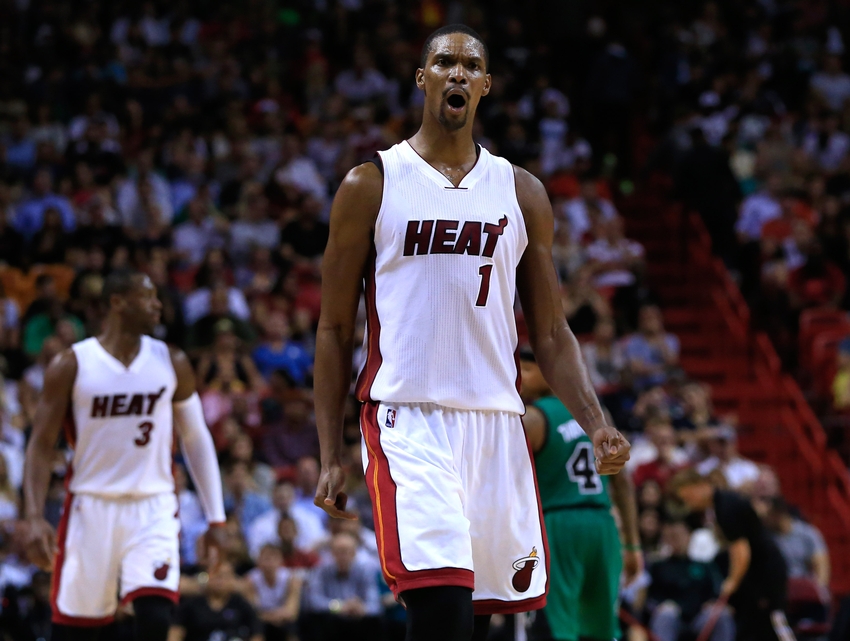 For 13 seasons, Chris Bosh was one of the best in the NBA. His impact on the Miami Heat can't be overstated.
As the majority of the sports world has already heard, it was announced Heat forward Chris Bosh failed his preseason physical earlier this morning. Additionally clotting was reportedly found, leaving his comeback efforts on life support.
According to Adrian Wojnarowski of Yahoo! Sports, the Heat organization themselves feel Bosh's career could be coming to an abrupt end soon:
Sources: Miami Heat increasingly believe Chris Bosh's career with franchise is over. For months, Bosh hasn't wanted to speak with Pat Riley.

— Adrian Wojnarowski (@WojVerticalNBA) September 23, 2016
Logging 13 seasons since he was drafted out of Georgie Tech in 2003, Bosh is an 11-time All Star, two-time champion as well as an All-NBA 2nd team selection in 2007.
Until his arrival in South Beach in 2010, the former Yellow Jacket graced the fans of Toronto with his talents, a constant double-double every time he stepped on the floor. Eventually becoming the Raptor's all-time leading scorer before his departure, he also led them to their first Atlantic Division title in 2007.
Outside of Kevin Garnett and Dirk Nowitzki, one could argue Bosh is the best jump shooting big in basketball, even extending his range to beyond the three-point line years ago.
Often the most forgotten piece of Miami's memorable "Big 3 era," Bosh would leave behind a decorated and memorable legacy if forced into medical retirement. Boasting career numbers of 19.2 points and 8.5 rebounds per game, there is nothing about Bosh's resume that doesn't shout "Hall of Famer." Three seasons of 20-plus points and 10-plus rebounds aren't too shabby, either.
With his basketball future in limbo, moving on will prove quite difficult for the Heat organization as well as fans in South Florida.
A player of Bosh's talent and ability doesn't come around that often, and the whole sports world is about to witness that reality. Next up on Miami's depth chart? The likes of Josh McRoberts, Derrick Williams, James Johnson and Luke Babbitt. Not exactly an equal match in terms of skill, eh?
Free agency at this point won't offer a solution, and the Heat are strapped in terms of trade leverage. Likewise, giving up a talent such as Justise Winslow wouldn't be ideal considering his tremendous upside and defensive ability.
Ideally, Miami could get Bosh's salary off their books around February of 2017 due to a medical retirement. But the possibility still exists that the 32-year-old will fight this to the end. Either way, it's more likely than not we've seen the last of No. 1 in a Heat uniform, as painful as that can be to accept.
In fact, out of those back-to-back title-winning teams of 2012 and 2013, only Haslem remains, and he's on the roster more for moral support than anything at this point in his career. Just how much of an offensive turnover will Miami have this year? Just ask All U Can Heat editor Wes Goldberg:
With Wade, Bosh, Deng and JJ gone, the Miami Heat have almost 40 shots per game to redistribute.

— Wes Goldberg (@wcgoldberg) September 23, 2016
Yikes.
Nearly 40 shots per game, and that's not including what will be missing with Josh Richardson expected to miss time due to offseason surgery. Needless to say, we could be in for a bumpy ride when it pertains to the Heat this season. Not since the dismantling of the 2012 Baltimore Ravens have I seen such change from one year to the next in a professional sports franchise.
Remember all the "soft" narratives regarding Bosh that floated through the world of social media for several years? Former ESPN First Take host Skip Bayless even referred to the power forward as "Bosh Spice" at one point. Many called for him to be traded, most citing his lack of aggression and interior rebounding coming out of the gates in 2010.
Since then, most media members and fans have come to find a new appreciation for the 13-year vet, sending out countless tweets of encouragement and support for both Bosh and his family.
Never underrated by coaches, most forget how well Bosh played in key moments. After going down with an abdominal strain and missing nearly two series in the 2012 playoffs, he returned to drop 19 points on 8-for-10 shooting (including three three-pointers) to help spur the Heat back to the NBA Finals in a Game 7 victory over the Boston Celtics.
That memorable Game 6 over the Spurs in the 2013 Finals? Most remember LeBron's fourth quarter surge and Ray Allen's shot, but had not it been for key plays on both the offensive end and defensive end by Bosh, we may be having a totally different conversation today.
Ironically, the last game the Big 3 ever won together came in their 2014 Finals rematch with San Antonio. Down one with under a minute remaining, James drove the lane dished it out to Bosh, who found himself alone in the corner. Bottom. That was all she wrote on the famous (or infamous, depending on your point of view) trio that sent shock waves through the NBA.
To sum it all up: Bosh was awesome, both on and off the court.
On the hardwood, he provided us with numerous memorable dunks, shots, blocks (a la Danny Green), and roars. Off the court, you wont find a more genuine and classy individual than this man, and it's time the world sees that.
My message to Chris Bosh can only be expressed in two simple words:
Thank you.
This article originally appeared on